Combating violence with the brain and the heart

Lesley D Biswas
&nbsp | &nbsp Kolkata
04-March-2011
Vol 2&nbsp|&nbspIssue 9
As a ten-year-old Binalakshmi Nepram was a witness to the aftermath of the Heirangothong massacre that saw 13 civilians arbitrarily being shot dead by CRPF men at Imphal in 1984. Thirteen years later she lost her 12 year-old niece, Reena Nepram in a bomb blast. In 2002 her ancestral school was burnt down by insurgents, who forced her parents to shut it down at gun-point.
It was then, Binalakshmi, who has grown up amidst the ethnic violence in Manipur, decided to stand up and take charge. Now, when the 36 year-old woman looks back at her childhood years, she is haunted by ghastly images of bloodshed in the state, where two to three people are shot dead daily.
Binalakshmi's efforts to bring about peace and disarmament in this battle-ridden region and for arguing the cause of women gun survivors is now gaining attention worldwide. She was awarded the Sean MacBride Peace Prize for 2010 by the International Peace Bureau.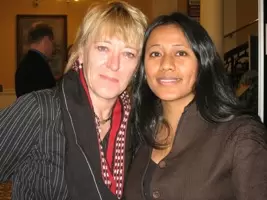 In good company: Binalakshmi (right) with Nobel Peace Laureate Jody Williams
Recalling how she started it all, Binalakshmi says: "A UN document that was published in 1997 titled 'Trafficking in Small Arms and Sensitive Technologies', combined with a white paper on small arms written by the Canadian Government, changed my life and inspired me to undertake research into origins of armed conflict and arms proliferation in Manipur."
After a two- year research, the book titled 'South Asia's Fractured Frontier' was brought out in 2002. To address the issue of small arms and light weapons and to promote disarmament, she co-founded Control Arms Foundation of India in New Delhi in 2004 with a few others committed to the cause.
However, another incident on Christmas Eve in 2004 at Wabgoi Lamkhai village in Thoubal district of Imphal, brought about a realisation in her on another aspect of the strife.
Three armed gunmen dragged 27 year-old Buddhi Moirangthem, a civilian, and killed him, throwing the life of his 24-year-old widow Rebika Akham who is still trying to fathom why they killed her husband, into disarray. For women like Akham who have lost the breadwinner of the family, sustaining themselves is a daily struggle. So, together with some likeminded people, Binalakshimi gave Rs 4500 to Akham, who bought a sewing machine to support herself.
With that stemmed the idea of Manipuri Women Gun Survivor Network (MWGSN), which was launched on 29 April, 2007 in Manipur. Besides providing women small loan amounts between Rs 3000 and Rs 9000, through 'Solidarity Networks' they work as a platform for young people committed to helping these survivors and to arrest the proliferation of small arms and light weapons in Manipur. More recently in 2009, the MWGSN team started the Northeast India Women Initiative for Peace and have empowered over 100 widows.
Working on disarmamen has not been that easy for Binalakshmi. Every day she campaigns amidst extreme personal danger. "I have received threats for arguing disarmament from both the State and Non-State armed groups. In addition people ridiculed our work especially as it is led by young women who believed in working for peace and security," she says.
But, Binalakshmi is determined, looking forward to the upcoming international Arms Trade Treaty at the United Nations in 2012. This, she believes, will help regulate the weapons that are pouring into India from other countries.


Trending Now: