Bringing a human touch to animal welfare through ResQ

Divya Mangwani
&nbsp | &nbsp Pune
28-January-2011
Vol 2&nbsp|&nbspIssue 4
In 2007, Tanya Kane found an injured dog lying abandoned on Pune's streets. Moved by its plight, she and her friend Neha Jangle tried to save the animal by seeking help from every known quarter. But all that the girls, in their early twenties, could do was to sit through the night and watch the dog die.

It was then that they decided not to wait for superheroes to come for the rescue of animals in their city. That determination to do something for the welfare of animals paved the way for setting up ResQ, an emergency service organisation that now lives up to its name with an open helpline.

The obstacle they faced while starting ResQ was finance. "We didn't want to be like other NGOs and depend on charity for money. Also, there was no guarantee that the funds would be always forthcoming to sustain the organisation," says Neha.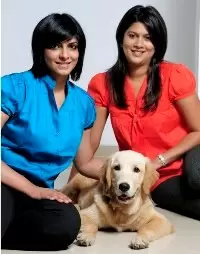 Superheroes: Volunteers from ResQ, started by Tanya Kane and Neha Jangle,rescue dogs in distress and take care of them till they become well
So, they started Pawsh, a pet store to fund the organisation. Pawsh became part of the Paws Pack, a pet management service involved in pet counselling, training, behaviour modification, canine nutrition, pet resort, pet boutique, and grooming salon. Neha, a nutrition student, quickly adapted to pet nutrition while Tanya is a qualified dog trainer and behaviourist.

ResQ provides free onsite medical help to injured animals found on the roads of Pune. The dogs are usually fit enough to roam back on the streets but for the more serious cases, they are kept in a rescue kennel with special medical facilities. After a follow-up from the vet in charge, the dogs are released back at the places where they were picked up from. Only the lucky few find homes when people are willing to adopt.

On an average day, the organisation gets around 10 calls on their helpline, out of which they are able to attend about 8 cases. They hope more volunteers would join hands with them so that they could respond to all the distress calls.

Some of the rescues had been daring attempts, says Neha. "Once we had to rescue a dog that was stuck in the Pune waterworks. It was one of my most memorable experiences. By the time the rescue team reached the area, it was dark and there were no street lights to offer them respite. The dog couldn't be seen but was identified with the help of its howls. Then the team made a rope out of torn bed sheets and one of the volunteers climbed down to the under bridge where the dog was trapped. A few heart stopping moments later, both the dog and the rescuer were safe on the ground and there were collective sighs of relief."


Trending Now: