Urban youth reach out to the darkened rural underbelly of India

Kavita Kanan Chandra
&nbsp | &nbsp Mumbai
07-January-2011
Vol 2&nbsp|&nbspIssue 1
They may appear to be a pair of regular neigbourhood college boys. But Jyotirmoy Chatterji and Abhinav Mehra, students of Mumbai's prestigious HR College of Commerce, are on a mission to light up as many dark villages as possible. With about 25 students, they have started 'Project Chirag', as part of the HR chapter of SIFE (Students in Free Enterprise), an international organisation promoting social entrepreneurship.
Little did they know that the whole experience of raising funds, organising volunteers, travelling to remote villages, installing solar lamps and finally seeing the smiles on the face of villagers would get them hooked when they started it all.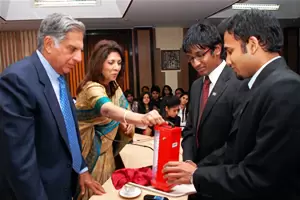 Lighting up lives: Jyotirmoy and Abhinav, seen here with industrialist Ratan Tata and Mumbai Sheriff Indu Shahani, are excited about social entrepreneurship and want to light up more villages plunged in darkness.
Hardly in their early twenties, Jyotirmoy is doing his BMS (Bachelor in Management Studies) and Abhinav, his M Com. Having dedicated the last two years of their life for Project Chirag, Jyotirmoy says that they want to inspire people to light up villages of India without waiting for some politicians to do the work.
"The cause was very close to our heart and it gave a lot of satisfaction to lead people for this project. It is like social entrepreneurship and when students who are still in their teens turn up as volunteers, it is heart warming," says Abhinav.
They have completed lighting of 42 villages. Though most are in Maharashtra, villages in Uttar Pradesh, Rajasthan and Karnataka have also been covered of late, giving their project a pan Indian status.
Youth play a role at every stage of this project and handle everything from strategizing, planning, and execution, to mobilizing resources in the communities, government, and corporates.
Jyotirmoy said they thought of taking some rural project and the idea of lighting villages with solar lamps struck. They had to first select a vendor to provide quality solar lamps. They got the required portable solar lamp unit that has a LED (light emitting diode) device, a solar lantern, a battery, a tube light and two solar panels. They also roped in paraplegics to assemble the solar lamps, paying them Rs 30 per lamp.
Initially their rural mission entailed few hurdles but with their enthusiasm and passion they overcame them. With each solar lamp costing Rs 3650 which they gave to the villagers at Rs 500, a lot of money had to be raised.
The first village to be lighted was Ujjaini in the Wada tehsil of Thane district. Hardly 110 Km from the bustling metro of Mumbai, this tribal village in deep forest, was in total darkness after dusk. With 111 houses, the village required Rs 4 lakh. The team came up with an innovative idea of switching off lights from college corridors and pasting posters that said, 'tube lights missing for a mission' and 'Rs 10 for light'. If each of the 6000 students of the HR College contributed they would have enough. The response was good and the initial collection was Rs 5,15,000.
As the word spread, they even got corporate sponsorship. As the model worked in Maharashtra, they wanted to replicate it elsewhere. As Jyotirmoy, Abhinav and the volunteers are now busy crisscrossing the country, they say the experience is far satisfying than any job.


Trending Now: