A renewable energy venture connecting rural India with green technology

Lesley D Biswas
&nbsp | &nbsp Kolkata
26-November-2010
Vol 1&nbsp|&nbspIssue 13
More than 600 villagers of Lakshmi Kantapur and 5000 villagers of South and North 24 Parganas District in West Bengal had a sweet taste of life with electricity for the first time in their lives in January this year, thanks to ONergy, a renewable energy venture started by Vinay Jaju, Piyush Jaju and Ekta Jaju, three young entrepreneurs from Kolkata. (Vinay and Piyush are brothers and Ekta is married to Vinay.)

The youngsters - who are all in their twenties - provide customized solar panels to rural homes, which operate lights, fans and television sets. They also arrange finance for the villagers from micro finance institutions to invest in these energy projects.

The Kolkata trio started ONergy in 2009 with a mission to replace kerosene, diesel, coal and wood in rural India with green fuel. ONergy strives to make renewable energy solutions available to rural segments, and provides financial support and subsidies to make these products accessible to marginalized families.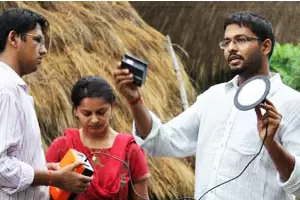 Vinay, Piyush, and Ekta are committed to promoting green energy in rural India, where in some parts people pay Rs.3 to 5 per day just to charge their mobiles
"Solutions are often available but unless these solutions are acceptable within communities and implemented to suit their indigenous needs, they remain bare policies," says Piyush. "It's one major reason why renewable energy solutions and the actual green switch is not happening in rural India," he adds.

Vinay and Piyush both graduated from St. Xavier's College, Kolkata, while Ekta, who calls herself an environment documentary filmmaker specialized in direction from Film and Television Institute of India, Pune. Vinay has done his management studies from S.P. Jain Institute of Management and Research, Pune, while Piyush has experience in investment banking and finance, in India and abroad.
The threesome believe that a good power supply in general will contribute to uplifting the communities who lag behind not due to lack of potential, but because power supply is inadequate. Artisans can work longer hours, gadgets like computers and mobiles can be charged and TV's and fans can make life more livable.

Since renewable energy products like solar power lamps and cooking systems are readily available in the market, the challenge was to connect rural and semi-rural India with these green technologies.

But first, the question was to match the need with the supply and they spent several days cycling from village to village along the coal belt from Kolkata to Delhi and speaking to experts, policy makers and grassroots level organizations to understand what would work best for the people. The outcome was 'Whynewcoal' an hour long film based on these observations, which propelled their pioneering projects in Lakshmi Kantapur and North 24 Parganas to success.

"The actual picture was alarming," says Piyush. "People in off-grid villages in rural India spend Rs 3 to 5 every time they charge their mobile which amounts to about Rs 150 - 250 a month whereas this would cost just a few paise a day if electricity were made available. Thus customization became crucial."

Piyush feels that developing, for instance, a solar product which can be used for charging a mobile as well as running a fan or TV set at an economical cost will encourage more and more villagers to switch from kerosene or diesel to renewable energy.


Trending Now: