IT professionals who see the world and society beyond the computer screen

P C Vinoj Kumar
&nbsp | &nbsp Chennai
19-November-2010
Vol 1&nbsp|&nbspIssue 12
A group of IT professionals who launched the Save Tamils Movement (STM) during the height of the war between the Tamil Tigers and the Sri Lankan government in 2008 have just completed a documentary film on the historic struggle of the Tamils in the island nation.

"There is a general misconception that the demand for a separate Tamil nation was raised by the Liberation Tigers of Tamil Eelam (LTTE). But the demand had been made by moderate Tamil leaders even earlier. The LTTE launched an armed struggle to achieve the demand," says T Senthil Kumar, one of the five founding members of STM.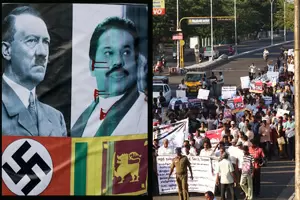 Persecutor: Mahinda Rajapaksa is seen by many Tamils as the Hitler of the 21st century (R) A pro-Tamils rally of the Save Tamils Movement in Chennai
The film, scheduled for a launch this weekend in Chennai, will chronicle the sufferings of Tamils under successive Sinhalese regimes. "It traces the history of the Tamils in Sri Lanka and will be a valuable source of information for those interested in learning about the history of the ethnic conflict in Sri Lanka," says Someetharan, who produced the film for STM. Though the film has been made in Tamil, the young activists hope to add English sub-titles to it soon.

The LTTE, which fought for a separate Tamil nation under the leadership of Velupillai Prabakaran, was defeated in the war that ended last year. Around fifty thousand Tamil civilians are believed to have been killed during the last stages of the war, which has raised serious war crime and genocide charges against Sri Lankan President Mahinda Rajapaksa.

STM activists, mostly employed in software companies like Infosys, TCS, and Polaris, are actively following developments in Sri Lanka, where Tamils were incarcerated in Nazi-style camps soon after the war.

Though the Sri Lankan government claims to have released many of them, pro-Tamil groups accuse the government of orchestrating disappearances and have called for independent inquiries into war-related crimes of the Rajapaksa government.

"When we were organising protests to stop the war in Sri Lanka, some of our colleagues from other States thought we were trying to save the Tigers. Now, they understand the true colours of the racist Sinhalese regime, and are more sympathetic to the Tamils," says Senthil.

STM members like Arun Chokkan and Elango believe the demand of the Tamils for a separate nation is still valid in the current scenario. Rajapaksa has refused to make any political concessions to Tamils. Instead, they say, his government is encouraging Sinhalese colonisation of traditional Tamil areas.

"We have sought the support of all democratic minded individuals across India to secure political justice for the Lankan Tamils. Our next plan is to initiate a 'Boycott Sri Lanka' campaign to isolate the Lankan racist regime from the international community," says Senthil.

Trending Now: