A bleeding heart that could feel the sorrows of other parents of haemophiliacs

Mohd Faisal Fareed
&nbsp | &nbsp Lucknow
19-November-2010
Vol 1&nbsp|&nbspIssue 12
It was a moment that could have made anyone collapse into a sea of sorrow and gloom: His son was diagnosed of haemophilia. But Vinay Manchanda, a bank official, not only fought a personal battle but also set an example for others by turning into a lone crusader to bring succour to other haemophilic patients.

It was Manchanda, through a PIL in the Lucknow Bench of the Allahabad High Court, who ensured the release of over Rs 26 crore by the Uttar Pradesh government for the purchase of the expensive 'haemophilic factors', which are required to treat the haemophilic patients.

Recalling the hard days, Manchanda says that it was during his initial posting with the Bank of Baroda at a mofussil town Khairabad in Sitapur district that it happened. "For many years my son could not speak properly. I contacted the local doctors at Mission Hospital in Khairabad who suggested a minor operation. The surgery was done in Lucknow and we returned to Sitapur. However one day in December 1994 after I returned from office, I found my son lying in a pool of blood. I took my cycle and went around the city for help and finally brought my son to Lucknow," he says.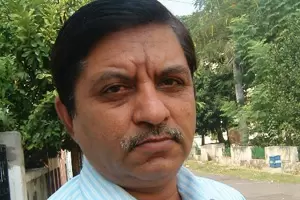 Vinay Manchanda fought with the government to release funds for treating haemophilic patients in Uttar Pradesh
Despite his best efforts no one could diagnose his son's problem of getting frequent bleeding. Later, he reached KEM Hospital, Mumbai in May 1996, where his son was diagnosed with haemophilic with factor VIII and Manchanda's ordeal with hospitals began.

After the death of his father in March 1997, Manchanda dedicated himself to the cause of haemophilic patients. He began to hold awareness programmes about the disease.

On other fronts, he continued his battle, meeting government officials for proper diagnostic facilities in Lucknow and availability of free haemophilic factors at government hospitals. In the meantime, he also raised funds for repairing of a deep freezer at King George's Medical College so that blood samples could be stored at -40 degree for testing.

Manchanda also started collecting details of hameophilic patients in UP and approached Chief Ministers and Governors for relief, but it all went in vain. Fed up with the apathy of the government machinery he filed a PIL on 23 October 2008. The court in its order on 18 Dec 2008 directed the state government to release Rs 26.7 crore for the purchase of haemophilic factors at two government hospitals in Lucknow, state medical colleges in Agra, Kanpur, Allahabad, and two other hospitals in Varanasi and Aligarh.

Manchanda has a data base of over 1700 haemophilic patients in the state. His society now organises rallies for creating awareness on the disease and even provides physiotherapy and other minor medical support to the patients. Now after setting a benchmark, Manchanda has been contacted by similar haemophilic parents in Rajasthan, Uttranchal, Himachal Pradesh and even West Bengal. "They all have urged me to help them in filing the PIL in their respective states for the benefit of haemophilic patients," he says.

Manchanda says his concern now is to ensure that the state government continues to allocate funds for the haemophiliacs.


Trending Now: