Kashmir people react to the removal of bunkers in Srinagar

Jehangir Rashid
&nbsp | &nbsp Srinagar
22-October-2010
Vol 1&nbsp|&nbspIssue 8
Omar Abdullah's beleaguered National Conference – Congress coalition government in Jammu & Kashmir has taken a welcome step ordering the removal of 16 bunkers from Srinagar, which has witnessed public unrest in recent times. The Weekend Leader views this as a positive development and urges the government to initiate a series of similar confidence building measures to restore peace in the valley. Jehangir Rashid feels the public pulse in the wake of the government's decision. Editor

The recent decision of the Jammu and Kashmir government to remove bunkers from some localities in Srinagar city has evoked mixed response from the people. For, Jammu & Kashmir - more so the Kashmir valley - is one of the highly militarized zones in the world as around eight lakh security forces personnel are manning the situation here. Jammu & Kashmir Police is helping army and other para-military forces in a bid to maintain law & order situation across the state.

Welcoming the removal of bunkers, Shaheen Iqbal, a government employee says that a beginning although small has been made. He says that government should take forward this confidence building measure so that the common masses heave a sigh of relief.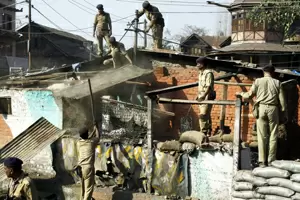 Symbols of government terror: CRPF bunkers in Srinagar being pulled down
"This is a small step and I would ideally want the government to remove the bunkers which have been set up in localities near human habitations. The removal of bunkers is a positive step and hopefully it would send positive signals. This would ensure that people move freely in these areas and there would be no interference," says Shaheen. This government employee demands the removal of bunkers on main roads so that there are no more traffic bottlenecks and less number of accidents.

Rauf A Punjabi, prominent trader and former President, Kashmir Chamber of Commerce & Industry (KCCI) terms the process of removal of bunkers as a mere eyewash saying that it would not serve any purpose. He says that CRPF should be shifted out of the city limits and recalled only during emergencies.

"Situation could improve only when the security forces personnel are marshaled out of Srinagar city and the government stops imposing curfew. Restrictions are imposed on regular basis and as such I believe there is no significance in removal of bunkers. Furthermore, I fail to understand why a decision like this is taken by the home minister as same can be decided by the magistrate or SSP of a particular district," says Rauf.

Javed Ahmad, an auto-rickshaw driver believes that Omar Abdullah government needs to be patted on its back as the bunkers have been removed after 20 years. He says that more and more bunkers should be removed not only from the city but from other towns as well.

Shahid Zameer, an advocate says that the situation would not change much despite the removal of bunkers. He says that the only silver lining is that the stone pelters have lesser targets to aim at. "There is nothing special in this process. The only positive thing which I see is that as bunkers would be less there are chances that stone pelting incidents would also be less," says Shahid.

Both the factions of Hurriyat Conference (separatist conglomerate wanting freedom from Union of India) and other separatist groups have termed the exercise as futile saying that the whole area needs to be demilitarized. They demand that the forces should be recalled to barracks so that the people feel relieved.

Trending Now: