Helping underprivileged children play with toys, too

Deepti Khera
&nbsp | &nbsp Mumbai
24-September-2010
Vol 1&nbsp|&nbspIssue 4
Shweta Chari went to teach runaway children Maths and Science. But she learnt a lesson that changed her life itself. That underprivileged children had no toys to play with was a revelation that prompted the engineering graduate to come up with Toybank, an organisation that gifts toys. In six years, 28-year-old Shweta has come a long way, reaching out to 9000 kids and distributing over 15,000 toys.

Fed up with her engineering exams and having no clue as to where life would lead, Shweta volunteered for an organisation that supported children who ran away from their house. "Being an engineer, it was expected of me to teach Maths and Science." Not having much of a choice, she took it up. "But I could see that the children never connected with me. It went on for a while after which I got the permission from the NGO to do something different." Shweta, who plays the violin, decided to jam different tracks and play it for them. It was at that time Shweta got to know every child's name and became the most sought-after teacher. It was an informal survey by the NGO the helped her figure that the children did not have anything to play with.

She met a few friends, motivated them to do something for the kids and it was at a restaurant that the idea of Toybank was coined. Six years ago, on the eve of children's day, Toybank had its first collection drive by making the rounds in the suburbs of Andheri and Malad. They went door to door, requesting people to donate toys. Gathering about 1600 toys, she distributed each child a toy. "The life of a deprived child is not an easy one and if a toy can bring a smile on a child's face, why not?" she asks. "Our model is as simple as it can get. We do not work the conventional way and you will see all vibrant colours around us. It is toys and will always be toys," adds Shweta, who was also nominated for the MTV youth icon.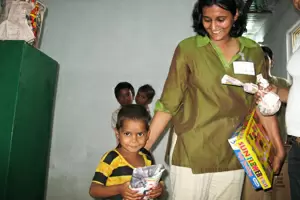 Shwetha Chari: a youth icon, no doubt
Even though Toybank reaches out to underprivileged kids, they do not distribute toys of poor quality like bad plastic or China-made ones. Each toy is gift wrapped and in most cases is almost new. Toybank does not distribute violent toys like guns. They do not promote distribution of Barbie Dolls as well. Many a times they have girls who are deceived by the plastic beauty and aspire to become like the Barbie when they grow up.

Ask Shweta about the most popular toys amongst kids, prompt comes her reply, "Be it girl or boy, soft toys are a rage among kids. Boys also like cars a lot."

Toybank has a tie-up with over 40 schools and NGOs. "We play games and through them educate the children and also give them moral education," says Shweta. Ask her what next? "We plan to set up Toybank in rural Maharashtra too," she says.

Trending Now: