A woman fights for breaking the silence over the 'red droplets'
Usha Rai
&nbsp | &nbsp Delhi
18-July-2016
Vol 7&nbsp|&nbspIssue 29
'Break the silence, celebrate the red droplets' is the slogan that resounded across villages of Amethi, Uttar Pradesh (UP), in June this year as Urmila Chanam, 36, a Bengaluru-based health activist-cum-journalist, worked with Accredited Social Health Activists (ASHAs), health professionals and women Self Help Groups (SHGs) associated with the Rajiv Gandhi Mahila Vikas Pariyojana on issues of menstrual hygiene, use of sanitary napkins and toilets to empower themselves.
In fact, breaking myths and taboos around menstruation has been Chanam's mission for the last five years. In 2012, she joined as a media fellow of the Nirmal Bharat Abhiyan and travelled across several states of the country to understand and write about ground realities on sanitation. There has been no looking back ever since.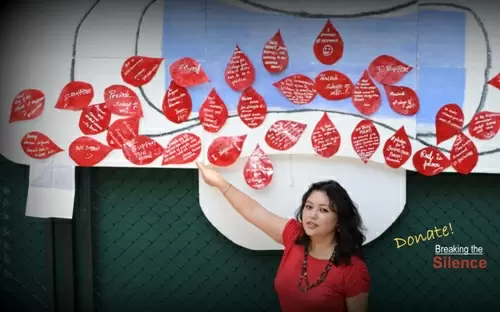 Urmila Chanam, a Bengaluru-based health activist-cum-journalist has mounted the Break The Silence campaign to break the myths and taboos around menstruation (Photo: WFS)

Be it reaching out to grassroots women or using the media – initially writing for newspapers and now launching digital campaigns on various social media platform, including twitter, Facebook and YouTube – the Manipur born Chanam has pulled out all stops to galvanise action and change public perceptions regarding the 'red droplets'. Incidentally, her first Digital Action Campaign in 2014 was spread across 10 states. Indeed, she always has a videographer trailing her and the same night the footage is edited and uploaded on various sites.
Owing to her commitment to the cause of spreading the word on menstrual hygiene recently she, along with Sadaf Kashif from Pakistan and Carolyn Seaman from Nigeria, was conferred with the Voices of Our Future (VOF) global award by World Pulse, a social networking platform that connects women from 190 countries to amplify women's voices and speed up change and improve lives.
The three have been singled out from a shortlist of 30 women from 21 countries, for having utilised technology to achieve high impact on community issues of menstrual hygiene, child marriage and empowerment of girls.
The award includes a cash prize of USD1,500 and full promotions on WorldPulse.com to bring greater visibility to the critical concerns they are championing. The shortlisted candidates had to undergo a two-month digital media and women empowerment training to compete and push their vision to the global arena. The trio also distinguished themselves with their ability to map resources that are always insufficient for social causes.
Of course, this is Chanam's second award; she has previously won the 2015 UNFPA Laadli Media award for her blitzkrieg of stories on girls and menstruation.
How to bring about behavioural change keeping in mind the cultural barriers of a particular region, whether it is in UP, Bihar or her home state Manipur in India, or even foreign countries like Nigeria or Timbuktu, has been a question foremost on Chanam's mind. It's a challenge she has grappled with; tried to find answers to.
Take the fact that toilets in the North East, however small, are put to proper use. In comparison, even large washrooms constructed by well-to-do families in Bettiah, Bihar, are far from their living quarters and so badly designed that they always remain dirty and smelly. In fact, they are actually reserved for use either by the elderly or the infirm.
In UP, she has seen people prefer buying gold over building toilets! Nonetheless, Chanam has noted a gradual change in attitude. For instance, she talks about how used sanitary napkins are being disposed off in the most environment friendly manner the UP villages she has visited. Women keep small, perforated earthen pots just outside the toilet and collect the used napkins and burn them in the matkas using some kerosene at the end of six or seven days. The ashes are then scattered in the fields.
Chanam is able to empathise with her subjects and understand the barriers women have to overcome probably because she too has had to deal with domestic violence and its implications. According to her, it's the triple burden of illiteracy, poverty and patriarchy that keeps women down.
Seeking to end the stigma around menstruation, Chanam reveals that 23 per cent of girls in India drop out of school when they enter puberty due to lack of sanitation facilities. Moreover, only 12 per cent use sanitary pads. In Punjab, she says, women use straw often bruising themselves.
In Manipur, she found a woman who used polythene bags to prevent the blood from leaking out; many others used tissue paper. In Kuppam, Andhra Pradesh, she saw how all menstruating women are pushed into a small hut outside the village where they stay for the duration of their periods. Their personal hygiene is no one's concern. When hungry they are allowed to come home to eat but have to stand outside!
While her Break the Silence campaign uses social media to spread the word, on the ground she reaches out through school and community based trainings to spread accurate information on menstruation, its hygienic management and creation of a support system for girls and women so that periods do not interrupt school, work and aspirations.
So far, she has trained 6,000 girls across nine states to understand that their period need not disempower them since it is just biology. In most places she visits, apart from strongly counselling women against using harmful things to manage their period, Chanam tells them how to clean and reuse cloth if they cannot afford sanitary napkins.
"When I show a naked female body, the first reaction I get is awkward laughter, and as the talk progresses, nobody looks me in the eye. I use laughter and case studies of women I've met and by the end of three hours, they can say 'vagina' without giggling," she shares. In schools, Chanam also talks to the male teachers about cultivating empathetic attitudes to menstruating girls. Her next step will be to involve them too in the information sessions.
Things are changing though slowly, she says, citing two examples to make her point. There was an old, retired Army colonel, a Krishna devotee, who stopped eating the meals cooked by his daughter-in-law because she cooked even during her periods. Lord Krishna, he maintained, was not answering his prayers because of this impurity in his kitchen. However, before his death at 97 he accepted that there was nothing 'impure' in menstruation.
The other story is of a pretty transgender radio jockey who wanted to be a woman ever since she could remember. Then she underwent a sex change operation and bled extensively on the operation table. She thought to herself this is the closest she would get to having periods. She was a woman finally! - Women's Feature Service

Trending Now: