Beauty brand launches 'let's break the rules of beauty' campaign following the findings of a survey
09-May-2016
Vol 7&nbsp|&nbspIssue 19
It's only picture perfect, not reality! A majority of women think that the representation of women in the entertainment industry is far from reality.

As many as 68 percent of Indian women and 71 percent of girls agree that very few real women and girls look like women and girls in advertisements, movies and television, according to a survey.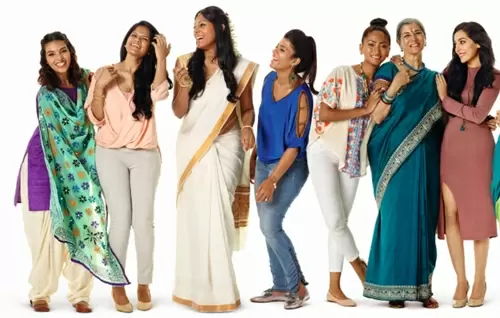 Beauty brand Dove has come up with a campaign "Let's Break the Rules of Beauty" (Photo: IANS)

A research investigating feelings of Indian women and girls about beauty has revealed how women have so many notions about their beauty and beauty standards.

"Truth About Beauty" study, initiated by beauty brand Dove, was conducted by Edelman Intelligence, a specialist applied research firm based in London, in conjunction with clinical psychologist and psychotherapist Varkha Chulani, who is based in Mumbai.

The Indian study was part of a larger global study conducted over a four week period. Edelman Intelligence interviewed 4,000 women aged 18 to 64, and 2,800 girls aged 10 to 17, in seven countries-- India, the US, Britain, Brazil, China, Japan and Turkey, read a statement.

All respondents answered a 30-minute survey of 40 to 50 questions. All markets, excluding India, were asked these questions via an online quantitative survey.
Interviews in India were conducted face-to-face in order to get a national representation of women and girls due to low online penetration in the market.

Talking about the perception of media over how it creates and has created stereotypes, 67 percent of Indian women and 65 percent of Indian girls believe the media and advertising set an unrealistic standard of beauty that most women can't ever achieve.

To add to it, 68 percent of Indian women and 71 percent of girls agree very few real women and girls look like the one in advertisements, movies, and television.

The study also revealed that 75 percent of Indian women and 77 percent of Indian girls have not attended or have avoided a social engagement, work or school related activity, or did not treat a health related issue because they didn't feel good about the way they looked.

In fact, mostly women have narrow beauty ideals as 74 percent of Indian women and 43 percent of Indian girls believe women/girls who are beautiful have greater opportunities in life.

But the fairer sex is rooting for a change. Around 67 percent of Indian women and 64 percent of Indian girls wish the media did a better job of portraying women of diverse physical attractiveness.

And 72 percent of Indian women and 73 percent of Indian girls wish women and girls in advertisements, movies, television, were judged not on their looks but what they do and say instead.

With an aim to redefine the existing beauty standards in India and inspire people to embrace the country's diverse shades of beauty, Dove has come up with a campaign "Let's Break the Rules of Beauty".

They have also come up with a film for the same where in 85 women across India are celebrating their beauty in their own avatars. The video is directed by Pan Nalin. - IANS

Trending Now: