Driven by 'a spark of positive madness' to protect nature

Shreya Misra
&nbsp | &nbsp Dehradun
10-September-2010
Vol 1&nbsp|&nbspIssue 2
'A cycle for one, a scooter for two adults and a child, and a car when there are more people than that, if affordable.' This is the dictum of Jawaid Qaisar, who also lives by it, often cycling to work. The chief engineer with Oil and Natural Gas Corporation (ONGC) in Dehradun, fell in love with the cycle when he started pedaling one for physical exercise aimed at losing weight way back in 2001 while he was posted in Surat in Gujarat.

But soon it became a passion. Now in Dehradun, the capital of Uttarakhand, using his colourful bicycle, he has launched a movement to spread the message of environmental protection. "We are only given a slight spark of positive madness; almighty God gives it to everyone. The only thing is, we should have the knack of holding it."

Though his job in ONGC has assured him of the basic necessities of life for him and his family and he can very much afford the luxury of a car, Qaisar doesn't favour excessive use of automobiles that pollute the environment and contribute towards depletion of natural resources such as oil and petrol. So, while his colleagues move in the latest hatchbacks and sedans sporting coveted brand names , he prefers to travel by his cycle. His cycle is as remarkable as he is. It is painted in several vibrant colours. The front and the back parts of the cycle have boards where different slogans and thoughts such as 'Do cycling and save the environment,' 'Use cycle instead of scooter,' 'Save petrol,' etc, are written.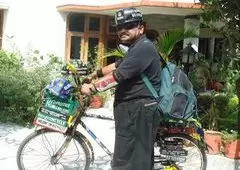 Qaisar: Championing the cycle Photo by Shreya Misra
Every morning he gets on to his bicycle and visits different colonies and parks to spread these messages. While cycling, he is a man with a mission. He is the advisor for a local NGO called Doon Green Cycling Club which is dedicated to inspiring people to cycle. The club has members whose age range from ten to eighty. After meeting every Sunday at different locations, the club members go cycling to different places and get involved in different activities such as planting trees. This August 14, which is celebrated as ONGC Day, Dehradun saw a cycle rally where people of all ages took part. The rally, conducted under Qaisar's supervision and which was flagged off by the Chairman of ONGC, R S Sharma, received accolades from everyone.

Qaisar greets everyone in his customary way, Hari Om. He has his morning tea with the labourers on the road side and his pockets are always filled with toffees that are presented to any child he comes across. Thus he is very popular among the street children as Hari Om Uncle.

Whenever a thought provoking slogan crosses his mind, he paints it in a board and fixes it on to his cycle. Today his cycle has at least 15 boards and his helmet too is painted with different messages.

His cycle draws a share of bitter comments, but he is not perturbed by such comments. Every unsavoury comment makes him more dedicated to his goal. Cycling or any such exercise generates energy and a feeling of positiveness, he says. "If a man could stay happy and enthusiastic, then he would be keener to do things for the betterment (of the society). And once he starts believing in himself, not even the bitter remarks can stop him".

Qaisar's passion has attracted a lot of people who now try to contribute their little bit for the environment. He has proved that if one is passionate about what one believes in, then one cannot remain alone in his mission for long.


Trending Now: