"I was too scared to defy the diktat of male panches till I attended the training for women panchayat leaders"
Rakhi Ghosh
&nbsp | &nbsp Bhubaneswar
07-November-2015
Vol 6&nbsp|&nbspIssue 45
Ranjita Sethi, 25, is the sarpanch of Baligorada panchayat in Odisha's Dhenkanal district. Highly respected and successful today she has come a long way since she first filed her nomination papers in 2012.
After the panchayat seat became a reserved one her name was proposed by the elders of her dalit community. But being governed by a dalit and that too a woman was simply not acceptable to the upper caste men in the area. So her victory turned out to be the beginning of numerous trials.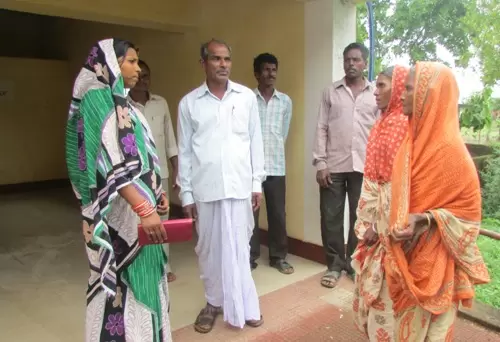 Ranjita Sethi, a dalit woman, realised the importance of her position as sarpanch and ensured that everyone from her community was treated fairly and equally in a village that otherwise witnessed visible caste disparity (Photo: Rakhi Ghosh\ WFS)

For starters, she was barred from entering the panchayat office. The menfolk expected her to let them take over the running of the panchayat and Sethi would have done so without protest had she not gotten the opportunity to be part of a leadership training held by a local non-government organisation working with elected women representatives.
"I was too scared to defy the diktat of the male panches till I attended the training for women panchayat leaders where I got to know about the real powers and responsibilities of a sarpanch.
"I realised that I was letting the golden chance of bringing about a change in the mindset go by. It took me some days to gather courage but six months after I had been elected I finally stepped into my own office. It was an emotional moment for me," she recalls.
Once Sethi took charge there was no stopping her. "I knew I would not be able to enforce big decisions without building a consensus. For the longest time, things were not easy but I persevered anyway.
"Over the last three years, what has given me the confidence to interact with other grassroots representatives and block officials is the knowledge I gained by participating in the capacity building workshops. I got to know of the different issues, like food security, sanitation and women related laws, and, most importantly, I learnt how to talk to officials and handle panchayat funds," she adds.
According to Sethi, one of her biggest achievements has been the creation of an ANM centre. "Some time back my daughter had suddenly fallen ill. Though I took her to the Auxiliary Nurse Midwife (ANM), being a dalit I could not enter an upper caste person's home.
"That day I realised that we needed an ANM centre where anyone can seek treatment," she shares. Apart from ensuring access to healthcare, she has gotten tube wells dug to solve their drinking water crisis, expedited applications under the Indira Awaas Yojna (IAY) and streamlined the availability of rations under the Public Distribution System.
Truly, ever since 50 per cent seats in the Panchayati Raj have been reserved for women candidates there has been a noticeable change in the way village level development has taken place across the state. That's because women leaders instinctively know the difficulties faced by their community, be it the lack of healthcare, the need for steady employment to keep the home fires burning or food security.
Yet, those who do get elected for the very first time are not really equipped to administer with total efficiency. After all, there can be no denying the very real hurdles they have to contend with – from the lack of education and low self-confidence to a limited understanding of the Panchayati Raj system and the lack of awareness about how to roll out government welfare schemes.
In such a scenario, it's the valuable guidance offered through periodic training sessions organised by the state authorities or civil society organisations that facilitates elected women like Sethi in performing their duties to the optimum.
In Odisha, the State Institute for Rural Development (SIRD), working under the aegis of the Government of India's Panchayati Raj Department, is the nodal agency for conducting regular capacity building programmes for grassroots leaders.
Talking about their training module for PRIs, Saroj Kumar Dash, Deputy Director, SIRD, says, "We provide comprehensive training covering various aspects of governance. We explain to the elected members their proper role and responsibilities and elaborate on the rules and regulations.
"Aside from this basic information, we talk to them about maintaining transparency and accountability in their workings, introduce them to formal financial management and accounting, and tell them about rural development programmes in Panchayati Raj department. There are also sessions on good governance and sustainability, in addition to a few exposure visits to other panchayats within and outside the state."
Besides the SIRD, for several years now, The Hunger Project, a global non-profit, too, has been preparing panchayat women to take on the challenge.
"Not just elected representatives but we reach out to women in general as well to strengthen their position within the electoral process. Those who are new to the political arena require all the help they can get because even though they are excited to start working they have no idea how or where to begin. The existing patriarchal social structures make everything that much tougher as men are unwilling to be 'ruled' by women," says Litali Das, Programme Officer, The Hunger Project.
Rajani Hans, 45, deputy sarpanch of Litisargi panchayat in Nuapada district's Boden block, is one of the many female PRI members who have had to break down the wall of patriarchy to make their presence felt. This mother of three daughters has defied the sarpanch to ensure her village becomes open defecation free.
"I owe all my knowledge to the trainings I have attended at the block office. Through songs and short films I got an idea of the duties I was expected to perform. Moreover, I realised that male panches largely focus on infrastructure development like building roads and community halls, which is necessary, but tend to ignore issues of service delivery. So I made up my mind to pursue issues like the availability of drinking water, construction of toilets and mid-day meal management," she says.
Indeed, Hans has conscientiously been working on achieving total sanitation in her panchayat. She reveals, "Open defecation was common earlier making life rough for adolescent girls and women.
"When I spoke to the sarpanch he couldn't understand why building toilets was essential. So I decided to approach the Block Development Officer independently. Presently, nearly half the households have constructed a toilet using government schemes."
Both Sethi and Hans are especially glad that the 13-odd training sessions they have attended so far have enabled them to motivate the community to take active part in local development initiatives. "I have always made sure that women are present in the palli sabhas because that is where we decide on what problems need to be addressed."
Of course, while the trainings are crucial and highly appreciated – "the colourful posters, hand-outs, banner, and cultural shows make it easy to grasp even the finer nuances of governance" – many women do feel it's not enough.
Kabita Manjari Parida, Chairperson of the Balianta Panchayat Samiti in Khurda district, points out, "For the average grassroots elected representative, who is usually semi-literate, understanding a complex PRI system in just a few sessions is not possible. Moreover, when both elected PRI members and government officials are responsible for development, why is the training designed for PRIs only. Rather, both should attend the training together so that there is greater synergy."
Today, elected women like Sethi, Parida and Hans have a clear vision and mission – to transform their panchayat into an ideal settlement. "We show them what a model village should be like during the initial training sessions and slowly they use the knowledge and tools shared to bring this picture alive," concludes Das. - Women's Feature Service

Trending Now: