"Our lives changed the moment he gave up alcohol"
Chetna Verma
&nbsp | &nbsp Agra
07-November-2015
Vol 6&nbsp|&nbspIssue 45
Agra is truly a picture of contrasts. Whereas on the one hand, this small town in India's most populous state, Uttar Pradesh, is home to the Taj Mahal, an image of beauty, purity and fine architecture, on the other, as one starts moving away from this historical wonder, the city reveals a whole other side to it.
Venture into Lal Singh Ka Nagla colony, located nearly 34 kilometres from the Taj, and a strong, pungent odour hangs heavily in the air.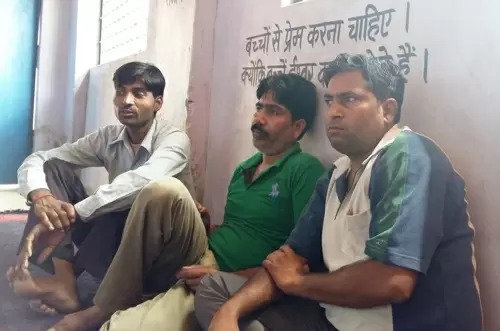 Traditional shoe-makers like Ram Naresh (left), who were once abusive alcoholics have now stopped drinking and helping others to quit the habit (Photo: Chetna Verma)

A few open doors reveal several men and boys busy at work – making shoes. It's the glue used to stick the sole of the shoe that gives out this rather unpleasant smell, which takes some getting used to.
There are two things that mark the daily routine of the men of Lal Singh Ka Nagla colony – by day, they make shoes and then, at night, blow up all the earnings on alcohol.
Ram Naresh, 34, a shoe-maker since he turned 15, shares, "Shoe-making is the livelihood of nearly 98 per cent of the families here. All of us have learnt the skill from our elders. Of course, there is another 'legacy' that we have inherited – alcoholism. My father spent a better part of his youth drinking excessively and, till recently, I, too, was following in his footsteps."
Ram Naresh had started drinking in his late teens and soon was caught firmly in that vicious cycle of destitution and addiction.
"Instead of giving money at home, I used to lend it to my drunkard friends and this led to huge fights. I would often beat my wife in front of the neighbours," he recalls.
Fortunately, something significant happened in Ram Naresh's life, which paved the way for bringing about lasting change. "I would have destroyed my family had it not been for the Men Care group that came up in my colony sometime in 2012. They motivated me to give up alcohol and though it was easier said than done I have managed with their assistance. Now it is my turn to help others," he shares.
Across select lower-income settlements in Agra, such as Barakhamba, Lal Singh Ka Nagla, Rahul Nagar and Nai Abadi, among others, 15 Men Care groups have been constituted with the support of World Vision India, an international humanitarian agency, to encourage men and boys to become responsible citizens and better husbands and fathers.
According to Karoline Davis, Head-Gender and Development, World Vision India, "We initiated the Men Care campaign in 2012 to enable men and boys to recognise and understand the need for gender equality.
"The ultimate aim is to significantly reduce gender violence and ensure their greater involvement in running the household and child care. Instead of getting someone from the outside to talk to them we are empowering men from within the neighbourhoods to become agents of change."
Men like Ram Naresh, Indrajeet Jatav, Jitender Singh, Vishambar Singh and others have gone from being abusers and alcoholics to committed "activists" eager to affect a similar transformation in those who believe that control and cruelty can be the only ways to establish their supremacy at home and in society.
Jitender Singh, 35, from Lal Singh Ka Nagla colony, reveals, "My father used to be a raging alcoholic and he passed away when I was in school. I had to give up education and start working in the factory. It was not long before I turned to alcohol as well."
When his mother fell gravely ill, his relatives started pushing him to marry so that his bride could run the home. Before he knew it, he had become a husband and, within a year, a father.
"Was I ready for the responsibility? Was it right to get married even before I could realise that I was a drunk who could not mange work and family? Today, I know that the answer to those questions is: NO. But back then I did not have the guidance of the Men Care group and made bad decisions."
Indrajeet Jatav, 29, of Barakhamba settlement, clearly remembers arguing everyday with his wife and mother, "I was addicted to tobacco and would spend over half my daily earnings, around Rs 200, to buy around 50-60 packets of tobacco. They kept asking me to save money so that they could buy essential groceries but I never paid heed."
Such is the heartrending reality of hundreds of thousands of families as patriarchy gives men a free pass to do what they want, even if it comes at a great cost to the women and children.
"World Vision had initially started working in Agra in 2010 to reach out to impoverished children. As our community interaction grew, we realised that the men, who are uneducated, unaware and alcoholic, not only pass on their vices to the young ones but create an unpleasant atmosphere at home by misbehaving with the women," explains Febamol Baby Kutty, 24, World Vision's Gender and Development Coordinator in Agra.
Significantly, an already meagre income that could otherwise be utilised for education or healthcare was being wasted on alcohol, tobacco and gambling.
Moreover, thrashing the women in front of the children had a deeply disturbing impact on their psyche. "It was clear that many grave social problems would instantly be solved if the men were sensitised. So we introduced the Men Care campaign," says Kutty.
Presently, Men Care groups, with 20 to 40 volunteers, are actively making a big difference to the lives of the locals, even though getting men to change their mindset has been difficult.
Recalls Kutty, "During the first meeting, only four men had turned up and they just wanted to talk about improving the roads, electricity and water supply. Very slowly, the tone of the discussions changed.
"In one of the later meetings, as we were listing the bad habits men have and how women have to bear the consequences, an irritated Ram Babu from Rahul Nagar vociferously interjected to complain that we were only interested in pointing fingers at men. When the other men in group told him exactly why we were talking about all this I realised we were on the right track."
On one occasion, when the men were asked to calculate the number of hours they work and compare it to the time a woman spends in the kitchen, finishing household chores and looking after the family, the outcome of this exercise made them feel quite embarrassed.
"I had never respected the women of my house. For me, it was their 'duty' to serve me. I would come home drunk, demand food and sleep off, never realising that my wife may need someone to ask her how her day had been," remarks Vishambar Singh, 29.
From thereon he tried to mend his ways. That his group was putting tremendous pressure on him to either quit drinking or give up their friendship helped the cause. "Our lives changed the moment he gave up alcohol. Nowadays, he gives his entire earnings at home and we never fight unnecessary," says Naina Devi, his wife.
Adds Meera Devi, 40, from Rahul Nagar, "My husband had died because of his drinking problem and I was always afraid my three sons would follow. But under the guidance of the Men Care group, they are working hard. In fact, my eldest has cleared the SSC exam."
A big believer in constructive brotherhood, Ram Naresh concludes, "My group has shown me the right path instead of quietly watching me make a 'tamasha' of myself. Giving up drinking has made me a real man. I am a better husband and father." - Women's Feature Service

Trending Now: