Lending a helping hand to angel lenders and needy rural poor
Surekha Kadapa-Bose
&nbsp | &nbsp Mumbai
03-August-2015
Vol 6&nbsp|&nbspIssue 31
Sridevi is an entrepreneur. She has managed to set up her own handicraft unit, Prateik Creations, in Chamrajpet, Bangalore, Karnataka's bustling state capital. A science graduate, she and her husband had been facing tough times after they lost everything due to some family problems. The duo was almost on the streets with their small daughter when they heard about an initiative that was providing easy loans to aspiring start-ups.
Says Sridevi, "I asked for a loan of Rs two lakh to begin my own work. Now I employ 13 women and men, some of them physically disabled, for a monthly salary ranging from Rs 3,500 to Rs 5,000. We make eco-friendly corporate gift items, jewellery and stuffed toys. Of the Rs two lakh loan, I have paid back Rs 1.2 lakh."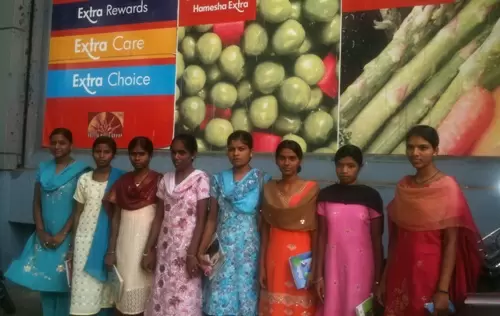 Milaap employs a lot of its loan money to provide vocational training to youngsters. (Photo: Milaap)

Sridevi is also planning to expand her operations to Kolar, a city 72 kilometres from Bangalore, where she wants to create employment opportunities for the economically backward.
Who or what enabled Sridevi to not just get back on her feet but also create additional jobs for those in need? Meet Anoj Vishwanathan, Mayukh Choudhury and Sourabh Sharma, three friends, who got together in 2010 to set up Milaap, an online platform that enables 'regular' people to lend money to the working poor in select Indian states so that they can access basics like education, clean water, energy and sanitation.
While Vishwanathan was well versed with micro-financing, having worked with SKS Microfinance, Choudhury had an understanding of the rural poor, as he was engaged in rural electrification programmes in Uttar Pradesh, and Sharma, a computer science graduate, brought his considerable business development and IT marketing skills to the group.
When Vishwanathan was attached with SKS Microfinance he got to see first-hand the kind of difference something as fundamental as solar lighting could make to impoverished households in Odisha.
Unfortunately, the solar lanterns were out of their reach as there were no affordable loans available for such products. At the same time, he also observed that there were numerous well-to-do individuals in big cities across India, looking for avenues to make a difference.
"There was a need to connect them to those in need and that's what we do," says Vishwanathan. Elaborating on the Milaap philosophy, Sharma adds, "We believe that everyone, irrespective of gender, should have access to credit that can contribute to an improved standard of living. Therefore, we make it our business to provide small loans to a borrower screened by our partner organisations."
Of course, Milaap is able to lend money all thanks to concerned donors like Priya Singh. A civil servant with the Indian Revenue Service, she was chatting with her Singapore-based friend on the social networking site, Facebook, when the conversation turned to how she was planning to celebrate her upcoming birthday.
Singh was looking to do something different and so her friend told her about Milaap. Intrigued, she instantly logged on to their website - www.milaap.org.
She not only understood their work and the loan management and repayment plan but also saw the kind of women, children and unemployed youth she would be reaching out to if she decided to lend money. Then, as she turned a year older, Singh marked the occasion by extending a loan, which she was sure would help someone, somewhere lead a better life.
Says Singh, "I had never imagined that becoming a lender would be such a joyful experience. It was the best birthday gift I could give myself. While I had been donating money and materials off-and-on, helping people who are helping themselves by giving them a loan has been satisfying."
With the Milaap loans, several families across Maharashtra, West Bengal, Tamil Nadu and Karnataka – where the organisation has been working with its field partners, including local NGOs and civil society organisations – have gained access to potable water, have built toilets at home, are now the proud owners of solar lanterns, and have been able to enrol their young children into vocational courses.
This has not only enabled girls and women in rural and peri-urban areas to devote lesser time to the back-breaking activity of water collection, but has also created a safer environment for them - they are no longer forced to defecate in the open, especially at night.
In addition, several youngsters have gained employable skills. Easy availability of working capital has also translated into a 20 to 30 per cent rise in income for artisans and craftsmen, while the work of struggling entrepreneurs has taken off.
Whereas today Milaap can boast of backing many successful women, including Sridevi, initially they had their share of problems, especially when it came to handling government regulations regarding money transfers from overseas.
One of the key challenges was "getting the regulatory authorities to enable us to accept loans from foreign lenders. It took a year and multiple phone calls, email conversations and trips to Mumbai before things were finally worked out".
When Milaap got the necessary approval in August 2011 it made them the "first organisation in the world to support foreign micro-lending into India". Apart from that, "reaching out to those who can give loans has been quite a task because while most people are used to traditional forms of charity, this is still a relatively new concept".
Here's how Milaap's credit system works. Lenders can go to the website and register themselves. The next step is to choose a cause; the organisation focuses on six critical issues – education, energy, water, health and sanitation, enterprise, and sustainable farming.
Payment options include online through PayPal and offline through cheques or electronic fund transfers. A short cycle of 12-24 months (until full repayment) with monthly installments, and the loan is repaid.
There's also the option of re-cycling the credit so that the same amount can benefit multiple borrowers. Singh, who lent money in 2011, says, "The loan repayments happened as per schedule, which was very encouraging. I feel happy that Milaap encourages women borrowers and their focus on solar power is certainly timely."
Although Milaap takes adequate measures to mitigate the risks involved, "in the off-chance that there are defaults, our field partners offer a 20 per cent first-loss guarantee".
Besides water, sanitation and electricity projects, Milaap's support to entrepreneurs focusing on creating awareness on higher tertiary education as well as the promotion of vocational training and skill development needed in the hospitality, retail, BPO, security and healthcare sectors, has worked wonders.
Several youngsters have secured jobs after their training, conducted with the help of partner agencies. Take Heena, a young girl from Hubli in Karnataka, who couldn't pursue her college education for lack of funds.
Enter Milaap and she could do a vocational training that has enabled her to secure a job with a popular coffee shop chain. Now, she manages to support her mother, sister and is hoping that after repaying her loan she would be able to save enough to fund her college education.
If a Heena or a Sreedevi can afford to live the life of their dreams, it's because someone, somewhere decided to log on to Milaap and make a contribution. These high-tech loans are certainly turning out to be timely stepping stones. - Women's Feature Service

Trending Now: