Where mothers are made to understand the need for immunizing children
Ashish Mishra
&nbsp | &nbsp Patna
29-June-2015
Vol 6&nbsp|&nbspIssue 26
Twenty-five-year-old Reena had sacrificed a day's wages and spent several hours walking in the blazing sun to reach an immunisation camp in Maner block in Bihar capital Patna. For the migratory labourer from Nalanda, this was a rare opportunity to get her one-and-a-half month-old son inoculated.
Reena works at a brick kiln and had reached the immunisation camp set up under Mission Indradhanush at Sona Brick Kiln. The entire area, located around the Ganga riverbed, has a concentration of brick kilns that attract migrant labourers from districts like Nalanda, Jehanabad and Gaya.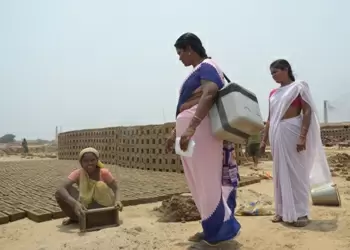 Mission Indradhanush has been launched to immunise kids of migratory workers (Photo: IANS)
This was the core reason why the health ministry had launched the immunisation initiative in the area to target itinerant workers under Mission Indradhanush.
The mission aims to achieve more than 90 percent immunisation coverage by 2020. This initiative will eventually close gaps in the immunisaton effort and strengthen its coverage.
Maner block has 111 brick kilns, of which 97 are spread along the banks of the Ganga. These kilns employ about 35,000 migratory workers. Nearly 5,000 children aged up to five live in the target area.
Mobilising people working at brick kilns to bring children or pregnant women to the immunisation camps has never been a simple task. Auxiliary Nurses and Midwives (ANMs) and Asha workers have to toil hard to convince people to immunise their children.
"It was not easy to convince brick kiln workers to bring their children to immunisation camps. They used to cite reasons like after getting a child vaccinated he/she gets fever which requires proper care and they had to take a day off, resulting in loss of wages," said Nirmala, an ANM at Maner block.
However, Reena is smart enough to know the benefits of immunisation even at the cost of a day's earning. This is courtesy the continuous awareness drives by UNICEF and the health department who send mobilisers to the brick kilns to encourage the workers to immunise their children.
"I had no idea what a vaccination drive meant, but Asha workers and mobilisers from UNICEF informed me about vaccine-preventable diseases and the benefits of immunisation. I took leave from work today just to get my kid immunised," said Reena.
The medical officer in-charge at Maner Primary Health Centre, Dr. R.K. Jamaiyar, said that most of the workers at brick kilns moved to other locations during the monsoon when the river was in spate.
"Catering to floating populations has always been a challenge as they neither stay at a single place, nor do they have any knowledge about vaccine-preventable diseases. To target this section, we, with the help of UNICEF, sent our mobilisers, Asha workers and ANMs to brick kilns where they used to work. They told them about the benefits of immunisation," said Jamaiyar.
"We use pictorial representations to make them aware of the benefits of vaccination," said Block Health Manager Manoj Kumar.
"We also held meetings with the managers at different brick kilns for inter-personal communication to mobilise child immunisation," he added.
The government's and UNICEF's efforts seem to yield results as people from this section are reaching immunisation camps to get their children vaccinated.
Saraswati, a resident of Nalanda, works at a nearby brick kiln where she is paid Rs. 450 for every 1,000 bricks she bakes. She had brought her year-old daughter, Laccho Kumari, to the immunisation camp.
"Ensuring good health for my kid is top priority for me," said Saraswati.
However, according to officials of the health department, cases of ignorance or refusal still come up which create hindrances in the immunisation process to an extent.
"Some cases of ignorance are still being reported. A few families refuse to bring their children or pregnant women to the immunisation camp because of various reasons. In such cases of refusal we call the doctors to counsel the family members regarding immunisation," Manoj Kumar said.
(The writer was part of a field visit that UNICEF had organised for the media to Patna and Gaya districts.)

Trending Now: