Now women corporation councillors brim with new ideas to change Kolkata

Saadia Azim
&nbsp | &nbsp Kolkata
01-June-2015
Vol 6&nbsp|&nbspIssue 22
Sudharshana Mukherjee is used to a busy life. As a television journalist she planned her day around the news cycle and often had to burn the midnight oil to meet deadlines. Today, she is no longer a reporter but her schedule is about to get crazy hectic, with back-to-back meetings and discussions with city officials, municipal workers and, of course, citizens.
Mukherjee is a newly-elected councillor of the all-powerful Kolkata Municipal Corporation (KMC) that is responsible for running and maintaining the civic infrastructure in the historic state capital of West Bengal.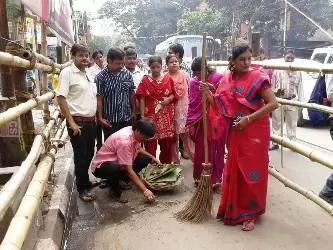 Despite being divided across party lines, women councillors in Kolkata are keen on concentrating on regularising standards of sanitation, drainage and water supply (Photo: Saadia Azim\ WFS)
"I decided to give up my lucrative job to be able to do something for my city, for my people. I do believe that there are certain issues that women can understand better, like the need for proper sanitation and women's safety," says the first-time councillor of Ward No. 68, better known as the posh Ballygunge locality.
Mukherjee is among the 70 women that have been voted to the 144-member KMC for a five-year term. This is the highest number of female candidates ever elected to the municipality and together they will take decisions that will impact the future of the 4.6 million that live in the bustling city.
"The KMC has 33 per cent reservation for women and that motivates committed female candidates to join the fray. Not just the reserved seats but they can also contest from the general quota, which only improves the odds of a greater number of women getting elected. What better way to increase their stake in governance," remarks Sudheshna Bhattacharya, a journalist, who has covered urban local body elections for more than two decades.
Bhattacharya is right. From businesswomen, professionals and home-makers there is a mix of talented women in the municipality today and each one has brought to the job her unique understanding of issues and a work ethic based on integrity and diligence.
Like Mukherjee, Sana Ahmed is first-time councillor. "I was never really interested in joining politics earlier but then I realised that if I want to see a change in my city then I would have to work for that change from within rather than complaining from the sidelines. It was my desire to do something concrete for the people that pulled me into the race," says the homemaker-turned-councillor of Ward No. 62 in central Kolkata.
There is a whole range of key decisions and responsibilities that is thrust upon a municipal councillor – be it making the city safer for women and children by focusing on improving transportation and street lighting, ensuring better sanitation and water supply or upgrading roads in residential areas.
All these require meticulous planning, equitable use of funds and, naturally, a constant know-how on what people want. "Being a councillor is more demanding than any regular nine-to-five job. City development and planning is serious business. We have to oversee works related to drainage, water supply, street lighting, and plantation drives, apart from ensuring the smooth functioning of corporation-funded schools and health centres. Each ward is allocated Rs 10 crore annually to get things done," elaborates Mina Purohit, 54, who contested from a general seat this year won from Ward No. 22 in north Kolkata.
This four-time councillor from Bharatiya Janata Party (BJP) is as gung-ho about her duties right now as she was when she was elected for the first time two decades back. "I have fought KMC elections five times. For me, this is the kind of career that is not just personally fulfilling but allows one to improve lives and create a constructive legacy. Political participation, be it for women or men, cannot just be about contesting elections alone. It has to be about making a difference with good ideas and setting the benchmark as a leader," she says.
Personally, two-time councillor Jui Biswas from the ruling Trinamool Congress (TMC) wants to "lead by example" and put "my Masters in Business Administration (MBA) degree to good use to draw up specific plans for the betterment of the city". This mother-of-two knows "there is a lot that needs to get done especially in terms of bringing the city's infrastructure up-to-date" and she has to play her part in the progress.
Okay, once elected what is a typical day in the life of a councillor like? Purohit gives a low down, "Being a councillor is a 24x7 commitment. Anyone in the ward may need you at any time of day or night; it's like working for emergency services. However, on an average my work day starts at nine in the morning.
"I meet a whole lot of people, make a note of requests, sign letters and, most importantly, solve local area problems. Thereafter, I head to the KMC office. In the evening, I make my way to the party headquarters to exchange notes with colleagues and work out any pending issues. It's a full day but I am able to do justice because my children are independent and happy to support me in doing things that make me happy."
If Purohit's grown up children are glad to back their mother then so are Biswas's young ones. "My two kids are very proud of me and they feel I am able to bring change in my own small way," she says.
Despite being divided across party lines, the women councillors have common development agendas. Ahmed, Purohit and Mukherjee are keen to concentrate on regularising standards of sanitation, drainage and water supply in addition to access to education, even as Shamina Rehan Khan, councillor of Ward No. 77, who has been elected three times, has decided to prioritise primary education, vocational training for women and the commencement of electric rickshaws in her area.
Women's safety is another central issue on their mind. Purohit speaks for everyone when she says, "We have to get together to ensure more women become economically independent and are comfortable in the public domain. Only when their visibility increases will the rate of gender crimes start to decrease. Women's Feature Service

Trending Now: