"Swift punishment will definitely encourage women to break the silence"
Rakhi Ghosh
&nbsp | &nbsp Bhubaneswar
09-March-2015
Vol 6&nbsp|&nbspIssue 10
Young and idealistic Itishree Pradhan had many dreams, one of which was to teach children. She got her opportunity a few years back when she joined the primary school at Tikiri in Kashipur block of Rayagada district in Odisha.
That, however, turned out to be the worst decision of her life, one for which she had to pay with her own life. On October 27, 2013, Itishree, 27, was set on fire by an unidentified man because she had refused to withdraw her sexual harassment complaint against a senior colleague.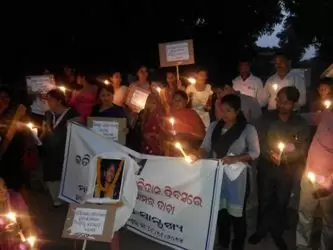 A candlelight march to express solidarity with Itishree Pradhan, a school teacher who was set on fire by an unidentified man about a year ago (Photo: Rakhi Ghosh\WFS)
Her gruesome death made huge headlines across the state, so much so that, today, it is one of the most talked about cases of workplace harassment. Sadly, though, her case drags on even after a year of her passing away.
Birajini Pradhan, Itishree's sister, is angry at the way things have turned out, "Itishree set an example by raising her voice against sexual harassment. But the accused, who doused my sister with kerosene and set her on fire, has been absconding. Why have the police not been able to catch him yet?"
Itishree, a contractual teacher, had filed a sexual harassment complaint against School Inspector Netrananda Dandasena. Although she was told to withdraw the complaint she did not comply. Instead she decided to take her case to the Education Department and the District Collector.
At the same time, she lodged a formal FIR at the local police station and even sought protection. According to Birajini, her sister's pleas fell on deaf ears because she was "just an ordinary primary school teacher". "She [Itishree] knocked on all doors for justice but was completely ignored," she laments.
However, Itishree was a fighter. Not only did she file a complaint, she sought police protection as well. But before she could get any security, she was killed. After she suffered deep burns, the spirited teacher was rushed to the district hospital.
Later, she was transferred to a private facility in Visakhapatnam in neighbouring Andhra Pradesh where she breathed her last. Following Itishree's death, there was uproar in the state assembly and several women's activists took to the streets demanding the arrest of the culprits.
While Dandasena was thrown in jail, the arsonist is still on the run. Nonetheless, her family has a renewed sense of hope now as the Supreme Court recently directed the Central Bureau of Investigation (CBI) to take over the case.
Not just Itishree, but Gayatri Panda, too, is waiting for a fair closure of her sexual harassment case filed way back in 2008. Of course, unlike the primary school teacher, Panda is around to fight her battle. This former Assistant Marshal in the State Legislative Assembly had levelled sexual harassment charges against Assembly Speaker Maheswar Mohanty in April 2007. Eight years down the line and several court appearances later, justice is yet to be served.
Clearly, for every high profile case of sexual harassment, like the latest one involving the internationally acclaimed climate change expert Rajendra K. Pachauri, where pressure from the media and rights activists creates a momentum for justice to be delivered on time, there are many complaints involving regular career women that simply languish for years together.
In a conservative state like Odisha, long delays in court, coupled with the fear of defamation as well as loss of job, discourages many from coming forward to register a formal complaint. The first case of sexual harassment at workplace filed with the State Commission for Women was in 2001. The complainant used to work for a well-known corporate house. She eventually took a transfer from the state as she got no support from the system.
"In the last 14 years, we have only received 10-12 workplace harassment cases. Most women tend to take a step back because of social pressures. On our part, we have given orders to all private and public sector companies to constitute an internal complaints committee to deal with the matter. While companies have complied with the directive, the problem is that these cells don't function properly," says Snehanjali Mohanty, Member, Odisha State Commission for Women.
Subhashree Das, Director, Institute for Social Development, firmly believes that women hesitate to take a stand due to a lack of understanding of the law. "Though in recent years, more and more women are stepping out to work only a handful know about the workplace harassment law. Consequently, when they find themselves in an adverse situation they don't know how to react and what action to take. Those who do file a sexual harassment complaint face enormous societal backlash," she observes.
To create greater awareness about the law, the Bhubaneswar-based Institute for Social Development has conducted a survey of working women in the state.
Further to its efforts, the Institute for Social Development has launched a helpline for working women. "But the problem is that while they are willing to talk about their issues they don't want to register any complaint because of the lack of social and family support. Assurance of swift punishment to the culprit will definitely encourage more women to break the silence," she says.
Itishree's sister Birajini seconds that thought. "Women take up jobs for different reasons but everyone needs a safe working environment. If they do end up facing harassment, at least they should be secure in the fact that they will get not just the support of their loved ones but also from the justice system. I never want another woman to go through the indignity that my sister lived through and ultimately died for," she concludes. - Women's Feature Service

Trending Now: