UP's schoolgirls are picking up the hatchet on behalf of street children and their rights
Alka Pande
&nbsp | &nbsp Lucknow
18-October-2014
Vol 5&nbsp|&nbspIssue 42
Three years back, Anupriya Pal had got admission in Class Six at the Kasturba Gandhi Balika Vidyalay (KGBV) in Badlapur village of Uttar Pradesh's Jaunpur district. The KGBVs are all-girls' elementary-level residential schools that provide a one-year compressed learning programme for those who drop out after Class Five.
Although aged only 11 then, one day the youngster witnessed something that changed her forever. Her voice softens as she narrates, "I was sitting in class when I happened to look outside. There was a girl around my age walking down the street picking up trash and shoving it into a large plastic sack.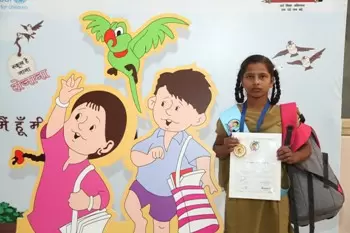 Anupriya Pal, 14, motivated Shivani, 12, a ragpicker in her Badlapur village in Uttar Pradesh, to fight for her right to education (Photos: WFS)
"She was grimy, tired and looked quite sad to me. From then on, every day I would notice her as she went past my school. Day after day, her routine never changed and it pained me immensely to see someone just like me leading such a hard life. I thought to myself: 'didn't she ever dream of going to school and doing something better with her life? Why did her parents make her do this?'"
These questions plagued Anupriya for many weeks – till she mustered the courage to follow her home one day. It was a risky thing to do but she simply had to speak to her. When she finally caught up with the girl what Anupriya found out was quite heart-rending.
Shivani, the impoverished rag picker, led a miserable existence with an alcoholic father and a mother who always chose her brother over her, whether it was to shower affection or decide on which one of them got to go to school.
Disturbed by what Shivani was going through, Anupriya promised to help her. So the very next day she landed up at her doorstep. She met with her mother and told her that her daughter needed to be in a classroom and not scouring the streets all day long looking for recyclable garbage. But instead of paying heed to her advice Shivani's mother told her off: who was Anupriya to interfere in her household matters and how would they survive if Shivani stopped rag picking?
Recalls the youngster, who is 14 now, "I explained to her that just like her brother, Shivani, too, deserved to go to school instead of being burdened with the responsibility of making ends meet for the family. However, she chided me for interfering in their personal matters."
It took many visits from Anupriya before the older woman finally relented. These days, Shivani is studying in Class Seven in the same school as Anupriya. What's more, even her father has understood his duties and started taking on regular work as a daily wage labourer.
And, for her spirited activism and efforts Anupriya has recently been felicitated with the Meena Ratna Student Award, jointly conferred by the state government and the United Nations Children's Fund. She is among the 23 young champions honoured this year.
Across the state of Uttar Pradesh, there are several girls like Anupriya, who are no longer willing to be mute bystanders to the injustice and discrimination they witness around them. Instead they've transformed themselves into catalysts of change.
Interestingly, the confidence they exude nowadays is something they have imbibed from Meena, the iconic animated character developed by UNICEF over 15 years ago to communicate positive messages concerning sensitive social issues such as child marriage, sex selection, education, sanitation and gender discrimination.
In association with the Sarv Shiksha Abhiyan (SSA), the government's flagship programme for primary education, Meena was introduced to more than 167,000 primary and upper primary schools and about 746 KGBVs in the 75 districts of the state.
Meena's outstanding work around life skills is weaved into epigrammatic tales, which reach the primary school children through television, radio, comics, activity books and posters under the common banner of 'Meena ki Duniya' (Meena's World).
Elaborates Atul Kumar, Communication Specialist, UNICEF, "Each 15-minute interactive episode of 'Meena Ki Duniya' comprises either a story, song or a game, reinforcing messages on life skills, education, nutrition, hygiene, child marriage, and so on."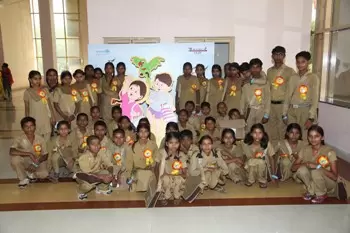 For their spirited activism, 23 children across Uttar Pradesh have been conferred with the Meena Ratna Student Award 2014
Anupriya was able to comprehend the importance of girls' education through Meena's succinct tales and she, in turn, made sure that Shivani got into school.
Another exceptional young woman awarded this year is Manisha Verma, 13, who played an instrumental role in preventing child marriage. "I had gone visiting to my maternal uncle's home. One of the families in a nearby village had fixed their daughter's marriage. We happened to cross that village one day and on a hunch I insisted on meeting with the bride to be. When she was introduced to me I was taken aback to see a girl my age being pushed into marriage," recalls Manisha.
When she boldly confronted the girl's family, her uncle was embarrassed and tried to take her away from there. But there was no stopping the feisty crusader. "I was appalled at the injustice of the situation and told them that by marrying off their daughter at a tender age they were only ensuring a lifetime of ill health and unhappiness for her. Moreover, child marriage is against the law," she shares.
Of course, no one wanted to listen to a mere teenager. A serious altercation broke out between the father of the bride-to-be and the high-spirited Meena disciple, who stood her ground.
"They shoved me, reproached me, and asked me to stay away from issues that were way beyond my age and understanding. But I did not give in," she states. In the end, much to everyone's surprise, the girl's father gave in. In addition, he even promised to send her back to school and thanked Manisha for having saved him from committing a blunder.
Manisha, who wants to become a gynaecologist, has made her parents, particularly her father, very proud. He says, "I will always stand by her side and support her 100 per cent because I know what she is doing is right."
Much like Anupriya and Manisha, fellow awardee Anjali Gautam, a Class Eight student of KGBV in Amrodha village in Kanpur Dehat district, believes in the power of education.
It was her encouragement that pushed two girls, Anjali and Priya, to convince their parents to send them to school. "Every week, the three of us now visit a few homes in the village and share with them the knowledge we have gained from Meena," says Gautam.
While Census 2011 revealed that Uttar Pradesh had a dropout rate of more than 10 per cent for school children between six and 17 years that number came down to less than 8.5 per cent in 2013.
In fact, as per the School Report Card, the fact and figure bank of the National University of Educational Planning and Administration, the state now has the highest enrolment rate at the primary and upper primary level in India.
Districts like Deoria, which has the highest rate of enrolment among girls at the primary level in the country, and Bijnor and Lucknow, where the number of girls going to school is higher than that of boys, are considerably contributing towards improving the status of girls' education in the state.
Surely the Meena effect has something to do with this phenomenal change in the social narrative of an otherwise backward state. - Women's Feature Service

Trending Now: