It is time that we say 'enough of giving lip service to gender issues'
Syeda Hameed
&nbsp | &nbsp Delhi
06-September-2014
Vol 5&nbsp|&nbspIssue 36
On August 23, 2014, an elderly woman was returning home when she saw a group of men cowering over a girl beating her up. That was all she could make out from her car. She asked the driver to stop at once.
Without a second thought she got down, rushed to the girl to shield her with her own body. That's when the group turned on her; a woman accomplice of theirs lunged at her and began raining blows. The elderly woman saw a Police Control Room (PCR) van driving by so she wrenched herself free and ran to stop the patrolling vehicle.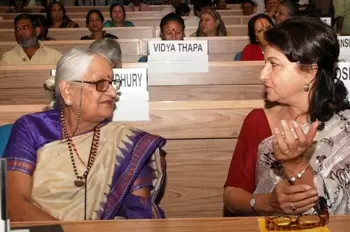 Mohini Giri (l) known to come to the rescue of anyone in need, recently suffered injuries as she tried to stop a group of boys from assaulting a young woman in south Delhi (Photo: WFS)
One policeman ambled out. 'Kya hai?' (What is it?) She pointed to the scene. "Take them away at once; can't you see what they have done," she urged. The man went to the window of the van and returned immediately.
"Madam, my Sahib has to go to an urgent meeting. You go to a thana (police station) and register your complaint." Before she could appeal to 'Sahib' the van sped away, its tail displaying the motto: 'Police ka haath/Aapke saath' (The police is with you).
Minutes later, another policeman on motorcycle came by. The woman stopped him demanding action. 'Thane jaao budhiya yahan kuchh nahin hoga.' (Go to the police station, old woman, nothing will happen here).
All this was witnessed by a crowd that stood by silently; no one came forward to rescue the young woman or join hands with the older one. It was as if a street play was being performed for the amusement of the ringside spectators.
Who was this old woman who decided to risk her own safety for another? Former Chairperson of the National Commission for Women (NCW), my boss at one time, and one of the best known and loved mentors of the women's movement, V. Mohini Giri. The time was 6 pm; the place, Qutab Institutional Area in south Delhi. The incident took place just across from her office and the Working Girls Hostel of the Guild of Service.
I have known and worked with Mohini since 1997 when I first joined the NCW as a member. She never thinks before rushing to the rescue of anyone she sees in distress. Like her alter ego, I keep cautioning her to watch out. The last time she did this was when we were returning from Dhaka, Bangladesh.
She was sitting several rows ahead of me. Next to her, wrapped in a burqa (veil), was a girl, barely a child, who was traveling alone to Dubai, via Delhi. When Mohini began talking to her, she broke down. "It is the first of Ramadan, and I am fasting," she said, tearfully.
Mohini called me to her seat to convey to the girl that Ramadan was starting the next day and that she could eat. We both had sensed that the child was being trafficked but where was the proof. She claimed that 'her uncle' would receive her in Dubai and take her to a family that had sponsored her work visa. With my non-existent Bengali and Mohini's limited one, we realised that she needed help.
So she found a young couple that acted as sympathetic interpreters. Mohini could do nothing because the child had a valid visa and passport, which showed her to be 21, although she barely looked 16. We explained to the airline crew, knowing full well that they too could do nothing.
"Write about this Syeda. You have a strong pen. There should be enforcement officers at airports to prevent trafficking of women and children for sexual and physical exploitation. I am ashamed that as a former Chairperson of the NCW I can do nothing for this child," she remarked.
While the Delhi incident clearly exposes dereliction of duty by the police, the second one points to the absence of enforcement. That this happened to a woman who is among the country's most empowered persons (I am deliberately not saying 'woman') slaps home the fact that hundreds of girls and women across India suffer this humiliation every day and have no recourse to justice.
Take the case of the two friends, Madhu and Nikita, from Rohtak, Haryana, who committed suicide recently. The 16- and 17-year-old, respectively, left notes (one is six pages long) for their families detailing the bleakness of their lives, having been teased and harassed daily by a group of boys: 'Every day a new man would come and chase us... The people around us would stare as if we had done some wrong'.
It was literally dead end for the teenage girls because there was nowhere to go, no court of appeal. There was no Mohini to jump headlong at their assailants. More likely, people, like the ones at Qutab Institutional Area, watched the tragic 'tamasha' (show) and went their way.
It was the poet Dylan Thomas who wrote:
Do not go gentle in the good night
Rage, rage against the dying of the light
Thankfully, there are people who rage, rage, who still risk their lives to save their fellow human beings. But how many of them, after reading this piece, will think twice before throwing themselves into such 'madness', I wonder.
During my tenure in the NCW I learnt to dive into crowds from Mohini Giri and my other mentor, Padma Seth, a lawyer and daughter of India's first Speaker Ananthasayanam Iyengar. Those days I used to think, I have been appointed by the Prime Minister of India to bring succor to women all over the country and the entire government machinery is accountable to me.
It was with this confidence that I with Padma's impetus tore into a hostile crowd in Mewat, Haryana, to rescue an old couple that was being punished by a Khap (caste panchayat) for the 'sins' of their children. That was 15 years ago. We live in different times now.
It is time that we, ordinary women and men of India, say 'enough of giving lip service to gender issues'. We don't have to wake up only when the world explodes, such as when Nirbhaya happened. Does a Mohini Giri have to be beaten up before we mandate police accountability?
I am told that the measure for TRPs is 'whatever bleeds, leads'. Is it only blood that is newsworthy? What about mobilising 'cross country shame' for those at the highest levels of decision making, whose responsibility it is to sensitise and hold accountable law enforcement?
For one Mohini Giri there are hundreds of women all over the land, in its remotest pockets, who suffer daily strikes from a gender unjust society. They silently accept fate and die without a stir. Very few media lenses get so deep into their terrain. It is for us to insist that the law enforcement machinery is grilled and honed until it accords every one of the 500 million plus women dignity as matter of their right.
(Syeda Hameed is a writer and former Member Planning Commission.) - Women's Feature Service

Trending Now: