Water is so elusive for women in Kashmir that the trek for water is taking a toll on their health
Chetna Verma
&nbsp | &nbsp Poonch
09-August-2014
Vol 5&nbsp|&nbspIssue 32
In the scorching heat of the vast expanse that is the Rann of Kutch, a woman, straining with the weight of her near-term unborn child, walks in a daze beside her husband.
He is a water diviner, who knows that his desperate search for water is hopeless. She calls out to him faintly and collapses in a heap on the sand… This is the heart-rending reality of millions of Indian women, portrayed sensitively on the big screen in the recent film, 'Jal'.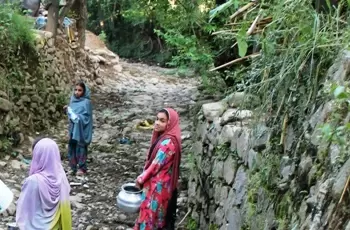 Women in the border regions trek 4km in the winter and 8km in the summer to the nearest water source (Photo: Chetna Verma WFS)
In another narrative, a female protagonist is raped by a man from another village who offered water in exchange for her body.
This film has indeed been a sobering reality check for many, particularly big city folks who take for granted the availability of water 24X7 in their homes.
Ask Rubiya Kausar (name changed), 24, from Ari, a remote village in Mendhar tehsil in the border district of Poonch in Jammu and Kashmir, and she is likely to assert that the situations depicted in 'Jal' are disturbingly close to a reality that she is faced with today.
For her, gaining access to water has been an ongoing struggle for the last 15 years, despite the fact that the state she resides in is blessed with numerous water resources. In fact, the crisis stemming from water shortage has been the cause of miscarriage, not once but on two harrowing occasions.
Kausar got married in 2007 and fetching water for the household was among the first few responsibilities given to her after she arrived as a new bride in the village. Water is available at a walking distance of 20 minutes from her home – but it is not a straightforward trek.
A downward lane carved out of gaps between the fields and the houses, with big river rocks scattered in a zigzag manner, is the only way to the 'chashma' (natural spring) that provides drinking water to over 15-20 houses in the village.
It was just another day in 2009 when Kausar had left the house with a bucket and a vessel in tow. She was four months pregnant then.
"On the way back, I lost my balance and fell. I started screaming in pain and was taken to the hospital in Mendhar where doctors told me that I had lost my child," she shares, tonelessly.
Her in-laws add that she suffered another miscarriage in 2012. Now pregnant for the fourth time, Kauser's daily hike continues as always. She simply doesn't have any choice.
Kausar's story of despair is familiar to almost every woman in her village and for that matter most women in this border region. They hail from families living below the poverty line and are left wanting for basics, such a proper home, drinking water facility, and access to schools and health centres.
"Who will fetch water for us if we don't? Men in the family have the task of bringing back enough earnings to meet the day's requirement. The task of meeting the water needs of the household is left to the women and children.
"Our vessels fall off our head, we ourselves fall several times, and many of us have suffered a miscarriage at least once. But that doesn't change our daily routine," rues Naeda Akhter, 28, adding that even after delivery, they barely rest for 15 days before resuming their grinding chores.
Coming from a state ranked among the top seven in terms of average time spent by household members for fetching water from outside the premises, these women walk an average distance of four kilometres in winter and eight in summer, lugging large quantities of water.
The impact of this on their physical and reproductive health is palpable. According to a report published by World Health Organization on Gender, Climate Change and Health, at least 30 per cent of a woman's daily energy intake is spent fetching water during the dry season in rural India.
Carrying heavy loads over long periods of time affects the spine, the neck muscles and the lower back, wearing down the vertebral column earlier than usual.
"I have been fetching water for the last 25 years. Today, I suffer from extreme aches in my head, neck, back and knees," says Hamida Bi, 49, adding, "Initially, I had a problem only in my back but now my entire body has given up.
"From a monthly expense of Rs 200 on medicines, I am now spending over Rs 1,000, with little improvement to show for it." Hamida has no regular income so she finds it difficult to pay for her treatment.
While physical ailments are visible and discussed freely, what is kept under wraps are the repercussions on the reproductive health of the women. The conservative social customs and cultural traditions don't allow the topic to be brought up.
Lifting heavy weights during pregnancy can lead to several complications that affect a woman's health not only during pregnancy but after child birth as well. During pregnancy, the connective tissues (ligaments) that keep the joints firm tend to be more elastic in order to prepare the pelvis for delivery. Hauling heavy loads can injure the spine enough to cause temporary or permanent damage.
"My mother recently had a uterus operation. She lives in Nar Banloi, near the border, where non-availability of water is a major problem. She has to walk every day for an hour to get water from the 'chashma' that flows near the border.
"The surgery has forced her to be on bed rest for one month," says Safeena, a Class 12 student in Mendhar, who has opted to stay in a hostel in town because of the water crisis. Clearly, she understands the implications that this scarcity can have on her health.
Kashmiri women have inherited this unfortunate legacy from their elders, which they too, in all likelihood, shall pass on to their subsequent generations. The only difference would be the increasing distances; and the subsequent fallouts.
In its State Action Plan on Climate Change, the Jammu and Kashmir government has mentioned that the snowfall patterns in the Western Himalayan range have indicated a decrease of 280cm in the total seasonal snowfall from 1988 to 2008. The snowfall has decreased by 280cm over the Pir Panjal Range that falls in Poonch district.
The report mentions the impact that climate change can have on the health of the people and suggests that adaptation and mitigation strategies in response to this challenge should include providing good governance, strengthening the health system, surveillance and control of communicable diseases and securing availability of fresh and safe drinking water.
On the ground, though, the people facing the threats of climate change are oblivious to the looming problems. Women, in particular, are unaware that this phenomenon will, in the future, become the basis of most issues afflicting their life – health being the gravest of them all.
The shocking portrayal of water deprivation in 'Jal' may well become a lived reality for many if appropriate steps are not taken urgently - in J&K and elsewhere.
(The writer is a development journalist based in Delhi. This article is part of her work under a National Media Fellowship awarded by the National Foundation of India.) - Women's Feature Service

Trending Now: