Seths exploit children, who are made to drop out of school and go for work in the cotton fields
Prantick Majumder
&nbsp | &nbsp Jhadol (Rajasthan)
07-July-2014
Vol 5&nbsp|&nbspIssue 27
Craving a mobile phone but unable to afford it, a boy, not even in his teens, dropped out of school in his Rajasthan village to join friends working at a cotton plantation in neighbouring Gujarat.

What followed was a harrowing two months that not only shows how child labour is flourishing but the inhuman conditions and near-torture thousands of such minors across the country undergo.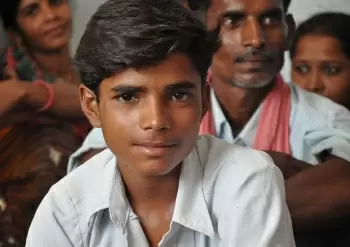 Lakshman Lal Kharari, the 12-year-old who returned from a Gujarat cotton plantation (Photo: IANS)
Lakshman Lal Kharari, a 12-year-old from Bhesana village in Jhadol block, around 40 km from Udaipur, was one of the lucky ones who could return home.
Lakshman said he (a class 8 student then) dropped out of school in 2013 when many of his classmates and neighbours, all in their teens, told him about a seth's (affluent man) plantation in Gujarat that grew Bt cotton, a genetically modified variety.
With the promise of getting paid Rs.120 per day, Lakshman crossed over into the neighbouring state to work there - but two months was all he could endure before returning to his village and vowing never to return.
The trauma on his face is quite evident when he says his time there was "torturous".
"We had to work from 4 a.m. till 2 p.m. harvesting cotton, while standing in ankle-deep muddy water," said Lakshman.
He said 10-12 children of his age were told to sleep on the floor in a small room, and they had to cook their own food.
"We only ate bajre ki roti and daal, and were often beaten up if we committed any mistake while working in the field," he said.
After two months, Lakshman ended up with just Rs.2,500 in his pocket.
He is so frustrated that on being asked what he would do if he comes face to face with the 'seth', he says: "I will pick up a cane and beat him up."
Joseph Mathew, project manager of NGO ChildFund India in Udaipur, had last year rescued six such children from a Rajasthan state transport bus in which they were being taken to Gujarat to work there as child labourers.
"Young children are being taken to Gujarat to work in Bt cotton fields. Though the situation has improved over the years, such cases still surface very often," said Mathew.
ChildFund India is part of a global child development and protection agency, working in India since 1951.
Supported by Germany's economic cooperation and development ministry, the NGO is currently working towards sensitising the community and setting up of a strong community vigilance mechanism to protect children in danger of being lured to work as labourers in cotton farms.
"Every year, hundreds of young children (from Rajasthan) are being trafficked to Gujarat for engaging them as child labourers in artificial pollination work in Bt cotton seed farms.
"Once trafficked, the children suffer a lot and are forced to work in unhealthy and pathetic conditions. They are not even paid what is being promised," says ChildFund India.
Saroj Kumar Pattnaik, information officer with ChildFund India, says Lakshman "is one of the several children who were lured with promises of a better life and money to go to Gujarat to be engaged as child labourers in Bt cotton fields".
"But once they reach the destination, they find a different world altogether," said Pattnaik in Jhadol.
"They - both boys and girls - are kept in a small tent house in non-hygienic conditions. They are forced to work for more than 12 hours since early morning without proper gear or rest.
"They have to walk in mud fields for hours doing cross pollination work on Bt cotton plants, which requires tender fingers - a requirement that need child labourers," he said.
Durga, an undergraduate college student from Hewra Phoolwari village, says her 14-year-old brother Shankar Lal was lured by their paternal uncle to a cotton plantation.
"Our chacha said he will get my brother admitted to a school, but he took him to a cotton farm in Gujarat. After he went through a difficult time there, my father brought him back," said Durga.
Pattnaik said that from ChildFund India's own assessment, "we found that trafficking agents, locally called 'mates', identify children who are vulnerable and can easily be influenced to go with them".
Villagers were earlier okay with such agents taking their children to work in the cotton fields, "mostly because they don't have resources to look after their family and because they are ignorant about children's rights, protection and safety", he said.
However, as awareness about such incidents is increasing among children and their families, "the traffickers have now come up with new strategies".
They no longer accompany children in a vehicle. "Rather they ask them to come to a place and from there they are being picked up by someone known to them," Pattnaik said. - IANS


Trending Now: