A twin rape and murder case that opens up the case for sanitation

Anjali Singh
&nbsp | &nbsp Lucknow
14-June-2014
Vol 5&nbsp|&nbspIssue 24
In July 2010, Badaun, a small district in Uttar Pradesh, was making news for a unique sanitation revolution that was taking place in its rural pockets.
As part of an ambitious drive to convert dry toilets into pour flush latrines, the then District Magistrate, Amit Gupta, had begun the mammoth task of identifying and converting over 60,000 dry toilets there.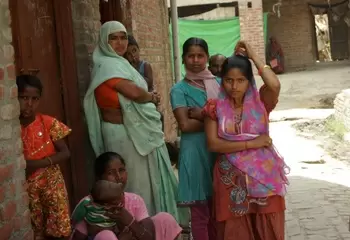 Owing to the lack of toilets in homes, the women of Badaun face an increased threat of sexual assault (Photo: Rajan Singh ActionAid)
With a meagre sum of Rs 1,500 needed for the conversion, it looked as if the women and girls of this backward region would finally have the benefit of a toilet in their homes, saving them from the anxiety and shame of having to relieve themselves out in the open.
Today, Badaun is once again making headlines but for very different reasons. The gruesome rape and hanging of two minor sisters in Katra Sadatganj village in the district has triggered massive outrage and protests across the country on the issue of safety of women.
Here, one may ask: what's the link between the sanitation drive and this recent incident? The cousins had stepped out to answer nature's call when they were picked up by the local strongmen.
Four years on and the lack of access to toilets continues to haunt the lives of the women of Badaun. Of course, the state of sanitation is no better in other parts of the state.
According to Poorva Kumari (name changed), 13, who hails from a village in Badaun, teenage girls like her face the constant threat of harassment and assault the moment they step out of their homes to relieve themselves.
She states, "We don't leave the house alone at any time. If we want to go to answer nature's call we simply have to wait till another woman can accompany us."
Whether they feel uncomfortable or sick, they have no other option. Poorva also informs that "most of the families here have forbidden their girls to go to school as we are often harassed and teased by boys from the higher caste".
Those who have not been forced to drop out yet face a lot of inconvenience as there are no toilet facilities in the school as well. "We have been cursed to a life confined within the four walls of our home," she adds dejectedly.
There has been a definite rise in the rate of crimes against women across Uttar Pradesh. The National Crime Records Bureau (NCRB) statistics of 2012 reveal that 1,963 cases of rape, 7,910 cases of kidnapping, 2,224 cases of dowry death and 3,247 cases of assault on women have been reported from the state.
According to Kavita, a women's rights activist based in Lucknow, the state capital, "In the rural areas, with the enforcement of the 50 per cent reservation in panchayati raj institutions, the status of women has undergone a change.
"They are gradually asserting themselves and becoming more independent. Unfortunately, owing to a rigid patriarchy, the menfolk in the region have not been able to come to terms with this change. The rise in violence against women is their way of retaliating."
Poor sanitation significantly contributes to the threats that women face. And the numbers support this observation. As per the 2011 Census data, 78.2 per cent homes in rural Uttar Pradesh don't have toilets, and this lack of sanitation facilities has contributed to 70 per cent of the total cases of sexual assault and violence in the state.
Elaborates Renu Mishra, Senior Lawyer and Programme Manager, Association for Advocacy and Legal Initiatives (AALI), a feminist legal advocacy and resource group in Uttar Pradesh, "The lack of proper toilet facilities in rural areas has always been a major cause for attacks on women.
"Of the total number of cases of rape and sexual violence that AALI handles, a majority of them take place when women go to answer nature's call. Besides, it's also a matter of their dignity and right to privacy."
Agrees Bhawana Maheswari Vajpayi, the Water, Sanitation and Hygiene (WASH) officer at UNICEF's Uttar Pradesh office, "On a number of occasions during the training sessions we hold for police personnel at the district level, we have been told by women officers as well as constables that of the cases of violence against women reported in the local 'thanas', 70 per cent are of assault during the time women and girls go for open defecation."
Recognising this urgent need for building toilets within homes UNICEF had collaborated with the Uttar Pradesh Panchayati Raj Department to develop an effective communication campaign to promote sanitation state-wide. There was even a budget of Rs 3000 crore earmarked for advocacy. Yet, little has been achieved in terms of toilet coverage, especially in rural areas.
In an attempt to address the issue of escalating violence against women, Chairperson of the State Commission for Women, Zarina Usmani, has written a one page letter to Chief Minister Akhilesh Yadav, making nine recommendations.
These include setting up of women fast track courts in each district, appointing a Women Welfare Officer in every district to handle cases of sexual harassment against women, patrolling by police personnel at dawn and in the evening in the rural areas, setting up of women police chowkis and, most importantly, constructing adequate toilets in rural areas.
While it remains to be seen whether these recommendations will be implemented by the government, the fact finding teams of women's rights activists who are returning from Katra Sadatganj maintain that with the police unwilling to take action against the culprits, the families of the victims have had no option but to be left to the mercy of the powerful upper caste 'goondas', who call the shots.
A fate that Sohan Lal, father of one of the victims, refused to accept. He, of course, paid a heavy price. He recalls the fateful day he lost his daughter, "When we reached the police station constable Sarvesh Yadav asked about our caste and then he told us to stand away. As he hurled abuses at us, I appealed to him to come with us to rescue our daughters."
Sohan Lal's pleas went unheeded and instead he was told by Yadav and his colleague, Chatra Pal, to wait for two hours after which the girls would be returned to their families.
"We had no option so we hung around. Later, Constable Sarvesh Asthana came to us and told us to go and look for the girls. He added that we might find them hanging from a tree 40 meters from the house where Pappu Yadav had kept them," he narrates.
With newer facts emerging in this case every day, for Sohan Lal and his familiy, the road to justice is going to be long and challenging. But the one lesson that is clear from this incident is that the issue of sanitation can no longer be ignored. - Women's Feature Service

Trending Now: