Crusaders continue spirited campaign for a 'rape free India'
Shweta Sharma
&nbsp | &nbsp New Delhi
17-May-2014
Vol 5&nbsp|&nbspIssue 20
"Shapath lo, balaatkaar mukt Bharat ki" (Pledge for a rape-free India), reads a banner at Jantar Mantar in the heart of the national capital. Inscribed below is "Damini", referring to the Dec 16, 2012, gang-rape victim. Next to it stands a lit lamp, leaving you feeling calm despite the sweltering heat.
For more than 500 days now, the site has been the camp of crusaders for "16 December Kranti", a campaign which demands justice for the gang-rape victim, a 23-year-old physiotherapy intern.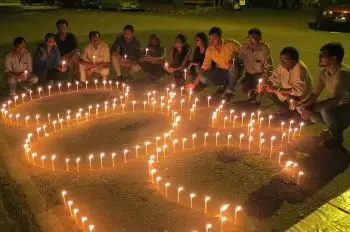 The group has completed more than 500 days campaigning for the cause (Photo: IANS)
"It started after all the protesters were pushed away from India Gate to Jantar Mantar in Dec 2012. We had a lot of people with us for a couple of months then, but the number soon waned. They still support us, but cannot devote the amount of time they used to earlier," said 26-year-old Rahul Mishra, who started the campaign.
"We came here on Dec 24, 2012, and now it's been more than 500 days. We are not just sitting here; we are here to make ourselves heard and bring about a change," Mishra, a software engineer, added while sitting under a makeshift canopy.
The campaign, which mostly involves young working professionals who join after their working hours, demands a "rape free India" and expeditious justice to victims of rape and acid attacks.
"The death penalty should be given in all rape and acid attack cases. Additionally, no mercy petitions should be accepted in such cases. Most importantly, no juvenile must be granted the immunity of the Juvenile Justice Act and must be tried as an adult if arrested in cases of rape or acid attack," Mishra added, listing the various reforms and amendments that make up the group's demands.
Echoing similar sentiments, Santosh Bora added that though people want change, they are not as aggressive as they should be.
"People wait for such a problem to happen to them. It is only then that they realise the gravity of the issue. This is what makes the situation an unfortunate one," said Bora, 27, also an active campaigner.
He added that since the campaign and its outcome became priority, he was forced to leave his job as a human resource professional.
The duo stated that in the past 500 days, the group has protested at close to 50 sites in the national capital and even neighbouring states like Punjab to mobilise people against such social perils.
"After 'Damini', there was 'Gudiya' and then so many other cases followed. We try to reach out to the victims and their families and extend whatever support we can. If needed, we also help the families register a FIR," said Mishra.
On being asked their modus operandi, they said that the group speaks to the people of the locality, organises street plays and also holds candlelight marches.
"On hearing about a case in Sarojini Nagar, we organised a protest by meeting the people of the locality and urged them to at least come forward and demand justice in a case in which someone from their locality has been victimised," explained Mishra.
Agreed Rabia Pathania, a 24-year-old advocate, who has been actively associated with the campaign since it started. She said that because of this campaign, a lot of awareness has been generated.
"Yes, the perpetrators in the December gang-rape case were punished, but it took two long years. We demand that fast track courts should be set up at each level, and all cases should be swiftly dealt with. It is not only about this particular case. Each and every case should be fast tracked," she said.
However, Pathania quickly added that change should not only be sought in terms of judicial and police reforms.
"A change from within us also needs to come," she expressed.
Pathania, who helps the group with legal advice, further shared that they also help those who seek advice on their Facebook page.
With their determination and zeal increasing with the temperature, the members, who celebrated their 500 days recently, also observed Damini's birthday last week.
"We organised a protest at the Nirman Vihar Metro station where we distributed our pamphlets to the people to create awareness amongst them about the cause and asked them to forward it further. Spreading awareness, we think, is the best gift we can give her," Mishra shared.
"However, we also cut a cake for her in the evening," he added.
On Dec 16, 2012, the 23-year-old physiotherapy intern was gang-raped and sexually assaulted most brutally by six men, including a juvenile, in a moving bus. The accused then threw her and her male companion out of the vehicle, stripped of clothing, on the cold December night.
The woman died of grave intestinal injuries December 29, 2012, at Singapore's Mount Elizabeth Hospital, where she was airlifted for specialised treatment.
The Delhi High Court March 13 upheld the death sentences for four convicts in the case, holding their "barbaric" act "not worthy of human condonation". The fifth convict was found hanging in his Tihar Jail cell, while the juvenile was sentenced to three years in a remand home.
Two accused, Mukesh and Pawan Gupta moved the Supreme Court challenging the Delhi High Court verdict. The Supreme Court April 28 extended its March interim order staying execution of the death sentence of the two convicts and directed the matter be listed in July's second week for final hearing. - IANS

Trending Now: