Propelling an education revolution in Vellore area by backing poor students financially

P C Vinoj Kumar
&nbsp | &nbsp Vellore
03-May-2014
Vol 5&nbsp|&nbspIssue 18
At a time when banks are denying educational loans to students on one pretext or the other, a non-profit organization in the small town of Vellore in Tamil Nadu has emerged as a beacon of hope for youngsters from underprivileged families.

The Universal Higher Education Trust (UHET), a brainchild of G Viswanathan, founder chancellor, Vellore Institute of Technology (VIT), is providing financial support to students in Vellore district who wish to pursue higher education after Plus Two (Class 12) but do not have the means to pay the fees.
Financial assistance worth Rs.29 lakhs has been distributed so far. In photo, some of the beneficiaries
Introduced in 2012 in Vellore and KV Kuppam assembly constituencies and extended last year to Ranipet constituency, the scheme has benefited 235 students (135 girls and 100 boys) and distributed assistance worth Rs.29 lakhs so far.

The beneficiaries are pursuing various courses. 83 are studying engineering, 16 are doing nursing, 106 are studying in arts and science colleges, 3 are enrolled in teacher training colleges, and the others are doing diploma courses.

181 of them are first generation college students.

Eighteen-year-old J M Mathivannan, son of a flower vendor, from Sivarajapuram in Gudiyatham, is one of the beneficiaries.

Mathivannan got a merit seat last year in Kingston Engineering College, Katpadi, but was at his wit's end trying to figure out how he would pay the fees of Rs.70, 000 when a relative told him about UHET.

"He had seen their poster inviting students to apply for financial assistance to pursue higher education and informed me about it," he said.

He approached UHET, and they sponsored half the fee amount. "We will continue to pay 50 percent of his college fees till he completes the course," said R Muthu Veeran, project director, UHET.

Viswanathan is the UHET president and he has set a goal to achieve 90 percent Gross Enrollment Ratio (GER) in higher education in Vellore district by 2017 and create a model for the government to replicate in rest of the country.

UHET believes that "higher education plays a vital role in human resource development of any country by creating skilled manpower, enhancing industrial productivity and improving quality of life."

According to estimates, the enrollment ratio of students in higher education in India is about 18 percent, which is below the world average of 24 percent.

In India currently there are over 735 universities and 37,000 colleges. While colleges are mushrooming each year, the GER is not keeping pace with the growth.

UHET is impacting the lives of many youth. Thanks to the assistance from the trust, G Nandhini joined MS Software Engineering in VIT. She scored 1027 marks in her Plus Two and fell short of the 1100 marks she was aiming for to get a free scholarship seat.

But her anxiety of paying her fees ended after she approached UHET. The trust is paying 50 percent of her fees and she is already dreaming of the day when she would start a career in one of the big software companies like Wipro or Cisco.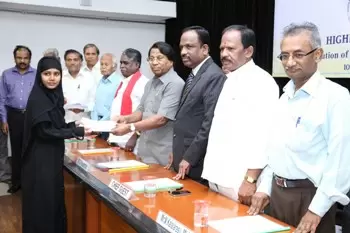 Viswanathan, seen giving away scholarship to a student, wishes to create a model for the government to replicate across the country to increase the GER
She is working doubly hard, making use of the college library to read English newspapers and magazines to improve her proficiency in the language. "I studied in a Tamil medium school, but I have been able to cope up," she says.

But it may not be smooth sailing for all. B Prema, a disabled student, for instance, is worried about the 3 arrears she has in the first semester.

"I need to clear all the papers to have continued support from the trust," she says.

Prema almost gave up hope of joining college, even though she got an electronics and communications seat in the handicapped quota in University College of Engineering, Arani.

Her family had no means to pay the college fee of Rs.35,000. But for UHET Prema may not have stepped into a college in her lifetime.

"There was nobody to lend, no one to help us," says Prema, whose mother's primary source of income is the 100-day work program of the government of India for rural women (Mahatma Gandhi National Rural Employment Guarantee Act).

The UHET paid her fees and she joined college. But having studied in a Tamil medium school, she finds it difficult to cope in college.

However, Muthu Veeran shares in confidence that they would not withdraw assistance without giving the students a fair chance.

"We insist students should not keep arrears, but that is to encourage them to work hard. We would definitely deal with the students sympathetically," he says.

Not all students from Tamil medium schools are struggling though. S Sudha (19), who too studied in a Tamil medium government school in KV Kuppam, is coping well at VIT where she is doing B.Tech bio-medical engineering.

"I find it difficult to express myself in English, but my classmates are very helpful. I find inspiration in G Viswanathan sir (VIT founder), who has achieved so much in life though he was born in a village and had humble beginnings," she says.

Her father works as a security guard in VIT. Sudha says her goal in life is to make a new invention in her field.
The UHET is being run on donations from VIT, businessmen, and philanthropists in Vellore. Last year, VIT staff and faculty members contributed a day's salary – totaling Rs.24 lakhs - to the trust on the occasion of Viswanathan's birthday.

With Plus Two results in Tamil Nadu expected next week, the UHET is gearing for action, hoping to help more young people this year.
Wish to share your story?
Trending Now: