Manual scavenging remains a problem unfit for political parties to find a solution
Shradha Chettri
&nbsp | &nbsp New Delhi
26-April-2014
Vol 5&nbsp|&nbspIssue 17
There are possibly over a million of them, but they hardly matter to our politicians and manual scavenging, though banned, was never an election issue.
Though the government has enacted laws to ban the inhuman practice and the Supreme Court too has awarded compensation for people who have died doing such jobs, the number of manual scavengers working all over India is startling.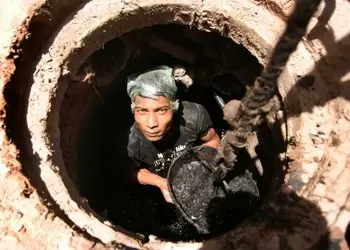 Activists estimate that there are around 1.2 million manual scavengers in the country (Photo: Indian Photo Agency)
The 2011 census has put the number of manual scavengers at 750,000, but activists feel the figure is closer to 1.2 million, which includes those cleaning manholes and septic tanks.
There could be some truth in the figure, with the Bombay High Court last week stating that it is shocking that manual scavenging is still practised. But for our politicians, they perhaps don't exist."
"Sanitation facilities and removal of untouchability has always remained the lowest priority for political parties. The issue on scavengers not only fails to appear in political manifesto, their existence is also not acknowledged," said Bindeshwar Pathak, founder of Sulabh International.
Pathak feels that there is no point of talking about development by sending a mission to Mars when innumerable people in the country are involved in such inhuman work.
"Ending manual scavenging in our country is difficult as there are many towns where the practice still occurs and the law is yet to be notified," Pathak said.
Sulabh International is an NGO working for removing untouchability and social discrimination against human scavengers, a section of Indian society condemned to clean and carry human excreta manually. The NGO has been rehabilitating women since 1970 by providing them alternate means of livelihood like tailoring and training to run beauty parlours.
It is important to note that manual scavenging was banned in 1993 through the Employment of Manual Scavengers and Construction of Dry Latrines (Prohibition) Act that also mandated the demolition of dry latrines. With no concrete results, parliament in 2013 again passed an act that criminalised manual scavenging by prescribing stringent punishment, including imprisonment up to five years, to those employing such labour.
This was followed by a Supreme Court judgment on March 27 that talked about proper rehabilitation of scavengers and granting compensation of Rs.10 lakh for the families of those who have died doing such work since 1993.
Bezwada Wilson, national convenor of the Safai Karmachari Andolan, on whose PIL the judgment was passed, said: "Manual scavengers have never been vocal about their rights. Most of those employed in this inhuman practice are women, who are anyway weak. So it is easy for the politicians to overlook their needs and "their rights."
"None of the political parties mentioned the manual scavengers in their manifesto. But let me tell you that next time, we will force them to include us. We will make them notice and work for our rights," said Wilson.
The activist stressed that it is important to end the practice and not just focus on rehabilitation.
And this, he said, should be the priority of the next government.
"Around Rs.100 crore was allotted in the budget, but not a single rupee has been spent for the rehabilitation.
"Everything should be mechanised so that even during the monsoon, when the rains flood the septic tanks, there is no need for humans to enter the sewers. The government needs to come up with a mechanisation plan," he added.
Usha Chaumar, a 32-year-old former scavenger, who has been rehabilitated by Sulabh, said, "We are called untouchables and for politicians the community of manual scavengers will remain so forever. We hardly matter to them."
Another scavenger Laxmi Nanda, who lives in Alwar, Rajasathan, and is all set to vote, said: "There is not much expectation that anything will change for us. But I hope the political parties will realise our presence soon," said Nanda.
Wilson said since nothing much has changed on the ground they will soon launch a "Campaign for dignified life".
"We will fight till the last scavenger is liberated. Politicians cannot close their eyes to their plight," Wilson asserted. - IANS
Wish to share your story?
Trending Now: