An 18-day walk through Europe is the latest in the struggle for Eelam

Paul Newman
&nbsp | &nbsp Geneva
29-March-2014
Vol 5&nbsp|&nbspIssue 13
Yogendran is 60, hails from Ottawa, Canada. Thirukumaran is 48 and lives in London. As the 25th UNHRC began in Geneva early March, both these Tamils wanted to contribute their mite to raising awareness on the struggle for justice at the UN against Sri Lanka, which killed thousands of Tamil civilians in a genocidal war that ended in 2009.

They embarked on a long walk towards Geneva from 10 Downing Street, London, after presenting a petition at British Prime Minister David Cameron's office.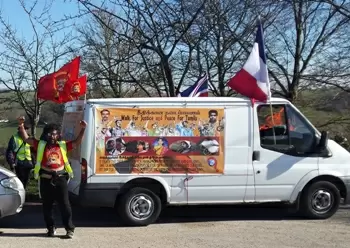 Braving snow, rain, and exhaustion the duo reached Geneva after walking a distance of 852 km in 18 days
Their petition highlighted the problems faced by Tamils during the 3-decade long civil war in Sri Lanka and their continued oppression in their homeland of North and East Sri Lanka.

Braving snow, rain, and exhaustion these men reached Geneva on March 21 after walking a distance of 852 km (530 miles) in 18 days.

Their friends met the expenses they incurred during the journey on their food, accommodation, and fuel for a vehicle, which followed them carrying publicity material on the Tamil issue for distribution along the route.

Arun Raj a volunteer from Paris joined them and distributed more than 15,000 pamphlets to people on the way.

They had interesting experiences. French farmers gave them food and listened to their narration on the protracted struggle for the independent State of Tamil Eelam.

Yogendran, a delivery driver who works hard to meet the needs of his family, has a son, 4 daughters, and 4 grandchildren.

"As a parent I know how difficult it is to bring up a family. The joy of living together is a value all of us cherish, but the Tamil homes of the north and east are all divided by force as a result of this war thrust on us. Though the government claims the war is over, our land, our rights, our women, and children are all pledged to the occupying forces," he says.

In 2009 he had started a fast unto death in front of the Canadian parliament with four other Tamils, but the Canadians persuaded them to give it up after 12 days as they did not see the Government of Sri Lanka listening to their pleas.
Thirukumaran hails from Trincomalee and has three children. He works as a building decorator and has been living in London for the last 15 years. He had walked on the knees for more than 500 meters towards the British parliament in 2009. In 2011, he walked from Manchester to London with another Eelam activist, Jeyashankar.

Both hardcore Tamil supporters, they become emotional when they talk of the sufferings of their near and dear ones back home in Sri Lanka.
Yogendran says he is helpless and unable to do anything to those who are orphaned and widowed due to the war. Though their family had large tracts of land in Paranthan, they were all taken away by the army.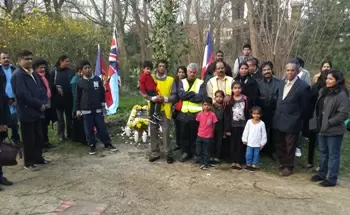 Tamils living in Geneva welcomed and honored the heroes
The duo presented a memorandum at the Office of the High Commissioner for Human Rights, Navi Pillai with the following demands:

• An Independent International Investigation on Crimes against Tamils by the Sri Lankan state

• Release of all Tamil political prisoners against whom there are no charges filed

• Demilitarize the Tamil areas

• Return the land occupied by the security forces to its rightful owners
• Stop changing the demography of the Tamil homeland

• Hold a referendum on Tamil political rights

• Stop the ongoing structural genocide

After they submitted the petition they were welcomed by a small group of Tamils in front of the UNHRC, where a minute's silence was observed in honor of the Martyrs. Later they were honored by the Tamils living in Geneva.

Yogendran is not done yet. He plans to cycle from Ottawa to New York, a distance of 360 kilometers and end it at the UN head quarters. "One day or the other, in my lifetime, I know I will see my people free that is the reason which keeps me going," he says.

Both are firm believers in democratic systems and peaceful means to achieve their goals. Their mission is to unify the Tamils towards their struggle to achieve Eelam.

Thirukumaran adds, "Today, my dream is the dream of the Martyrs who had a vision of Tamil Eelam. As long as there is life in me I shall keep the struggle in me alive."
Wish to share your story?
Trending Now: