Giving villagers an opportunity to live with dignity, sans any charity

17-January-2014
Vol 5&nbsp|&nbspIssue 3
It is not always that people listen to their hearts and follow their dreams. But Rajesh Bhat, a 31-year-old engineer, quit his four-year-old job at a mobile VAS (value added service) company in Bangalore and turned into a social entrepreneur to transform the lives of rural youth.
Today, his organization provides soft-skills and computer training to rural youth in Karnataka and Andhra Pradesh.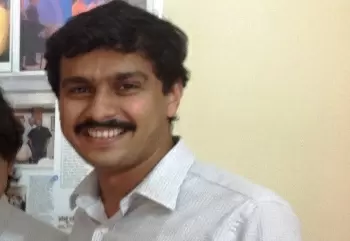 Rajesh Bhat and two of his friends started Head Held High with a vision to eliminate poverty in rural India
They have, so far, trained over 800 rural youth from low-income backgrounds and at times zero educated. Thanks to their efforts, many have got jobs, and some have set up their own businesses too.
Born in Sirsi, a village in Karnataka, he considers himself fortunate to have gone out and studied at a reputed engineering college. His parents, who were into agriculture, supported him all along.
Rajesh, along with his two friends, Sunil Savara and Madan Padaki, founded Head Held High, an NGO with a vision to eliminate poverty in rural India, in 2007.
A private enterprise started by the foundation conducts low-cost training programs for rural youth.
The main objective of the 4-6 month training programs, according to Rajesh, is to make executives out of young illiterate villagers. The training enables the youth to converse in English, work on computers, show creativity at work, and makes them in short, employable.
They have 5 training centers, and run a non-voice BPO unit at Tumkur, about 60 km from Bangalore, where around 25 rural youth are employed.
Some have found jobs in the retail and health sectors. Others have started their own businesses. There are now plans to encourage the youth to start dairy farms.
"Our intention is to enable every villager, irrespective of whatever the background, caste, creed, religion to live a life of dignity with their head held high and give them an opportunity without charity," says Rajesh.
Their training programs focus on developing the skills, knowledge, and personality traits of the youth. They are taught English, computer, logic, business leadership and basics of world economy and history. The classes extend to 8 to 10 hours daily.
The team goes to villages and identifies areas where they can work, mostly focusing on the backward places.
"We work with the most vulnerable people in rural India and empower them to live a life with dignity," says Rajesh.
He shares the story of Ramesh, a cowherd whom he met in June 2007. "Ramesh had never ever been to school. He didn't know to write his name in any language. His life was all about his buffaloes," says Rajesh. He would look upon film actors, and think they had special gifts.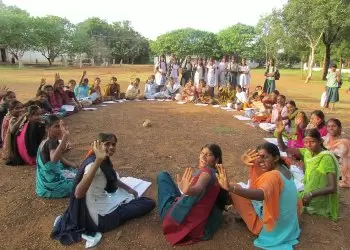 Many have found jobs after undergoing training at Head Held High
"When I saw him, he looked like any other village boy. I asked him to say 'My name is Ramesh.' He couldn't pronounce it properly. He tried for half an hour and couldn't say it properly. I was confused as to whether to select him for the training," recalls Rajesh.
"After about two hours, we had finished all the interviews, and we asked him to leave. He stood up, stretched his hand for a handshake and said, 'My name is Ramesh. Tenk you.' That was when we selected him for the training," says Rajesh.
After his training, Ramesh could type at 60 words per minute. He was employed and started his first job. He is now working as a CAD engineer in an NGO.
Another example is of Yankanma, who used to work as a fruit seller and domestic help. She had first come to the Koppal centre looking for a cook's job. Today she teaches her son English, and has opened a photocopy shop.
"Our success is not only derived from having an industry to bring jobs into the village to improve quality of life; but for villagers in rural India to finally have real role models in their society that they can both relate to and emulate," he says.
He feels if the social evolution takes place at the village level, it would inspire others to challenge the dogmas and break the chains of illiteracy and empower themselves to chase their ambitions and dreams.

Wish to share your story?
Trending Now: