Uniting to create a one-of-a-kind crowd-sourced youth manifesto

Aditi Bishnoi
&nbsp | &nbsp Delhi
11-January-2014
Vol 5&nbsp|&nbspIssue 2
So the young in India are a self-absorbed, me-first generation. All they want to do is hang out with friends and have fun. They don't want a stake in the fate of their nation and are clueless about the future. Right? You couldn't be more wrong.
They want a better education and gainful employment. They are committed to securing fair land and forest rights. They have an opinion on the rising costs of healthcare.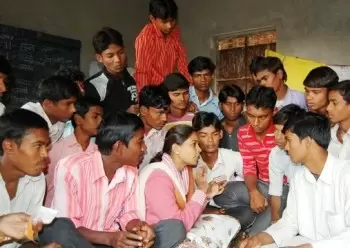 In the run up to the Lok Sabha elections, 42 organisations working with young people have joined hands to create a one-of-a-kind crowd-sourced youth manifesto (Photo: Prachar)
They are passionate about creating a safer society for women… Young Indians have a vision and, yes, they definitely have a voice.
Noted activist Ashraf Patel, who has been working with young adults for over two decades, knows exactly what the youth of today is capable of.
"Not only do they have great energy and confidence, there is direction and clarity in their minds about what they want. It's this desire to create a new identity for themselves that is pushing them to become active citizens. It's frustrating for them to see decisions being taken on their behalf," she observes.
It's no secret that India is the youngest country in the world with 50 per cent of its population currently under 25 years. Moreover, one-fifth of the total electorate of 725 million estimated by the Election Commission, are between 18 and 23 years.
Yet, when it comes to their say in the political discourse, they have simply not been given the opportunity to register their concerns.
But the general mood is not defeatist. At least if the new youth organisations that are emerging all over the country are any indication. Together, they have even created a perfect platform to make themselves heard – loud and clear.
With general elections for the 16th Lok Sabha round the corner, the 'My Space My unManifesto' campaign has been initiated by the Delhi-based ComMutiny – The Youth Collective (CYC), along with the United Nations Population Fund (UNFPA), Pravah, Youth Ki Awaaz and Gandhi Fellowes, to enable young people to engage with issues that are important to them. This campaign has brought on board 42 organisations from across 15 states to jointly work on presenting young India's agenda for the country.
The idea behind creating this one-of-a-kind crowd-sourced youth manifesto is to make a note of their views on politics and governance, and yet not to limit those voices to the obvious ones – well-read urbanites – but instead tap different communities, especially those from remote and marginalised locations, that represent diverse identities.
Patel, the convener of CYC, explains, "Through this movement, a space has been created for the young to participate in the political process. Instead of fixing blame they are learning to claim responsibility.
The diversity in this coalition is rare. There are so many voices from different spaces and they are all talking openly, freely and straight from the heart."
It truly is a rainbow coalition at work here: from young tribal women and men of Rajasthan and Chhattisgarh to sex workers and transgenders in Delhi to the marginalised Dalit youth of Bihar to the rural youth of Tamil Nadu and the multi-talented north-easterners. But while they do not share a cultural background or geographical region, what they do have in common is their demand to become an undeniable part of the world's largest democracy.
That's the feeling Firdoz, a young activist with Delhi-based Kat Katha, which is part of the unManifesto campaign, and works to empower sex-workers, slowly began to sense as she started making regular visits to the brothels on GB Road in Delhi.
She says, "It's overwhelming to see the manner in which the women here have been pushed into a corner. They are so accustomed to not being acknowledged as citizens that when a few months back we began talking to them about politics and voting, they were hesitant to have such a conversation with us. Only after a few attempts did they begin sharing their thoughts."
What are sex workers strongly advocating? Reveals Firdoz, "Like all mothers they want the government to start a school for their children and set up a hospital in the area. They want a safe neighbourhood and emphasise on the need for quality policing. Many wanted to know how they could ensure their customers did not take advantage of them."
Like sex workers, young tribals are getting their say as well. Lokesh Kalal, the feisty co-founder of the Udaipur-based Alfa Educational Society, is devoted to reaching out to the adivasi and dalit youth of Rajasthan, empowering them to actively contribute to local politics to usher in change.
"As a part of this coalition, we are looking at the crucial issues of the tribal youth in Kherwara. When we started conducting workshops to inform them about party manifestos and told them how we want to create a youth manifesto at the state and national level where their promises would be showcased, it was like a dam had burst open.
"In rural areas, the youth have spoken up on the crisis of water, electricity and the poor condition of roads, while for college-goers creation of paying jobs is a top priority."
Right to land and forest, a violence-free existence and an end to rampant corruption and alcoholism figures on the promise list of tribal women and men from Chhattisgarh.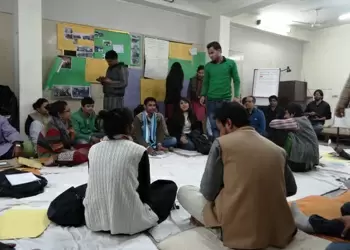 The final goal is to ensure that the top 10 promises get reflected in actual political manifestos (Photo: WFS)
Prashant Kumar, State Convenor of Ekta Parishad, the NGO coordinating the campaign in the region, says, "We are working in 1200 villages that cover 27 constituencies. Women here have participated in large numbers in the workshops we have organised to secure their promises for the manifesto. The tribals envision a country that is free from violence and 'nasha' (addictions), and where everyone one has fair and equal right to the land."
The Bihar Ambedkar Student's Forum is talking to dalit youth in Patna, Bihar, asking them to define their kind of politics and is answering questions on legislations like the Right to Education and Right to Information, while college students in Lucknow, Uttar Pradesh, are learning how to "figure out" party manifestos and vote on the basis of issues.
Says Zeeshan Siddique of Yeh Ek Soch Foundation, "It's not about the hand or the flower [election symbols of two major political parties]; we tell them to select their leaders on the basis of the issues they address."
Then there are the energetic youth from the north-east, who are being mobilised by the Guwahati-based Bosco Institute. States Hejang Misao, "Since Independence the voice of northeast's young has never been heard at a national platform. For us, this is the perfect time to leave our mark."
In addition to organisations working on the ground, this coalition has some creative online support in the form of YouthKiAwaaz.com, Halla Bol and GotStared.At., which are popular virtual social action platforms.
Says Arjun Shekhar, Founder, CYC, "These social media warriors are our window to the digital world, connecting the campaign to a larger number of people. A lot of interest in the campaign is being generated though online debates and polls."
Thanks to some tireless activism by this vibrant coalition, through several discussions and events, online debates and Tweetathons, the campaign till now has received over 10,000 promises from 5,31,461 young people from a wide range of communities.
Plans are on to go to 14.5 lakh youngsters and collect over 80,000 promises. The final goal is to ensure that the top 10 promises get reflected in actual political manifestos.
The stage is set. The young are determined. This election they are making sure that their agenda is not overlooked. - Women's Feature Service
Wish to share your story?
Trending Now: