From Odisha to Rajasthan to Uttar Pradesh, the plight of women is the same

Humra Quraishi
&nbsp | &nbsp Delhi
20-December-2013
Vol 4&nbsp|&nbspIssue 51
What do Sister Justine of Kandhamal in Odisha, Moffo from Gopalgarh town in Rajasthan, and Imrana, a 16-year-old hailing from Loaie village in Muzaffarnagar, Uttar Pradesh, have in common?
They share a past that is filled with fear, hate and strife. The trio has faced the consequences of belonging to the minority communities and of being women. They have lived through communal riots, seen extreme poverty and powerlessness and experienced threats to their lives.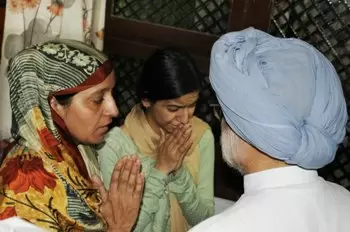 Minorities affected by riots have not received justice in many places. Prime Minister Manmohan Singh meeting the riot victims in Muzaffarnagar (Photo: Indian Photo Agency)
This, of course, is no surprise, considering that minorities, be it Muslims, Christians or others for that matter, are generally ignored by the mainstream – political leaders treat them as vote banks to be used as a means to come to power, even as society at large has come to view them with suspicion and disregard.
Many minority women in India are disadvantaged on three counts: poverty, low literacy levels and a disempowering environment.
A national level convention of minority women organised by several non-government organisations working in this sector, including Anhad, Bharatiya Muslim Mahila Andolan (BMMA), Young Women's Christian Association (YWCA) and National Federation of Indian Women (NFIW), was held in Delhi recently.
It provided me with an opportunity to interact with a large group of women and teenage girls who had come from the riot-affected district of Muzaffarnagar.
As many as 50,000 people have been affected in the month-long violence that rocked the region in August-September 2013, and predictably it was the women and children who have borne the brunt of the destruction.
Trauma writ large on their faces, these women even bore signs of physical attacks in the form of wounds and scars on their person.
In that crowd young Imrana stood out. The injuries on her neck caught my eye and when I asked her how she had got them she hesitatingly told me that much before the deadly riots had broken out earlier this year, she had been attacked by men from the 'majority community' of her village. Unfortunately, riots or not, girls like her are constantly vulnerable to violence.
It had been weeks since Imrana and others like her had found themselves being herded into makeshift 'relief' camps set up for victims. They were trying to restart their lives within these tattered tents and with the bare essentials that they had been able to salvage.
As I urged some of them to speak up about what they were feeling, Salma, Khurshida and Khafiya from Jola and Mallackpur villages, initially stared back at me vacantly.
Then, with tears in their eyes, they revealed, "We have been managing two square meals a day thanks to donations of dal (lentil) and chawal (rice) that have been trickling into our camp. But we don't know how long we can continue like this." What did their future look like? To them this was a question that filled them with helplessness and despair.
Zakia Soman, activist and co-founder of BMMA, who has been visiting the camps at Muzaffarnagar, put it this way: "One can't imagine the plight of the riot-affected. In all these years I haven't come across such a grim situation, where human beings are being treated in this way.
"Living in tattered tenets, the children are dying of cold weather conditions as well as infections. There is no provision of safe drinking water. And the government's inaction is completely shameful. Earlier, we had taken food grains and clothing and quilts but as the winter is intensifying we are collecting contributions for tents and woolens as well."
This reality, unfortunately, is common to many struggling minorities groups. I got into a conversation with Mofia, a middle-aged woman from Rajasthan's Gopalgarh in Bharatpur district.
In 2011, after riots broke out in her small town her husband and three sons were picked up by the local police for interrogation. Later, all four – Abdul Ghani, Ali Hussain, Ali Sher and Akbar Ali – were arrested and have been languishing in a Jaipur jail since then.
Today Mofia's once modest middle-class family finds it difficult to make ends meet. With a heavy heart she said, "My husband and sons used to run a garment tailoring unit and we were doing well.
"During the 2011 riots in Gopalgarh, in which 10 Muslims were killed, the police went after people from the Muslim community, although it was our community that suffered losses; our properties were either looted or burnt and destroyed.
"Muslims died and suffered huge financial losses at the time. Our garment unit and home were ransacked and set on fire by the attackers. Yet, the police took away my husband and children. They are still imprisoned."
Mofia was left with nothing and she was so scared for the safety of her daughter, younger son and grandchildren that they shifted base to her natal village in Kosi in Uttar Pradesh for few months.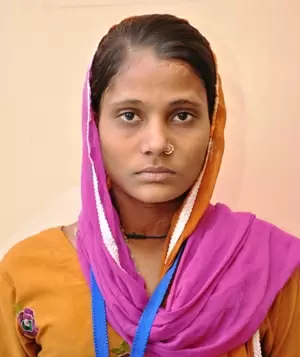 Imrana, a 16-year-old, is struggling for survival at a relief camp in Muzaffarnagar where she has been staying for the past three months (Photo courtesy: Anhad)
"But I came back to Gopalgarh and now we are just managing to get by. But everything has been ruined! I can't fight the system, can't fight the police," she added helplessly.
Fighting a losing battle against an apathetic system is something that Sister Justine understands only too well. She had journeyed from Kandhamal, a district in Odisha that has been trying to get over its gruesome past, to share her story.
Said the young nun, "For the last several years Christian families in and around Kandhamal have not celebrated Christmas because they fear the right wing extremists.
"There is no midnight mass and we don't dare to sing carols loudly. Whatever few celebrations that can be managed are done under police protection. And if we try to protest or dare to voice our displeasure we stand the risk of being hounded and threatened.
"Even young children are being gang raped to put fear into the hearts and minds of anyone who wants to break the silence. The extremists' brigade controls everything in the Kandhamal region." While the rest of the country will be celebrating Christmas with traditional prayers and feasts, those in Kandhamal will spend yet another year in fear.
The draft 'Prevention of Communal and Targeted Violence (Access to Justice and Reparations) Bill, 2013, that promises severe punishment and rigorous imprisonment for those who are guilty of committing organised communal violence, has been in limbo for many years.
But even if it were to be enacted, will it ensure that others would not have to go through what women like Mofia, Salma and Sister Justine have had to go through – living like refugees in their own country? That is a question only the future can answer. - Women's Feature Service

Wish to share your story?
Trending Now: