Homeless in Agra get their own shelter as temperature falls to 7 degrees
Brij Khandelwal
&nbsp | &nbsp Agra
22-November-2013
Vol 4&nbsp|&nbspIssue 47
While official agencies have been dragging their feet citing resource crunch for not being able to provide shelters, voluntary groups like Sri Nathji Nishulk Jal Sewa, Ganesh Sewa and Madhavi Sewa have risen to the occasion.
The homeless got a new refuge to escape the biting cold. The first "raen basera" (night shelter) was opened by the Sri Nathji Nishulk Jal Sewa on M.G. Road near Subhash Park.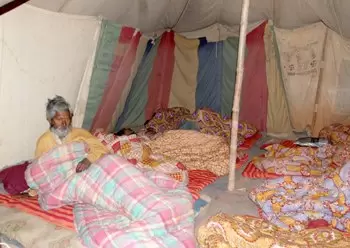 For the homeless in Agra, the tents set up by some Good Samaritans in the city are the only refuge from the biting cold (Photo: IANS)
The shelter, the first among dozens of such temporary residences the organisation plans to open in the city, offers a bed, quilt and the warmth of a bonfire to the inmates.
"Concern for such small needs of common people has rarely ever bothered our decision- makers. But service for the common man in any form is a true religion," said M.C. Gupta, a physician widely known and respected in Agra.
"Every winter, we open a dozen such 'raen baseras' at busy road crossings or outside stations or bus stands, to provide free stay for the night with quilts and beds. A bonfire is lit outside to keep inmates warm," said Bankey Lal Maheshwari, chief of Sri Nathji Nishulk Jal Sewa.
"Earlier, we used to distribute free blankets. But we found that the blankets were later resold in the market. About 10 years ago, we started opening shelters and found them more useful for the homeless."
Maheshwari said a large number of people arrive in the city by late night trains or buses and they have no place to go.
"The night shelters come to their rescue," he said.
In the summer, the organisation provides free drinking water to the public through a network of water kiosks.
Ganesh Sewa and Madhavi Sewa also run water kiosks in the summer for poor people. Madhavi Sewa, an organisation which works for women's welfare also, visits schools to distribute essential items.
"Although this organisation has no formal structure and is not registered, public donations help keep it running," said Rajan Kishore, an associate of Maheshwari.
In the past few years, a healthy rivalry among social workers and voluntary agencies in the city has helped set up a dozen night shelters for the poor.
"This indeed is a happy situation. The city now has many such groups and we are seeing greater sensitivity and concern for the old and the poor," said social activist Sudershan Dua.
Maheshwari said his water service was going on with public support for the past 30 years.
Agra being a major trade centre of agricultural produce and a hub of medical services, a large number of people come here daily from rural regions.
"Some do not have the resources, others miss the bus or train and are left to look for night shelters. We have our night shelters at S.N. Medical College, the mental hospital and several railway stations," said Maheshwari.
Surendra Sharma of Hotel Goverdhan said: "Ask a person who has no shelter in this biting cold. For him anything is good enough."
"Surely, this is an achievement of a high order... running a network of water kiosks in summer and opening night shelters for the poor in winter, that too without any formal organisational structure or government funding.
"The Sri Nathji Nishulk Jal Sewa has been doing that since 1987," said social activist Shravan Kumar Singh. - IANS

Trending Now: