The 'not-so-pretty' side of cosmetic industry needs to be addressed

Tarannum
&nbsp | &nbsp Lucknow
27-September-2013
Vol 4&nbsp|&nbspIssue 39
It's seven in the morning and Sneha Gupta, a resident of Lucknow, the capital of Uttar Pradesh, is busy applying her makeup. Sleep deprived, she's got to cover up her dark circles and pale skin. Within 12 minutes the professional-looking job is done.
She completes her 'look' with a stylish bun and, voila, the youngster is ready to take on the world. It's not a good day for Gupta – her recent break up with her partner is weighing her down.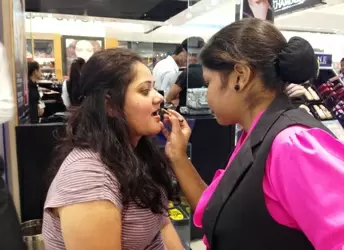 Sales assistants at cosmetic stores stand for about six to seven hours at a stretch – without any lunch or restroom breaks (Photos: TarannumWFS)
But as soon as she dons the garb of a sales assistant for a popular cosmetics brand, she wears a big smile on her face that remains throughout the 9 to 10 hours she puts in each day.
Gupta makes it a point to look "as good as perfect" until the time comes for her to leave the store in the evening. After all, in these competitive times she has to be the model ambassador for the products she is selling and she has to go all out to tempt prospective customers into buying them.
In a country where the cosmetic industry has grown exponentially over the last decade, owing to the fact that both women and men now feel it is essential to look well-groomed at all times, it is sales assistants (or SA as they are commonly called) like Gupta, who are the face of the brands and their business on the ground.
This entry on a popular make-up blog reveals just how important an SA's contribution is: "I was in the …store over the weekend to check out the new skin care and some new launches and I was really happy with the sales girl who attended to me.
She wasn't pushy and didn't make crazy claims about the products. She answered all my queries with a lot of patience and had a good knowledge about the products and in general about beauty. …I ended up buying a little more than I had intended."
The beauty sales business is indeed on the rise, as it creates employment opportunities for scores of young women, who have no qualms about working hard, even as they look good and get paid for it.
In fact, according to recent data of industry surveys by organisations like the CII, more than one lakh young women across India have found employment as SAs.
They may be going through family issues, may be tired or angry, but they can never let their personal problems come in the way of their work. Of course, talking to some of them does reveal the other, or rather, the 'uglier' side of this otherwise 'beautiful' business.
Lucknow girl Sakshi Soni, 24, has been working as a SA for the last six years. Fond of cosmetics, like any other girl of her age, Soni was quite excited initially over having signed up with a famous brand.
"I come from a middle class home and so top-of-the-line brands such as Chambor and MAC were simply out of my reach. Anyway, which girl doesn't love being decked up? I also thought the money could help me fund my graduation, which I had decided to do through distance education," she recalls.
Thus began Soni's tryst with the beauty industry. Since she had a good complexion, she was trained as a makeup expert to begin with. Later, however, long hours of wearing makeup started taking its toll.
"Even to show off one's porcelain skin and say that we use the products that we are selling, we need to put on makeup. With frequent touchups the stuff stays on the face for over 10 hours, which does have harmful effects," remarks the young woman. This was just the first indication that everything was not right with her "dream job".
Next, she quickly realised that standing for about six to seven hours at a stretch – without any lunch or restroom breaks, was also not going to be easy.
"The mall where I was working had a heavy footfall and as I was the only SA at the counter, even sitting down for five minutes was not really possible. And since every sale translated into an added incentive for me, I did my best to convince everyone who came up to my counter about the products. Obviously, where was the time to even grab a quick bite or simply take a break?" adds Soni.
A bad lifestyle and heavy makeup led to frequent bouts of acne. "But even then, since I had to look good, I continued to use makeup." Ultimately, when she ended up with a major skin allergy, she had to finally take a break from her job for three months. When she returned, she switched over to work as a behind-the-counter SA even though it meant a lower salary.
Like Soni, Divyaroshni Singh, 24, who lives in the bustling temple town of Varanasi, is another unsuspecting victim of the beauty industry. Singh ended up with swollen feet almost every day after she started working with a reputed beauty company as a SA, some three years ago.
"As a part of our slick-looking attire, we had to wear five-inch killer heels. There were two girls at the counter, so we alternated between standing and sitting on one of the wooden boxes that stored our supplies," she recalls.
However, the constant standing in heels for the whole day spelled doom. "My feet used to swell up and I was in acute pain. When I consulted a doctor, I found that there was some lesion tear. I finally had to quit my job for eight months." Thereafter, Singh chose another company where wearing heels was not compulsory.
Working conditions are a little better for those associated directly with the brands rather than function as SAs hired by agents. These agents are basically employment agencies that hire youngsters and, based on their skills send them to different cosmetic companies for a commission. These SAs are not on the company rolls.
Namita Sharma (name changed on request) works with an international cosmetic company in Chandigarh and feels that working directly with big international brands is a better proposition.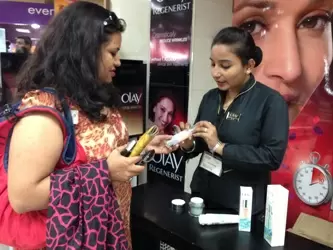 Hidden behind the painted face of a sales assistant is the pain of a stressful job
"Our working hours may be the same, but since we have an exclusive store here, we have comfortable stools to sit on. Also, since there are four SAs in one shift, we can take our lunch and bathroom breaks easily. Moreover, international brands have a reputation to protect, so they tend to take care of their staff."
Unfortunately, while the beauty industry is growing with each passing year, there are hardly any regulations in place for the large labour force it employs.
Dr Smriti Singh, a women's rights activist based in Lucknow puts it this way, "Only the basic labour laws like timings, eight-hour shifts and safety are being implemented. Since on the face of it, these jobs don't look hazardous, they are not perceived to be so. But one doesn't realise the pain behind such glamorous looking professions. Some strong regulations need to be followed, keeping in mind the kind of work these young girls are doing."
Anita Heerchandani, a senior manager in a company that hires SAs for its clients who run cosmetic counters in Lucknow, however, has a different take.
"We do have regulations. For instance, we do not allow women to stay beyond 7 p.m. in the evening. They are also clearly informed about the pros and cons of the job, like standing for long hours, before they join. We do not force them into the job. It is they who opt for it despite its tough working conditions," Heerchandani emphasises.
The beauty industry certainly has a lot of potential to become a major employer for young women, but then its 'not-so-pretty' side needs to be addressed urgently. - Women's Feature Service
Wish to share your story?
Trending Now: