A victim of child marriage launches a fight against the practice with other girls

Tarannum
&nbsp | &nbsp Siddharth Nagar
23-August-2013
Vol 4&nbsp|&nbspIssue 34
At first glance, she's your quintessential village girl – quiet, unassuming and hardworking. But Uma Kumari, 17, has distinguished herself in her nondescript village of Badgaon in Siddharth Nagar district of Uttar Pradesh, located 220 kilometres from capital Lucknow.
Together with a handful of adolescents like her, she has been the architect of a campaign against child marriage, a common practice in her district.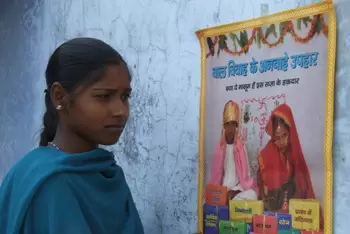 Uma Kumari is a crusader against child marriage and a vociferous advocate of adolescent health and rights (Photos: TarannumWFS)
According to the 2009-2010 District Level Health Survey (DLHS) as well as the National Family Health Survey – III (NFHS-III) data, 66.9 per cent of boys in the district get married before 20, while 66.2 per cent girls tie the knot before they turn 18.
Like most girls in the region, Uma, too, couldn't escape child marriage. In fact, she is among the 8.9 per cent girls in the state who were married even before they could learn how to spell 'shaadi' (marriage in Hindi) on their writing slates in class.
The daughter of a tractor mechanic, she was wedded to a young boy when she was only 10 years old as her father thought that being the eldest she should 'settle down' early.
"My father used to work in Saudi Arabia. After he saved enough money, he got me married as I am the eldest among seven brothers and sisters," reveals Uma. However, fortunately for Uma, he had to wait for the 'gauna' – the formal ceremony after which the girl is finally sent off to her marital home – as he had to give a dowry with her 'vidai' (departure), which he still had to put together.
Left behind with her mother and siblings, Uma decided to continue her studies. No one had any objection to this, as primary education is free. Then, about three years ago, she got the opportunity to meet with the volunteers of Shohratgarh Environment Society (SES), a local non-government organisation, who at the time were all set to initiate the Early Marriage and Early Pregnancy (EMEP) prevention project in Jogiya block of Siddharth Nagar. This meeting changed Uma's life and her views on marriage, sexual health and pregnancy.
"I had seen what early marriage and child birth had done to a few of my friends. All I needed was guidance to connect the dots. My interaction with the 'bhaiyaas' and 'didis' (male and female volunteers) of SES helped me gain a better understanding of the negative effects of early pregnancy," explains Uma.
Encouraged by her mother, she started attending the meetings of young adolescent boys and girls, who were slowly being roped into the initiative.
Her zeal to learn more and also influence many of her friends saw her become a community peer outreach worker. Her main task was to persuade villagers not to get their sons and daughters married before they reached the legal ages of 21 and 18, respectively.
And, in case the children had been married off earlier – as happened in her case – she requested them to at least delay the 'gauna'. Indeed, this Class Ten student of the government school in Badgaon block has set an example for the community by deciding to wait for at least four more years before she goes off to her husband's home and starts living as a married woman.
Geeta, 15, from Dohni village, has found her mentor in Uma. While the duo work closely for their cause, Geeta has, in fact, lobbied in her own home to delay her marriage.
Her friends Durgawati, 15, and Beenu, 14, who were married early, have joined them in their endeavours as they want to delay their 'gauna' too. Says Beenu, "I want to at least complete my education and wait for another five years."
Incidentally, these young girls are not alone. They have the equal support of the boys in their community.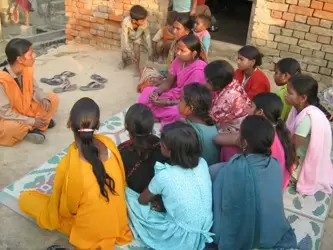 In Siddharth Nagar district of Uttar Pradesh, located 220 km from Lucknow, a handful of adolescents have declared a war against child marriage, a common practice in the region
Shiv Lal in Geeta's village knows the pitfalls of early marriage and is now determined to help the youngsters take the right decision for themselves. He elaborates, "I was married when I was barely 16. My mother used to be ill and my parents decided that we should have one more woman in the house. But because of this sudden responsibility, I had to drop out of school and start earning. I know the ill-effects of early marriage."
Uma has single-handedly helped stop over a dozen child marriages and delay more than two dozen 'gauna' in the three blocks where the project is running.
But while she is out campaigning she does not miss even a single day of school and has even asked her husband to complete his education.
"He is in his first year of graduation and is doing a course in computers alongside. He plans to open up a shop where he can key in data. We could not stop our marriage but now I want to complete my studies and want him to earn before I go to live with him," she adds.
This young crusader is definitely a trendsetter. Rural India needs youth icons like Uma. - Women's Feature Service

Trending Now: