Yet another innovation waits to be tapped for the good of needy
Alka Tiwari
&nbsp | &nbsp Nagpur
02-August-2013
Vol 4&nbsp|&nbspIssue 31
A group of women in Khagra near Berhampur, West Bengal, were busy giving the final touches to an event that was going to mark a new beginning in their lives. It was the day they were starting the production of low-cost, biodegradable sanitary napkins in their village.
Once the preparations were over they all eagerly waited for Sombodhi Ghosh and Jaydeep Mandal – founders of Aakar Innovations, a Gujarat-based social enterprise that aims to assist rural communities by promoting grassroots innovations – to arrive with the prized mini sanitary napkin-making machine that was going to enable them to use hygienic pads instead of unsterilised cloth during their menstrual periods.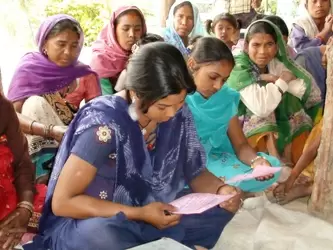 Aakar Innovations' mini sanitary napkin-making machine is expected to create around 10,000 jobs in the next 5 years (Photos: Alka Tiwari WFS)
According to the findings of a comprehensive nationwide survey carried out by AC Nielson and reviewed and endorsed by Plan India, one of the world's largest community development organisations, only 12 per cent of the total 355 million menstruating women in India use sanitary napkins.
In fact, usage in rural areas is alarmingly low at around two to three per cent. Nearly 1,033 women of menstrual age, in addition to 151 gynaecologists, were interviewed as part of this exercise.
The reasons behind the poor usage level range from the lack of awareness to issues like affordability and availability – hurdles that the low-cost machine developed jointly by Aakar Innovations, Council of Scientific and Industrial Research (CSIR) and the National Innovation Foundation, can help overcome.
Mandal already has a feasible business plan chalked out. He says confidently, "We are ready to provide machines to women in the villages, set up production centres, supply the raw materials, provide technical support and also guide them with marketing outreach.
"This can create around 10,000 jobs in the next five years besides benefiting over six million women." In fact, according to him, this dynamic arrangement would become sustainable if state governments, local non government organisations (NGOs), and corporates get involved.
Of course, raising awareness is vital if there has to be a lasting change. Says Radhika, a social activist and volunteer with the NGO, Goonj in Gurgaon, Haryana, "Awareness building needs to go hand-in-hand with the production of the low-cost sanitary napkins."
She feels that women have been bogged down by too many archaic customs and that there is an urgent need to make them realise the harmful consequences of using unsterilised cloth, husk, sand or ash.
Dr Nisha Kathale, Professor of Gynaecology at the Indira Gandhi Government Medical College in Nagpur, Maharashtra, agrees with Radhika's analysis.
She explains, "Even today in 21st century India, there is very little openness with regard to feminine hygiene, which is a completely neglected issue. Menstruating girls and women are considered impure and many women suffer from urinary and ovarian infections, caused due to unhygienic menstrual practices."
Dr Kathale, therefore, is a firm supporter of the low cost technology that has been developed by Aakar and others. She believes that this innovation can actually be a "life-saver".
Sumati, a coordinator with the project in Chamoli, Uttarakhand, rattles off the advantages of the machine, "It is low cost and perfect for small scale production units. Further, it produces high quality, hygienic sanitary napkins at affordable prices that are ideal for women who cannot afford the branded alternatives."
What does it take to start operations in a village? "Nothing much," says Ghosh, adding, "The machine is compact, easy to operate and can be set up in a room measuring 100 square feet. It uses only minimal electricity and raw materials that are easy to source. The machine can produce approximately 2,000 to 2,500 napkins a day, depending on individual efficiency, and provide employment to 11 women directly and about five to seven women indirectly through marketing commissions."
The machine uses mainly agri-waste such as banana fibre bagasse, bamboo and water hyacinth to manufacture these sanitary napkins and it costs only about 60 per cent of the price of the cheapest sanitary napkin brand available in the market.
But are these agri-waste pads safe to use? Currently, the government doesn't have any approval procedure that is mandated. However, a committee has been formed to set up guidelines for BIS standards of sanitary napkins. Their recommendations are awaited.
Mandal, however, clarifies, "Our pads adhere to those guidelines."
Dr Sadhna Deshmukh, a gynaecologist in Nagpur, who was associated with Aakar as an advisor while the machine was being developed, concurs. "Since each pad is sterilised by UV rays they are absolutely safe. In fact, if these biodegradable pads hit the market, it will boost menstrual hygiene in a big way and check reproductive health diseases among rural women and those living in urban slums."
This is not the first time that Aakar Innovations has developed an innovative product that has a social welfare dimension. While this low cost sanitary napkin-making machine has already been recommended as one of the top-five innovations in the family planning and reproductive health sector by Millennium Alliance, an initiative of USAID; the Technology Development Board and FICCI has recognised its indigenous fibre technology as one of the top three innovations in the DST-Lockheed Martin India Innovation Growth Programme 2013.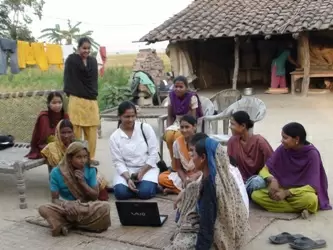 A group of rural women get acquainted with the concept of using a sanitary napkin during their menses
Interestingly, Aakar's business model ensures that it's a win-win situation for everybody. Not only do women stand to get sanitary pads at a lower price, it gives them an opportunity to attain financial freedom as well.
Aakar is expected to begin the bulk manufacture of these sanitary pads in Gujarat soon. It has been contracted by the Gujarat Livelihood Promotions Ltd, a state government franchise, to implement the project across the state. As a pilot, Aakar has already started manufacturing pads in Uttarakhand and talks are on with other states as well.
Women from Devprayag and Chamoli are part of the project. Like Sumati, Sudha, another coordinator for the Chamoli area, was all praise for this indigenous machine that has spelt freedom for thousands of women in her area.
"Life is already quite tough for women in the hills so this has come as a huge respite. We are also more self reliant because we are executing this project by ourselves with support from the inventors of this machine," she says. Currently, Aakar is being supported by the Centre for Innovation, Incubation and Entrepreneurship at IIM Ahmedabad.
Technology has the capability to shape the lives of the people for the better, and history is strewn with examples that have proved this. This low-cost sanitary napkin-making machine has all the makings of a revolutionary product that spells a safe period for many ordinary Indian women. – Women's Feature Service
Wish to share your story?
Trending Now: