Pune's conservancy workers take on MNCs over safe disposal of sanitary pads
Quaid Najmi
&nbsp | &nbsp Pune
19-July-2013
Vol 4&nbsp|&nbspIssue 29
A woman's most private item of personal hygiene, the sanitary pad, is at the centre of a raging open controversy in Pune, Maharshtra's cultural and academic capital, for the past few months.
The city's female population generates an estimated 10 million used sanitary pads weighing around 140 tonnes, per month, posing a major challenge to dispose them of safely without causing health or eco-hazards.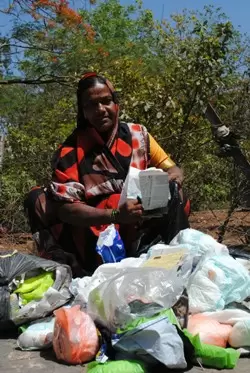 Pune's conservancy workers are concerned about the health hazards in handling used pads (Photos: IANS)
Conservancy staff of Pune is now up in arms and are protesting against handling and disposing of sanitary pads and even baby or adult diapers which are thrown into trash bins.
For the first time in India, the Pune Municipal Corporation (PMC) has demanded that sanitary pad manufacturers must include an identifiable disposal bag with each sanitary pad to eliminate environmental and health hazards arising out of its disposal.
Joint Municipal Commissioner Suresh Jagtap said that in January, Mayor Vaishali Bankar and Municipal Commissioner Mahesh Pathak had invited some of the companies for a meeting to hammer out a solution. But no company representative turned up.
A non-government organisation - Solid Waste Collection and Management (SWaCH) - decided to take some direct action.
"On March 8, International Women's Day, we collected bundles of used sanitary pads and returned them to the companies which manufactured them," said Malati Gadgil, handling SWaCH's business expansion.
The move worked. Officials from some of the top companies in the business like Johnson & Johnson, Proctor & Gamble, Hindustan Unilever and Kimberly Clarke Lever met the PMC authorities in April and assured a solution within three months. This would include how to dispose of the used sanitary pads, whether they should be segregated as wet or dry waste, whether the products are bio-degradable or not and whether they are recyclable or not.
"Three months have passed since the meeting but they have not acted in the matter. We shall continue the campaign and explore other avenues in the matter," said Gadgil, who holds a Masters in Sociology from the US.
In a unique public-private-partnership initiative of the PMC, SWaCH, was given a five-year contract in 2008 to collect household waste and dispose them of in a safe and environment friendly manner.

Accordingly, SWaCH's 2,300 waste-picker members, including 300 men, collect all waste door-to-door from 400,000 homes, or nearly 53 percent of all Pune's houses.
Every household pays SWaCH workers between Rs.10 and Rs.30 and the waste-pickers earn extra by selling the garbage after segregating it into plastic, metal, paper, cloth, glass, biodegradable waste and the like.
"The biggest complaint from SWaCH members is handling sanitary pads and diapers which they consider insulting as well as a major health hazard," Gadgil explained, an issue wholeheartedly endorsed by Jagtap.
Jagtap said that as per the Extended Producers Responsibility under the Plastics Management & Handling Rules, 2011, it is the manufacturers' responsibility to ensure that they are responsible for their products till the very end after they are used.

Gadgil said that the unaware masses simply drop them in dustbins or flush them in toilets, with the risk of choking the drainage systems.
Since the issue directly concerns public health and safety of the conservancy staff, she demanded that companies immediately come up with suitable solutions to the problem.
A concerned Jagtap said the usage of sanitary pads is growing and becoming popular even in rural areas and so it was imperative for the manufacturers to evolve a solution to the looming crisis.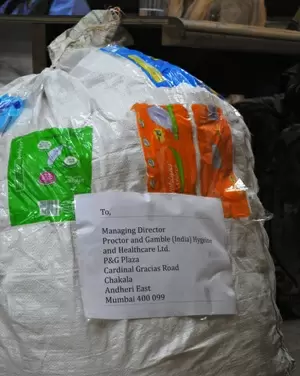 Bundles of used sanitary pads were sent to the manufacturers to drive home the message, but the companies are yet to respond
SWaCH has made a small beginning by manufacturing tiny, easily identifiable yellow bags with a string, sold at Re.1 per piece to some of the households they service.
"They are made by retired waste-pickers who have no other source of income. We are able to supply around 20,000 per month, while the actual requirement is staggeringly high," Gadgil said, urging the manufacturers to consider utilizing this service.
Incidentally, the PMC-SWaCH initiative has been supported by other NGOs like the Centre for Environment & Education, Stree Mukti Sanghatana, Parisar and Janwani, as also the state government.
A 2011 survey by AC Nielsen, "Sanitary protection: Every Woman's Health Right", revealed only a 12 percent usage of sanitary napkins in India, among the lowest in the world.
SWaCH estimates that the number of used sanitary pads in Pune would be around half a million a month, based on the national average.

According to estimates arising from the survey, nearly 36 million Indian women use sanitary napkins every month and at an average 12 per month per woman, it amounts to 432 million weighing 9,000 tonnes.
A sanitary napkin comprises over 90 percent crude oil plastic and the rest is chlorine-bleached wood or cotton pulp. - IANS
Wish to share your story?
Trending Now: