Recalling the riots that ravaged Gujarat in 2002, Zakia hopes for justice

Humra Quraishi
&nbsp | &nbsp Delhi
21-June-2013
Vol 4&nbsp|&nbspIssue 25
While the name of Narendra Modi is widely known especially after the 2002 Gujarat pogrom, that of Zakia Jafri is much less so.
But Zakia Jafri has come to symbolise the unfinished quest for justice in Chief Minister Modi's Gujarat after Zakia's husband, Ahsan Jafri - trade unionist, senior Congress Party politician, writer and poet – was brutally murdered by a riotous mob during the riots that tore through the state in 2002.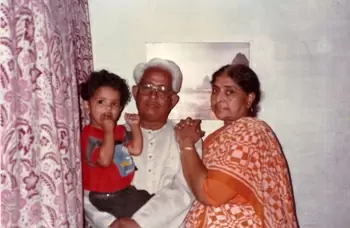 Zakia Jafri (right) along with her husband, Ahsan Jafri, trade unionist and senior Congress Party politician. (Photos Courtesy: Zakia Jafri)
The intervening years have seen Zakia, 73, get transformed from a home-maker to a public figure.
Despite her years, she addresses media conferences and protest meetings; today, she is familiar with court procedures having filed many petitions.
In April 2013, she was in Delhi to file a Protest Petition demanding a fresh investigation into her husband's death "to get a fair and transparent investigation against a chief minister, cabinet colleagues, senior administrators and policemen and front men and women of the RSS, VHP and Bajrang Dal…"
She addressed a group of people on May 7 in Delhi and her eyes expressed her pain.
Even if she had not uttered a word, her eyes somehow conveyed the trauma she had suffered on the day in 2002 when her husband was murdered by goons. Zakia married Ahsan Jafri when she was 18. Decades later, she was to witness his murder conducted in the most savage way.
She began her interaction with the words 'As-salaam–alaikum' (peace be on you), and narrated in detail the pogrom that ruined not just her life but that of thousands of others – perhaps for generations to come.
Life for the Jafris had had its share of tensions even before the 2002 carnage. In 1969, they had to leave their home in Ahmedabad because of a riot.
Recalled Zakia, "We were staying at Dr Gandhi's Lane that is just behind the place where the Gulberg Society came up. When mass rioting broke out, it led to the deaths of 700 people. Everything in our home – that had belonged to my husband's parents - was looted and then burnt, and all our books, photographs and other belongings were reduced to ashes.
"My husband used to write and his works had appeared in leading Urdu publications. We lost them all and that really saddened him. It was the destruction of his books, writings and family photographs and documents that had upset him the most. Yet, we managed to escape with our lives."
For some months the Jafris lived in a camp and then moved to a community guesthouse for four months. Later, they shifted to Gulberg Society, which was then a brand new residential colony.
Those were difficult days since the family had suffered not just on the financial and emotional fronts, but in terms of the education of the children, who had to drop a year.
Remarks Zakia, "Horrifying as those riots were, they were nothing when compared to 2002. About 80 per cent of Muslim families returned to their original homes after those riots but after the 2002 carnage, there was permanent dislocation on a mass scale."
In fact, Gujarat witnessed rioting right through the Eighties. The issue then was reservations for the Other Backward Classes. The Gulberg Society came under attack during this period, but it was driven more by politics and each time the attack was foiled.
A police post was also set up in the area. Ahsan Jafri, because of his Congress affiliations, was often the subject of slogans and personal attacks. But he remained firm about not moving out of Gulberg Society, even though many Muslim families had begun to leave the neighbourhood.
According to Zakia, there was a perceptible rise in anti-Muslim feelings through the Nineties, and even a small skirmish between Hindus and Muslims could result in large scale rioting.
"Incidents when Muslim homes and property were set on fire became increasingly common. There was, for instance, a pamphlet campaign urging the majority community to boycott Muslim rickshaw pullers, Muslim-run establishments and shops.
"Muslims found it difficult to rent homes and apartments, or even buy one in any of the newly-constructed colonies that were coming up. These were all pointers to the deteriorating state of affairs," Zakia recalled.
But of all the memories she holds, nothing in terms of terror can measure up to the events of February 28, 2002, when the Gulberg Society in which the family had been staying since 1969 was torched and killings broke out.
"According to my husband, the Congress Party was sure to come back to power since the Keshubhai Patel government had failed to deliver. In fact, he repeated this to me on February 27, 2002, adding that the BJP could only retain power by whipping up anti–Muslim sentiments."
Ahsan Jafri's assessment proved prescient. The Godhra conflagration on February 27 provided Gujarat's political masters the opportunity to do exactly that. Said Zakia, "Early next morning, on February 28, neighbours started pouring into our home and kept asking for my husband. They felt and looked noticeably relaxed once they saw him."
By 9 am, it was apparent that tension was building up in our area – a few shops and vehicles had already been looted and burnt. "A boy was attacked and injured. Terrified, he later took shelter in our neighbourhood. He was killed by the rioters," added Zakia.
The situation was getting out of hand but the police commissioner, even though he was in the vicinity, did not visit Gulberg Society.
"My husband then went up to the road where the police commissioner was, and met him in full public view. He requested him to deploy additional police forces. He also asked him to evacuate to safety all those who had taken shelter in the Gulberg Society. But no police was to be seen, either in Gulberg Society or its environs, until late in the evening," she continued.
By then, according to Zakia, Gulberg Society was completely burnt down and looted, with a majority of its residents – 69 in all – either killed or burnt alive. When the police arrived late in the evening the genocide was nearly complete.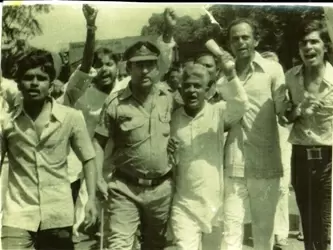 Ahsan Jafri during a public protest in Ahmedabad
"They began their work of rescuing the few survivors only at this point – and most of this work was done by two police inspectors, Mr Pathan and Mr Kureshi. It is they who carried the few survivors to safer places.
"The role of a couple of deputy Superintendent of Police (SP) level officers was terrible. We have lodged a complaint in the court against two of them for destroying evidence," she elaborated.
But what has given this 73-year-old woman the grit and determination to carry on fighting for over a decade now?
Zakia's answer was simple. "It is to get justice – not just for myself but for the thousands who were killed in the most brutal manner on February 28, 2002."
The scenes come back to her. Rioters stripping the clothes off of women's bodies and brutalising them. The bodies lying everywhere. But there is one abiding memory she has – that of her husband fighting valiantly until the very end.
There were those who stood by her in her long quest for justice, including many Hindus.
"First of all, as an individual and resident of Gulbeg Society, I am totally indebted to my neighbours – some of them were victims, too. As witnesses they have stood firm and have not changed their version of the events after all these years.
"Then there are senior police officers of the Gujarat cadre, activists and advocates. There is an entire team that has been fighting my case. How can I thank them enough?"
Zakia Jafri's quest for justice that began in 2002 carries on. She lives in the hope that she will get it one day. - Women's Feature Service

Wish to share your story?
Trending Now: