Environmental protection rather than profit drives this entrepreneur

Akash Bisht
&nbsp | &nbsp New Delhi
31-May-2013
Vol 4&nbsp|&nbspIssue 22
Anupam Jalote is not your run-of-the-mill entrepreneur. While most entrepreneurs are fixated on profit margins, Jalote is as much concerned about the environmental degradation and its lasting effects as he is with generating profits.
In 2008, he sacrificed his cushy job with a top multinational firm to chase his dream of creating a technology that would let rural people generate their own affordable, renewable energy with locally available organic waste.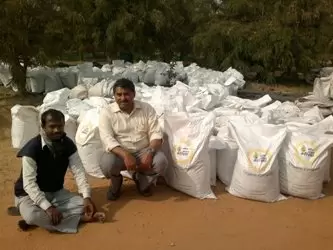 Anupam Jalote's (right) GreenOil that is all geared to set up a 1 MW power plant is already producing organic manure for farmers
His firm GreenOil is now on the threshold of setting up a 1 MW green power plant at Samode village near Jaipur. As envisioned by him, the plant will produce energy from locally available biomass and organic waste.
"The idea is to generate power by using the waste to produce bio-methane through anaerobic digestion," he says.

Interestingly, the leftover after digestion, makes for a high quality, enriched organic fertiliser that not only helps environment but also reduces the dependence on chemical fertilisers that are known to cause fatal diseases like cancer.

Jalote is a firm believer in "democratisation of power."

"We have to be acutely conscious that everything can't be left to the government – we too have a responsibility of making India a better place. All of our lives we cross bridges and walk upon roads built by others. We too have a responsibility to create a path for the convenience of others, and that is what success means to me," he says.

Born in Lucknow in 1964, Jalote has travelled extensively through India and internationally.

He did his schooling from St. Francis College, Lucknow, and later in Tanzania where his father was posted.

In 1987 he did his first MBA from Lucknow University and then worked with top names like Kirloskar, Escorts and IBM before taking a plunge into entrepreneurship.

In 1990, he started his own venture that designed digital control systems. Six years later, he got back to the corporate sector, and joined Escotel Communications Ltd (now Idea Cellular).

In 2001 he took a sabbatical to do his second MBA from Purdue University in Hannover.

Post MBA, he returned to India and started to work with Tata and later Airtel where he rose to become the Chief Process Officer.

"The corporate sector has been very kind to me, but I had this deep desire of doing something of my own. In 2008, I quit my job and started GreenOil Energy Sciences (P) Ltd with the active support of my wife Mamta.

"I decided to free people from their dependence on electricity provided by the government. I wanted power for the people, generated by the people," he says.

The power project got delayed due to lack of funds. "We expected the funds in 2010, but got it only last year," says Jalote.

However, in the meantime, over the last two years GreenOil has processed over 2000 tons of farming and other organic waste to make over 1000 tons of organic manure that has been supplied to farmers under the brand name of "GreenOil Karishma".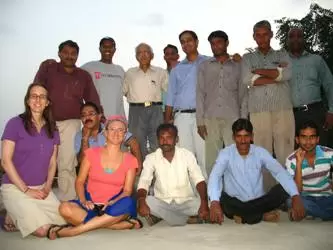 The GreenOil Team with visiting MBA students from Berlin University
"For a farmer, a bad crop could mean disaster and if they suspect that a product can do this to their produce they would never use it. However, farmers have been coming back for repeat purchases of Karishma and that is reassuring. It proves that our efforts to make a positive impact have not gone in vain," he adds.

Besides, the project has provided employment to locals at the plant. Others make money supplying the local waste to the plant in their tractors and trucks.

Jalote is in great spirits as his first 1 MW plant is due to be commissioned in next 6 months. He plans to contribute 10 MW to the National Grid in next five years.

Since all this power would be generated through waste from neighbouring villages, a significant percentage of the revenue generated by GreenOil would go directly to farmers and entrepreneurs in neighbouring villages.

Now GreenOil is in the process of launching their urban brand "My Green Pot" with the simple mission of sensitising urban consumers to the benefits of organic cultivation and the perils of over dependence on chemical fertilisers and pesticides.

GreenOil recently sold 30 per cent of its stakes to Zurich based LGT Venture Philanthropy (LGT VP) and this has given it the much needed push for more research and development.

"Indian investors don't show much interest in such research based, developmental business models as they are perceived to be very risky. So I started looking globally and after a couple of years of intense engagement, LGT-VP decided to invest in GreenOil."

One hopes Jalote's ambitious power project will come to fruition soon.

Wish to share your story?
Trending Now: