Student uprising forces media to focus on Eelam

P C Vinoj Kumar
&nbsp | &nbsp Chennai
18-March-2013
Vol 4&nbsp|&nbspIssue 11
The student uprising in Tamil Nadu has not just shaken political parties, but also the sections of the media that treated the Sri Lankan Tamils issue with scorn and contempt.

There has been a significant change in their perception now, it seems. In the not-too-distant past, these media branded anyone who took up the Tamil cause as a 'Tamil chauvinist' or 'racist'.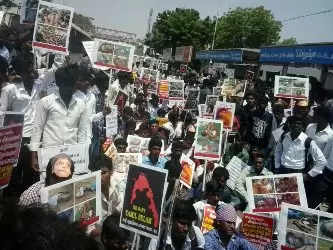 A students rally in support of Eelam at Raj Bhavan, Chennai, March 18
But the student protesters, who have taken over the Lankan issue, are not being called 'chauvinists' or 'racists' by the same media.

The spontaneous student uprising in Tamil Nadu that is spreading to every college and school in the State has definitively changed the media's coverage of the Eelam issue.

With hundreds of students going on indefinite fasts, and scores of protest rallies across the districts - all of them ironically making the same 'chauvinistic' demand for a separate Tamil Eelam - the media has been forced to take note of this 'developing story.'

Some of the dailies in Chennai that had a policy of totally blacking out news of protests in support of Tamil Eelam seem to have accepted the inevitable – that the issue has a wide appeal in the State of Tamil Nadu, and they could ignore it only at the cost of losing their readership.

In fact, a vast section of the media has much to answer for its biased coverage of the Sri Lankan conflict.

At the height of the war, Indian journalists stationed in Colombo reported only one side of the story and did not bother to carry the other version.

Throwing all professional norms to the wind, influential sections of the English media parroted Sri Lankan President Mahinda Rajapaksa's claims that the army was adopting a 'zero civilian casualty' policy, even as hundreds of Tamils were being killed daily.

Sadly, it was not as if there was no information available to contradict Rajapaksa's lies.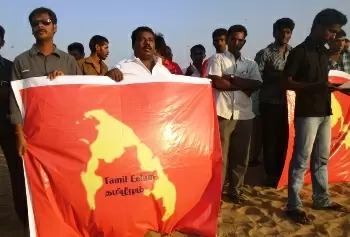 Protesters at the May 17 pro-Eelam rally in Chennai
The Tamil rebels had been mailing journalists shocking visuals of the Lankan government's bombings on civilian settlements. They had a media unit that was active till the last few days of the war. But these visuals were never published in any media.

Not only that, during the final stages of the war in 2008-09 that culminated with the massacre at Mullivaikkal, there were several human chains, fasts, and protests in Tamil Nadu, but the media chose to ignore them. The black-out was near total among the English dailies in Chennai.

The electronic media and 'the nation wants to know' channel types were busy sucking up to the Rajapaksa regime.

The response of the media to the student uprising in Tamil Nadu is marked by a grudging acceptance of the protests as a reality that cannot be wished away as in the past.

This time around with the epicenter of the protests lying in college campuses, the raw power of youth has brought about this welcome change.

P C Vinoj Kumar is Editor of The Weekend Leader

Trending Now: