Fishermen on boats lay siege to Kudankulam nuclear plant
11-March-2013
Vol 4&nbsp|&nbspIssue 10
Around 8,000 fishermen in around 600 fibre boats are staging a sea protest Monday against the construction of two 1,000 MW nuclear power plant at the Kudankulam Nuclear Power Project (KNPP), said an activist.
Speaking to IANS over phone, one of the leaders of the People's Movement Against Nuclear Energy (PMANE) said: "Fishermen from several villages, numbering around 8,000, are protesting against the nuclear power plant. They are on around 600 fibre boats."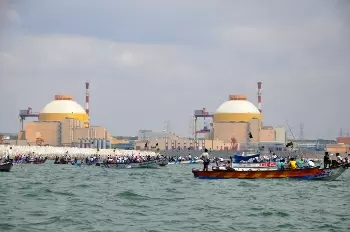 Fishing boats taking part in the protest near the nuclear power plant
He said the protest will be held till 3 p.m.
Pushparayan said shops in Kudankulam, Idhinthakarai, Chettikullam and other villages have downed their shutters in support of the people's protest against the two nuclear power plants being built by Nuclear Power Corporation of India Ltd (NPCIL) at Kudankulam in Tirunelveli district, around 650 km from here.
He said the marine police of the state government are patrolling the sea and a sizeable police contingent has been stationed in Kudankulam and other surrounding places.
Extending support to the anti-nuclear power plant agitators, fishermen in Tuticorin district struck work. Some of them are on hunger strike at a church there.
For more than a year, PMANE has been leading the people's protests against the KNPP.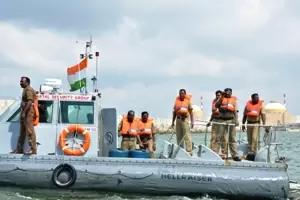 Marine police on duty
Villagers under the PMANE banner have opposed the project, fearing for their safety, especially since the nuclear disaster at Fukushima in Japan March 2011.
This is the fourth time that a protest has been organised in sea against the KNPP.
Meanwhile, the district administration has issued prohibitory orders under Section 144 of the Indian Criminal Procedure Code (dealing with unlawful assembly and preventing more than five people from gathering) in and around Kudankulam till April 9. - IANS

Trending Now: