"What has been most exciting for me personally was the involvement of young people"

Aditi Bishnoi
&nbsp | &nbsp Delhi
23-February-2013
Vol 4&nbsp|&nbspIssue 8
"I am over violence against women not being a number one international priority when one out of three women will be raped or beaten in her lifetime - the destruction and muting and undermining of women is the destruction of life itself. … No women, no future, duh. …"
– Excerpt from American playwright Eve Ensler's piece, 'Over It'
As Bhargavi, a student of Delhi's Lady Sri Ram College, stood in the wings, all dressed up in a bright yellow outfit, to give a theatrical performance with her friends, ready to show the world that, like Ensler, they too were 'over it', over tolerating abuse, over accepting discrimination, over living with violence, she finally understood that they were no longer alone in their struggle "for a gender violence-free world."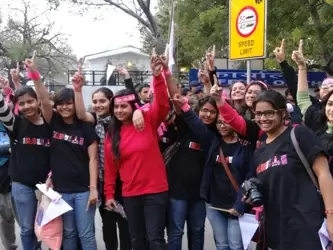 One of the highlights of the One Billion Rising was the involvement of young people (Photos: WFS)
Bharavi was just one of the hundreds of women and men who had gathered for the Day of Rising in the heart of the Capital – just down the road from India's Parliament on V-Day (February 14) – who were part of a global movement of women, men and children, to protest, resist and, yes, overcome violence against women. Their message loud and clear: They all were 'over it'.
What was it that gave the One Billion Rising (OBR) Campaign its special significance? Certainly, in India, the moment was important. Public outrage over violence against women was steadily rising and had expressed itself in massive demonstrations on the streets after that horrendous gang rape of a student on a Delhi bus.
But the unusually creative dimension of the campaign was also a central factor. Music, theatre, dance and art were all part of its kaleidoscope of activism and nothing symbolised this more than the evocative painting that one of India's best known women painters, Arpana Caur, had made just for the campaign.
Such a coming together of creativity, commitment and talent meant the breaking down of the walls of apathy and conceiving new ways of looking at the world. Another important aspect of the OBR mobilisation was the sense it created in every participant of being linked with others, not just within India or South Asia, but the world – the feeling of millions across continents being connected by a common vision and purpose.
Said Kamla Bhasin, feminist activist and Advisor to Sangat, which coordinated the OBR movement across eight countries in South Asia, "We expanded our solidarity and networks, within India, South Asia and globally, through this campaign.
"It had the support of rural women too, although their participation did not get the necessary media coverage because the media are not widely present in rural areas. But just imagine, a million women working on MGNREGA work sites in Andhra Pradesh raised their voices, and Bangladesh saw huge rural mobilisation."
Suneeta Dhar of Jagori, a women's resource centre that was one of the main anchors of the campaign in South Asia, described V-Day on Parliament Street as a "powerful day rife with compassion, love, commitment, energy and diversity."
It sure was. The three-hour cultural carnival, which included skits on violence and recital of defiant poetry and songs by young women, was given a rare energy with the participation of over 200 Delhi University (DU) students staging street plays and specially-choreographed pieces.
Kalpana Viswanath, who has been working on the issue of making city spaces more secure for women, put it this way, "The OBR campaign has given space for a range of violence to be made public. It has encouraged women to come out in the open and say: 'We will not learn to live with violence anymore'."
For Dhiviya, of Sangat, the highlight was the "coming together of people from different walks of life. People have spontaneously joined in to speak up against violence in artistic, non-violent ways. Creativity is such a good medium to put across a really difficult yet deep message."
The inclusive nature of the movement also struck a chord. Akhila Sivadas, Executive Director of Centre for Advocacy and Research (CFAR), who broke into a dance to Vidya Rao's live rendition of the Sufi folk song, 'Damadam mast kalandar'at the venue – along with former NCW chairperson Mohini Giri and Planning Commission Member, Syeda Hameed and others – was struck by the fact that this campaign was able to "pull everybody in." As she put it, "Ultimately, all of us have to demand change together."
One group that was happy to have made its presence felt was the disabled community. Conscious that they were often targets of sexual violence they too, as representatives of groups working on the issue, like Samarthyam and Ability Unlimited Foundation, joined in the rising.
Fifteen wheel-chair bound and speech- and hearing-impaired men and women even danced to the OBR anthem, 'Jaago Delhi Jaago' and the popular 'Jai Ho'.
Said Samarthyam's Anjlee Agarwal, "OBR is special because it has taught us to celebrate life, diversity and equality. In the discourse of violence, it's important to focus on women with disabilities as they are the softest targets in situations of violence. Our performance on 'Jaago Delhi Jaago' was full of energy. The men in wheelchairs rocked the crowd. Dance actually helps shed inhibitions."
Singapore-based artist and dancer Subina Khaneja, who was in Delhi to participate in V-Day celebrations, felt dance heals and gives confidence. "I teach dance to women who have never danced before and I have seen them break barriers and feel the joy. Through OBR, women around the world have danced and expressed their dissent over the violence they face," said Khaneja, who is also President of the Indian Women's Association in Singapore.
OBR's call to rise and dance has, in fact, been the one reason for its great connect with the youth. Elaborated Bijayalaxmi Nanda, who teaches Political Science at DU's Miranda House and is the Convener of its Women's Development Cell, "I think the language of celebration attracted the youth to OBR. Students from various DU colleges saw the campaign as their forum – where they could freely talk about violence within the family, including sexual violence. It's encouraging to see them eager to step out, question and negotiate questions related to everyday violence."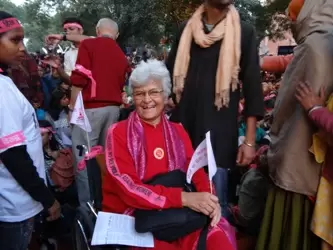 All smiles: Kamla Bhasin, feminist activist and Advisor to Sangat
Sonali Khan, Vice President, Breakthrough, an NGO that focuses on violence issues said, "Young women and men have been active these past few months on various social media platforms, participating in tweet-a-thons and Facebook campaigns. Ultimately, it's not just about the laws, it's an issue that needs the involvement of everybody. And the youth understands the urgency."
Young Asang, a second year student of Kamla Nehru College, who is from Arunachal Pradesh in the Northeast, certainly knows what it is to live under the shadow of violence.
"The Northeast is anyway reeling under the effects of extreme violence and those of us from the region who live in the capital have faced our own threats. This issue is personal for me because I know what it is to be harassed. Students have to be at the forefront of such activism because if their mindset can be altered then we can hope for a major change in the future."
"I am done. Cataloguing these horrors. Data Porn. 2 million women raped and tortured. 1 out of 3 women. A woman raped every minute. Every second. … The same. One. One. One. I am done counting. And recounting. It's time to tell a new story. It needs to be our story," that is Eve Ensler speaking for OBR.
This is a story without full stops. V-Day may be over, but this is a campaign that can never really end. - Women's Feature Service


Trending Now: