Most farmers borrow from usurious moneylenders and suffer when crops fail

23-February-2013
Vol 4&nbsp|&nbspIssue 8
An independent study undertaken by two activists, S Kannaiyan and Jayaram Venkatesan, to verify the authenticity of media reports on farmer suicides in Tamil Nadu has established the gravity of the agrarian crisis in the State.

Field investigations of the duo have revealed that 11 out of the 12 recently reported cases were due to crop failure and related agricultural reasons.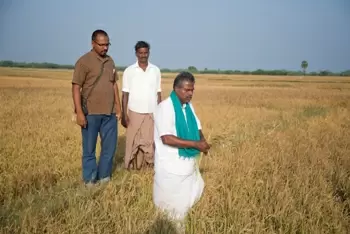 Farmers in the Cauvery delta areas in Tamil Nadu are in difficult times (Photos by Balaji Maheshwar)
"The state government continues to be in denial mode on the famer suicides being reported in parts of the State. In December, an AIADMK MP said in Parliament that
no farmer committed suicide in Tamil Nadu due to withering of crops, but the ground reality is different," says Kannaiyan.
Kannaiyan and Jayaram visited the families of 12 farmers - whose deaths were reported in the media - in Nagapattinam, Tiruvarur and Pudukottai districts. They found 7 had committed suicide for reasons such as crop failure, debt, and lack of income resulting in inability to use/ hire oil engine for irrigation.

Four others had died due to heart attack. "All those who had suffered heart attack were either in debt or had been aggrieved by crop failure," said Kannaiyan.

However, the cause of death of one farmer, Sridhar (33), was established as an 'accident' since the victim had died after he had slipped from his bicycle and had fallen into a canal.

Referring to the distress situation in the Cauvery delta, the study report observes: "Most farmers are completely dependent on the Cauvery water for irrigation and the crop is again going through a stress as rivers and canals have started drying up after the stoppage of water release."

The report concludes on a positive note and urges the government to "look at the deeper symptoms and take up more sustained initiatives that would benefit small, marginal and tenancy farmers directly."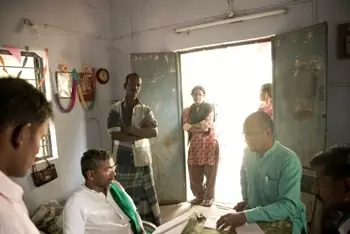 Kannaiyan and Jayaram visited the families of 12 farmers, whose deaths were reported in the media
"The fact that most of them had to borrow from moneylenders at high rate of interest in order to cultivate crop tells us about the deeper crisis in agriculture where one cannot even put in his own savings after doing agriculture for many years. Also, none of them had accessed a bank loan for agriculture."

The study recommends that tenancy farmers ought to be treated on a par with land owning farmers and they should be given cooperative society loans and other benefits.

It urges the government to provide "better crop insurance policies that calculates crop losses at individual farmer level or at least at the village level in case of damages" due to drought or any other natural calamity.


Trending Now: