Meet the brothers in Old Delhi who treat birds maimed by kite strings

09-February-2013
Vol 4&nbsp|&nbspIssue 6
Chawri Bazaar, with its narrow alleys and cramped houses, bustled with excitement. However, the mood was different in a small house, where two brothers, Nadeem Shehzad and Mohammad Saud, were tending to an injured kite (a raptor).
The bird's feathers were sliced off when it flew into a manjha, cotton thread coated with powdered glass used for flying paper kites.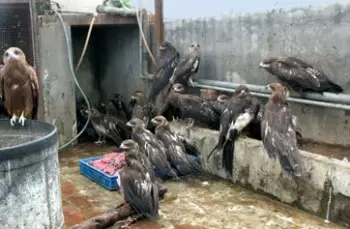 Birds recuperating at the shelter (Photos Courtesy: Down to Earth)
"Sometimes it is so sharp that it rips off wings and claws of birds, leaving them maimed for life," explained Shehzad. The brothers treated around 150 kites in the first half of August this year.
The brothers first came across an injured kite 15 years ago in the Lalkuan area of Old Delhi. They took it to Jain bird hospital but the vets refused to treat it.
"Helpless, we had to leave it at the same place we picked it up from," said Shehzad. Eight years later, they again spotted a wounded bird near Shanti Van area and contacted a vet.
"The doctor described that the manjha had sliced off one wing along with the bone," Saud recalled. The doctor gave first-aid but the brothers kept the bird with themselves to ensure it does not catch infection.
Saud and his brother treated 150 kites around Independence Day. "That kite is with us but it cannot fly," Shehzad said. After that incident, the brothers decided to treat injured birds themselves.
Jain bird hospital at Chandni Chowk, the city's only bird hospital, does not treat predatory birds because Jainism prohibits meat and, therefore, it cannot cater to their food requirements. Other rescue organisations like Wildlife SOS and Jeevashram only dress wounds.
The brothers are the only ones who can. They started by consulting vets and reading literature. A makeshift operating table occupies a corner in their room.
"Lack of money is a problem. So we are trying to build a small temporary shelter in our old home in Wazirabad," Shehzad said. Their family was initially hesitant, but has been supportive thereafter.
Shehzad says the terrace of his house is proving too small to shelter kites he treats. "Earlier, I used to get irritated but after seeing their unconditional love for the birds I had no choice but to support the noble work," their mother Najma Sultana said.
In March, they registered their endeavour as a charitable trust, Wildlife Rescue, with the state government.

Shehzad and Saud earn about Rs 50,000 a month through their family business of making metallic soap dispensers and fountain nozzles. They do not receive any funding.
"We spend around Rs 5,000 a month on these birds. The expense shoots up to Rs 10,000 in the kite flying months," Shehzad said.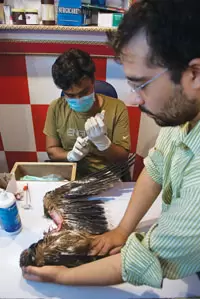 Saud and his brother treating an injured bird
"We are not against kite flying; we are only against manjha, for it poses a threat to birds."
Mayank Vikas, their lawyer, said, "One can use the regular cotton thread, saddi, instead."
The traders, on the other hand, are against the ban. Balbir Gupta, who sells kites and manjha in Old Delhi, feels it will cause losses to the cottage industry that employs thousands of poor and unskilled workers.
"Moreover, manjha is crucial; we should not ban it just because few birds get injured. It will take the fun out of kite flying," he argued.

By arrangement with Down to Earth

Trending Now: