Women's reproductive rights: Will it require a public outcry akin to the one after the Delhi gang rape?

26-January-2013
Vol 4&nbsp|&nbspIssue 4
When Saroj opted for sterilisation because she didn't want to have any more children, she wasn't taken for any pre-operative test at the government-run Dr Baba Saheb Ambedkar Hospital in Rohini, Delhi. Neither was the 30-year-old, mother-of-three told about the procedure she was about to undergo. After her husband signed a form, she was given an injection and she lost consciousness.
Hours later, when she woke up, Saroj was nauseous and in pain. But when she found herself lying atop a couple of women on a mat on the floor, she was shocked. Afraid that she would die if she lay there any longer, Saroj left the hospital without medicines, instructions or the papers of her sterilisation. Too terrified to go back to the hospital, Saroj even had her stitches removed later at home.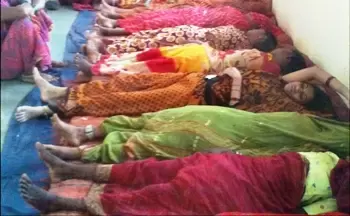 Women laid out in the corridor of a Community Health Centre in Rajpur, Madhya Pradesh (MP) after undergoing sterilisation (Photo: Swapna Majumdar WFS)
Saroj was lucky to survive. Many others have not been so fortunate. About 2,700 cases of failure, complication or death due to sterilisation were officially recorded in 2012. According to Ministry of Health and Family Welfare, while Rajasthan recorded the highest number of failures in sterilisation cases at 772, Tamil Nadu accounted for the maximum number of deaths at 10, followed by Andhra Pradesh and Madhya Pradesh at eight deaths each, Bihar, Karnataka and Rajasthan at four deaths each and Assam, Gujarat and Uttar Pradesh at two deaths each.
Whether it is Delhi or Tamil Nadu, Rajasthan or Assam, the stories are disturbingly similar. India has traditionally depended on female sterilisation as the key method for family planning to stabilise its population. With state governments invariably following a 'target approach' instead of a 'target free' approach, as mandated by the National Population Policy (2000), sterilising women is seen as the best way to meet these targets.
In Azamgarh, Uttar Pradesh, the Chief Medical Officer has openly asked health officials to hold sterilisation camps to meet their targets. A letter issued in October 2012 stated that the target for sterilisations for the district was 23,085 for the period beginning April to November 2012. It further said that the target to be met by for the month of November was 507 sterilisations and listed the number of camps to be held in order to achieve the target.
According to Ministry of Health and Family Welfare statistics, a whopping 46 lakh tubectomies were performed between 2011 and 2012 – 95.4 per cent of the sterilisations performed in that year. Male sterilisations numbered only 1.79 lakh. Leading the country in recording the highest number of sterilsations was MP with 5.96 lakh operations, followed by Andhra (5.41 lakh) and Maharashtra (5.12 lakh).
According to the Coalition Against Two-Child Norm and Coercive Population Policies, a group of likeminded organisations working for gender empowerment, 40 per cent of the 225 million women sterilised worldwide live in India. More than half the women who get sterilised have had the operation before they reach 26 years of age.
"It is the largely uneducated and poor women who have limited information regarding contraception and inadequate access to family planning services who are brought for sterilisation. So for them to give an informed consent to it is out of the question," says Devika Biswas, a health rights activist, Healthwatch Forum, Bihar.
Biswas contends that robbing women of their right to decide the number and spacing of their children is against the spirit of the National Population Policy, "A resurgence of coercive population measures being followed in the states to discourage fertility by offering social and economic incentives like money, cars, TVs, refrigerators and cooking stoves has had a devastating impact on women."
Biswas should know. She filed a public interest litigation case in the Supreme Court in April last year outlining the horror stories of a sterilisation camp held for women in a government school building in Araria district, Bihar, in January 2012. While conducting a fact finding mission, she found that on the night of January 7, 2012, in the space of two hours, 53 women were sterilised in the camp held in Kaparfora Government Middle School. All of the women belonged to the marginalised groups, including Dalit, Scheduled Castes and Other Backward Classes.
A single surgeon did the sterilisations with the help of few non-medical staff of a local NGO. The operations were performed with the help of one lamp and a few torches. While he was operating, the doctor did not wash his hands, change gloves, or wear a surgical gown and cap – all violations of government guidelines and basic human rights.
The school desks doubled up as operating tables and after each surgery, the untrained NGO workers laid the women on straw strewn on the ground. The women did not receive medical assistance or post-operative care. As a consequence of the hasty, unhygienic and unprofessionally conducted sterilisations, three women were left bleeding profusely and one was admitted to a private hospital for eight days to recover from the after-effects of the procedure.
"This inhumane and degrading treatment of women devalues them and denies their reproductive rights. These women place their trust in medical professionals who mislead them, take advantage of their ignorance, and ultimately place their lives in jeopardy in order to meet a state mandated sterilisation target," says Kerry McBroom reproductive rights initiative, Human Right Law Network .
McBroom who investigated the issue in some government hospitals in Delhi found the fate of women being sterilised in the capital no better. "Saroj's story is not unique. Many women share similar harrowing experiences where women are operated under unhygienic circumstances and sterilised in only a matter of minutes. They are left to regain consciousness while lying on the floor of a dirty room without any medical attention. Finally, they are forced to leave the medical facility because hospital staff complain of overcrowding," adds McBroom.
Clearly, vital issues of safety, quality and hygiene are being overlooked by medical officials in their zeal to sterilise as many women as possible. As for the Supreme Court's directions for adherence to government guidelines for all sterilisations, they might as well not exist.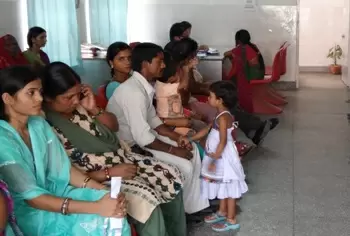 Roughly 80 per cent of Indian women use sterilisation as their contraceptive method (Photo: WFS)
Activists believe that this is why two tribal women died after undergoing ligation at Kelejora Block Primary Health Centre in Asansol, Assam, in December 2012. "Even when we were documenting sterilisation camps in UP several years ago, we found that anaesthesia was given to women at a particular time, and then they would wait for the surgeon to arrive. If the surgeon got late, the anaesthesia would wear off. So the tubectomy was actually done without anaesthesia," reveals Jashodhara Dasgupta, Coordinator, Sahayog, a Lucknow-based NGO, promoting women's health from a human rights framework.
Little wonder then that the number of cases that went wrong (including deaths, failures or those that resulted in additional complications) has been on the rise, increasing from 7,751 cases to 9,188 cases (nearly 19 per cent) between 2010 and 2011.
In 2012, botched sterilisations claimed 56 lives and 2,609 cases of unsuccessful sterilisation were recorded. In a statement to the Lok Sabha, Union Health Minister Ghulam Nabi Azad acknowledged the fact that the ministry had paid Rs 5.13 crore as compensation for 1,604 botched cases. A sum of Rs 2 lakh is paid for death following sterilisation in the hospital or within seven days of discharge, Rs 50,000 for death following sterilisation within eight to 30 days of discharge, Rs 30,000 for failed sterilisation and Rs 25,000 for any complication within 60 days of discharge.
But is this all that a woman's life is worth? Will it require a public outcry akin to the one generated after the brutal gang rape of a 23-year-old girl in Delhi to catalyse action? Until then will women continue being 'targeted' for sterilisation? - Women's Feature Service

Wish to share your story?
Trending Now: