Irom Sharmila's protest against deployment of armed forces in Manipur needs a strategic shift

Ninglun Hanghal
&nbsp | &nbsp Imphal
14-December-2012
Vol 3&nbsp|&nbspIssue 50
It is over 12 years since Irom Sharmila went on a fast for the removal of the Armed Forces Special Powers Act (AFSPA) in Manipur – an unprecedented protest staged by a single individual anywhere in the world.
Her symbolic resistance has brought people from all over the country together in the common cause of ending the writ of a draconian law.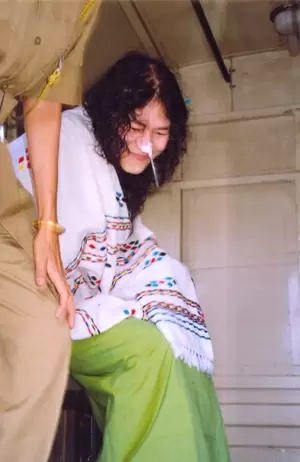 Irom's world has been reduced to a special ward at Imphal's Jawahalal Nehru Institute of Medical Sciences with her only outing being the fortnightly visit to the court of the Chief Judicial Magistrate for the extension of her judicial remand. (Photos: Tripti Nath WFS)
She has been awarded the Gwangju prize for Human Rights in 2007, a lifetime achievement award from the Asian Human Rights Commission and the Rabindranath Tagore Peace Prize in 2010.
It all started on November 2, 2000. A group of people were waiting for a local bus in Malom, about five kilometres from Manipur's capital, Imphal. They were mowed down by the Assam Rifles in retaliation to an ambush it had suffered at the hands of some underground groups.
The incident created instant public outrage. It changed the lives of not just the 10 who were killed and their relatives, but that of a woman who was in her late 20s. Two days after that incident, Irom Sharmila took her decision to fast until the AFSPA was withdrawn from her state.
Her steely resolve did not immediately create ripples. In fact, her colleagues at Human Rights Alert, the organisation she was associated with then, ran from pillar to post to draw public attention to her call. Despite the lack of broad support, Sharmila persisted with the fast amidst concerted attempts by the state and central governments to force her to withdraw it.
In October 2006, during one of her periodic releases from jail, Sharmila came to Delhi to pay tribute to Mahatma Gandhi, her idol. At that point the local and mainstream media had almost forgotten her existence.
She went on to continue her fast at Delhi's site of public protest, Jantar Mantar, and was immediately arrested by the Delhi Police. For months, she was confined to a hospital room at the Ram Manohar Lohia Hospital in the Capital, under blanket security cover.
In 2007, she was shifted to Imphal's Jawaharlal Nehru Hospital, where she has been ever since. While in Delhi she continued to garner media attention and support from civil society organisations. Booked under Indian Penal Code (IPC) Section 309, which pertains to "attempt to suicide", Sharmila persisted with her struggle, even as an indifferent State turned a deaf ear to her call.
While much has been said and written about her case, it is her "love story" that has suddenly become the talking point. This, in turn, has proved very controversial with her supporters, especially those belonging to the Meitei community, reacting even violently to it.
In September 2011, for instance, they protested against 'The Telegraph', for writing exclusively on the "romance". The protestors demanded an "explanation" from the newspaper for its sensational reportage, even calling for a ban on its circulation in Manipur.
Deepti Priya Mehrotra, who wrote a biography of Irom Sharmila, 'Burning Bright: Irom Sharmila and the Struggle for Peace in Manipur' in 2010, believes the stridency of the protest was because her supporters felt the media was focusing on personal matters unduly while putting her political struggle on the backburner.
"Her supporters are being painted as if they want Sharmila to continue fast and to be in detention rather than have a personal life, which is far from the truth," Mehrotra observes.
There could also be another factor – general disquiet over Sharmila's relationship with a non-Manipuri, since the person in question is of Goan origin with a British citizenship.
As Babloo Loitongbam, human rights activist and a close comrade of Sharmila, points out, a society like the Meiteis, where a lot of respect is traditionally paid to elders and customary ways of life, any deviation from the norm causes unease.
Haripriya Soibam, a Delhi University scholar and Manipuri poet, believes that at least some of the anger over Sharmila's reported 'romance' could well be because it indicated that a non-Manipuri journalist had direct access to her while most Manipuri journalists did not.
As for the issue of whether Sharmila should give up her fast or not, Loitongbam is categorical, "It is entirely up to her, whether she wants to continue with it or not. We will support her either way."
However, given the sensitivity of the central issue – the banning of people who are fighting for repeal of AFSPA and branding them anti-national – there is some speculation over the motives of the person who has declared his deep interest in Sharmila.
He has also courted controversy by stating in letters to media houses and social networking sites that the local media and Sharmila's supporters (including women groups) are "deadly against their relationship". He has, in fact, also claimed for himself the status of being "the only approved spokesperson of Irom Sharmila".
Anubha Bhonsle, senior journalist with CNN-IBN who had done television documentaries on Sharmila, believes "both sides will have to prove their true intent".
As she puts it, "No one can lay claim to Sharmila, including the man in question. She should be her own master." Bhonsle also believes it is time that Sharmila herself issues a personal statement to dispel the confusion.
Confined as she is to an isolated hospital room, Sharmila has little control over her life. She is dictated to at every turn; her every move is monitored by the State. At the same time, she is also at the command of supporters and human rights activists who have literally taken her cause to the nation and the world with their cry, "Support Sharmila's fast against AFSPA!"
But some like Bhonsle believe that Sharmila has made enough of a personal sacrifice and people should not insist on her becoming a martyr to the cause. Bhonsle knows that this is easier said than done, "I understand her dilemma of not wanting to let go of the struggle and the fast.
"After all, she has given 12 good years of her life for it. But the campaign has hinged on Sharmila's fast for far too long and has tended to focus on commemorating anniversaries."
Should Sharmila then take up a different mode of protest rather than persist with her fast? Soibam believes she should.
Mehrotra, not just her biographer but a friend, also feels Sharmila should end her fast and "come out to lead us in the struggle against AFSPA", while Bhonsle wants her to make her life's choices "without any guilt".
She believes that women's groups, who have fought long and hard by her side, should now understand Sharmila's predicament and rally by her side again – just as they did all those years ago when she first decided to go on fast. - Women's Feature Service
Wish to share your story?
Trending Now: