'No lessons learnt from Bhopal disaster'
03-December-2012
Vol 3&nbsp|&nbspIssue 48
Despite a "Himalayan disaster" like the Bhopal gas tragedy of 1984, government agencies and voluntary groups have learnt no lessons, speakers at a seminar in the Taj city said.
Environmentalist Sharavan Kumar Singh said that given the callousness of civic authorities, disasters were only waiting to happen in urban clusters across the country.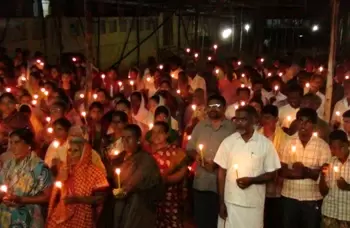 In Idinthakarai, anit-nuclear power plant agitators headed by SP Udayakumar remembered Bhopal gas tragedy victims
The Bhopal gas tragedy, one of the world's worst industrial disasters which killed over 3,500 people in a single night and an estimated 25,000 maimed and diseased dying over two decades, occurred on Dec 3 night, 1984.
Speakers said no-objection certificates were issued to builders without the mandatory checks, putting lives at risk.
"The health department of the Agra Municipal Corporation, for instance, was least concerned about how garbage and sewerage were disposed of," pointed out Anand Rai, a social activist.
Rakesh Sharma, a social activist, said the situation in the Taj city was truly alarming as sewage was being directly pumped into the earth through borewells. "Any day there could be an explosion, as methane and other noxious gases were being produced. The city is perched on explosives, as it were," he said.
The seminar was organised by the Braj Mandal Heritage Conservation Society. The president of the society, Surendra Sharma, said: "The fire brigade, the police, pollution control board officials should all regularly monitor industries." He added that the victims of accidents were often innocent people like children or ordinary pedestrians. - IANS

Wish to share your story?
Trending Now: