When parents do not know where their daughters disappear, even cops are in the dark

Sarada Lahangir
&nbsp | &nbsp Sundergarh
09-November-2012
Vol 3&nbsp|&nbspIssue 45
Birsi Munda, a tribal woman from Odisha's western district of Sundergarh, has only one question to ask every time she visits the local police station: "Sir, have you heard anything about my daughter?"
Five years ago her daughter, Sankarin, who was around 20 years of age, left home saying that she was going to Delhi with a friend of a neighbour to work as a domestic worker.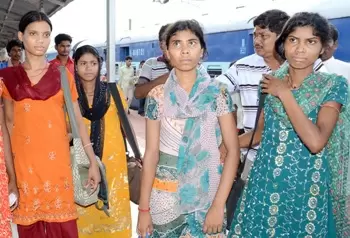 Several hundred tribal girls from Sundargarh district in western Odisha have been trafiicked (Photo: Sarada Lahangir WFS)
Since then there has been no news from her. Initially, Birsi thought that her daughter must be too busy with work to contact her, but after a year passed by without any information, she lodged a complaint with the local police for the first time. Today, when she talks about her daughter, her voice breaks.
While Birsi cannot reconcile herself to her loss, her situation is not uncommon in the region.
Gargi Oram, 40, is another mother whose daughter, Sarita - then 15 - has been missing for the last five years. Sarita, too, had ventured to find work in Delhi when her father, Charo Oram, a daily wage labourer, returned home one day without any money saying he couldn't find work.
Recalls Gargi, "Those were difficult days and Sarita told us that she is going to a friend's house. When she did not return, we grew anxious but a few days later we received a call from her informing us that she was in Delhi for employment and will be sending money to us regularly. For two months her money orders of Rs 500 (US$1=Rs 53) arrived, and then there was silence."
At that point, Gargi lodged a complaint with the police and has ever since been running from pillar to post in search of her daughter.
These are difficult times and local sources of livelihood prove elusive. This makes potential employment in the city very alluring. Parents too are not averse to this, viewing it as an opportunity for their children to lead better lives than they do.
What is not generally understood, however, is the dark reality that often lingers behind that promise of employment.
Fourteen-year-old Marianna, who was recently rescued from Delhi, provided a vivid account of what really happens to girls like her.
She, along with four or five other girls, all of them from Bisra village in Sundergarh district, was taken to Delhi by an agent who went by the name of Sanjay. Marianna had met Sanjay at a construction site, where she used to go for work along with her elder sister.
Sanjay lured her to come with him to Delhi, by assuring her that he would provide her with a good job and salary. For the first week Marianna stayed at Sanjay's Noida office, after which she was employed by a Punjabi family in a locality known as Krishna Nagar.
The family of about nine members lived in a one-room tenement and Marianna had to clean utensils and wash clothes for a remuneration of Rs 1,400.
Marianne's eyes brim over with tears as she recalls those days, "The lady of the house used to regularly assault me physically with broomsticks or sandals. She threatened me saying that even if I cried no one would come to my aid. She claimed that the man who had brought me to her place had actually sold me off."
She had to work from early in the morning to night, with little food – mostly a few 'chapattis'. The food and Delhi's extreme weather soon took its toll on her health, and she kept falling ill. But what was worst of all was that she received no money from her employers.
They claimed that the agent had come and taken all the money due to her in the form of an advance. Despite her adversities, Marianne was one of the more fortunate ones. She was at least rescued finally.
According to a complaint lodged from Rourkela by social activist Ramesh Kumar Mandal with National Human Right Commission (NHRC) in May 2012, about 5,000 tribal girls have been reported missing from Sundargarh district alone over the last five years.
In fact, a study on trafficking in women in Sundergarh conducted by Pragati, a local NGO, which covered 263 villages in a total of 71 gram panchayats in 11 blocks in the district, estimated an even larger figure.
According to that study, approximately 43,707 girls and women have been trafficked in one decade. Of these, in 723 cases the trafficked women have never returned home, and in 345 cases there was evidence of sexual and other abuse.
Some startling revelations have also emerged after the recent arrests of Dayamani Munda, 30, of Khariabahal village and one Mohammed Salim alias Tapu of Kuanrmunda village – both of whom were part of a trafficking network.
Many of the girls they said were sold outright, sometimes for as little as Rs 2,000, and nothing is known of their subsequent fate. It was also revealed that the first step the traffickers take is to erase the real identity of the woman in their clutches.
She is given a fake name so that she cannot be traced back to her original home and family. With every change of employer, the name keeps getting altered. The other insight was the relative sophistication that marked the functioning of trafficking networks.
Each member in it was recruited and trained to make them adept in the modus operandi of luring these women and covering their tracks.
Observes Subhashree Ray, an activist with Pragati, "While there can be no denying that poverty and unemployment are huge contributing factors for such trafficking, what is striking is the ineffectiveness of anti-trafficking operations.

"According to our study only one trafficker has been punished till date. Moreover, the local police stations do not lodge complaints and villagers who lose their children have no way of ensuring that proper follow up action is taken on their complaints."
Yeswant Jethwa, Inspector General, Western Range, Odisha, disagrees, "The police have specifically geared up its anti-human trafficking units and we are trying to focus our preventive and investigative efforts on the problem.
" At the ground level we have identified the vulnerable pockets and are trying to make the local population more aware of the crime through Panchayati Raj Institutions. Meanwhile, we are also targeting the middle men involved in this racket."
It is only because of the widespread public outrage caused by the growing presence of traffickers that the authorities have been forced to take some action. But clearly it is not enough.
Mothers like Gargi Oram continue to wait indefinitely for the return of their lost daughters. Says the distraught mother, "Three girls from our village have finally been rescued, but my daughter is still missing." - Women's Feature Service

Wish to share your story?
Trending Now: