A long march that forced the government to look into land reforms
Anjali Ojha
&nbsp | &nbsp New Delhi
19-October-2012
Vol 3&nbsp|&nbspIssue 42
As India witnessed a "long march" by thousands of tribals, farmers and landless people for land reforms, P.V. Rajagopal, who led the movement, said a new form of zamindari is emerging in India with corporates acquiring huge chunks of land.

Zamindari, the pre-colonial practice of having landlords to collect tax from farmers, was abolished post independence in India.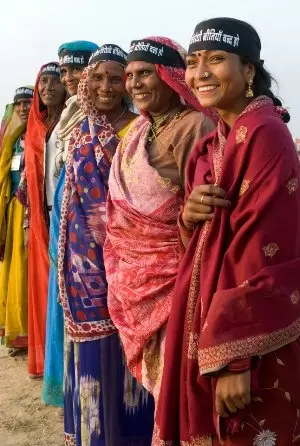 The 'long march' covered 352 of India's 640 districts and concluded in Gwalior on Oct 2 (Photos: Ekta Parishad)
Rajagopal, however, warned that with large areas of land being acquired by corporates, a fresh form of the medieval system may emerge.

"The situation is very bad. Corporates have become the new zamindars and a few people are accumulating all the land," said Rajagopal, founder of people's movement Ekta Parishad, in an interview on the phone from Agra where the members of the group were stationed.

"Those who will actually till the land have nothing to their claim. Even the middle class cannot buy land in this country, forget about the poor. Adivasis have taken to violence, farmers are committing suicide. All this should end," he added.

The march ended last Thursday after Rural Development Minister Jairam Ramesh agreed to frame a national policy on land reforms within six months.

The Ekta Parishad, which led a year-long Jan Satyagrah march starting from Kanyakumari, the southern tip of India, on Oct 2, 2011, - Mahatma Gandhi's birth anniversary - mobilised people across the country demanding land reforms. After covering 352 of India's 640 districts, it concluded in Gwalior in Madhya Pradesh on Oct 2 this year.
From Gwalior, thousands started a 350-km-long march to Delhi. But it ended at Agra after the agreement with the government. Most of those on foot march were tribals, farmers, landless labourers and other marginalised sections demanding land rights.
Jan Satyagraha - The journey
*Ekta Parishad is a non-violent social movement founded by P.V. Rajagopal working on land and forest rights at a national level in India.

*A year-long Jan Satyagraha yatra starting from Kanyakumari Oct 2, 2011 - the birth anniversary of Mahatma Gandhi - covered 352 of India's 640 districts before culminating Oct 2, 2012, at Gwalior.

*This was followed by a 350-km foot march to Delhi from Gwalior, which culminated mid-way in Agra Oct 11, after Rural Development Minister Jairam Ramesh signed an agreement.

*The government has agreed to bring a National Land Reforms Policy within six months in consultation with state governments and civil society groups.

*A task force, headed by Ramesh, will implement the other items on the agreement.
Recounting about the yatra, Rajagopal said they succeeded to a great extent in bringing together different castes and groups as well as "invisible groups" like transgenders and nomads.

Describing the situation of landless farmers as poor, Rajagopal said without government intervention, the poor cannot get their share of land.

"The rich are buying land for the next 10 generations. Without government intervention, land cannot reach the poor. All existing laws like the Land Ceiling Act and other acts are there. But when it comes to powerful people, these acts are overlooked," he said.

India has witnessed struggles on land issues since independence. The Maoist movement, which is currently one of the biggest security threats, is also directly linked to the land struggle.

As per estimates, over 270 laws relating to land reforms have been enacted since independence in 1947.

The most prominent among these is the Land Ceiling Act that lays down limits of land holdings. It also enables the government to acquire surplus land that it could then distribute among the landless and marginal farmers.

Rajagopal, who was for a short time part of Anna Hazare's campaign against corruption, said he chose the path of non-violence to highlight the "burning issue" of the landless in India.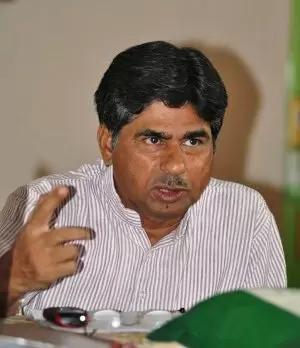 Rajagopal
"There have been different approaches, like the Bhoodan movement was on spiritual ground. The Naxals (Maoists) have taken the path of violence, but the problem can only be solved through non-violence," he maintained.

The Bhoodan movement was a voluntary land reform movement in India started by Acharya Vinoba Bhave in 1951.

"This is the modern world; we cannot behave like primitive people who take to violence. Dialogue is the only way," he added.

He, however, said the government has been insensitive to the issue so far and action on the administrative front is needed.

"It is also high time the government started taking the problems of poor seriously. There are young people who can take to violence if they see their issues are not being addressed. I hope this cultured way of non-violence will be learnt," he added. - IANS

Trending Now: