"Take up R&D activities to develop alternatives to sand"

Mohammed Shafeeq
&nbsp | &nbsp Hyderabad
13-October-2012
Vol 3&nbsp|&nbspIssue 41
With sand mining playing havoc with India's coastal biodiversity, environmentalists have called for developing alternatives, warning that sand stocks would not last for long given the pressure from construction and developmental activities.
Voicing concerns over the threat to the coastal biodiversity from the sand mafia, NGOs attending a global conference on the environment here want the country to take up R&D activities to develop alternatives to sand and for the central government to enact a national sand mining policy.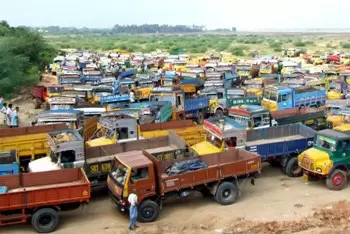 A sight of lorries waiting for their turn to fill up sand in a dry river bed in Tamil Nadu
Sumaira Abdul Ali of Awaz Foundation pointed out that many countries were using crushed industrial waste, called aggregate, in construction. "In Britain, for instance, metal slack is used to lay roads," she said.
"We can recycle glass and debris to use them as alternatives to sand. This will also address the huge environmental problem of debris," said Ali.
"With the ongoing aggressive sand mining, the stocks will be depleted soon. You will have to find alternatives... Better do it sooner than later," she added.
Ali's Mumbai-based NGO, along with the Bombay Natural History Society and other organisations, were highlighting the effects of sand mining on biodiversity at the ongoing 11th meeting of Conference of Parties (COP-11) to the Convention on Biodiversity (CBD) here.
With states like Andhra Pradesh taking steps to promote rock sand as an alternative, Ali said it was a very misplaced attempt as rocks were also minerals that needed protection.
Various studies on sand mining show that it has been impacting coastal biodiversity, marine life and the interface between the land and the sea.
B.C. Choudhary, a former professor at the Wildlife Institute of India, described sand mining along the coast and on the banks of rivers as major threats to coastal and maritime biodiversity.
"We need immediate steps to put an end to all such activities to conserve the biodiversity," he said.
Environmentalists pointed out that sand formed the bed of a river or creek and held it within its natural course.
It is also the medium in which mangroves grow and provides fish, aquatic, amphibious and other small terrestrial animals their breeding grounds, besides serving as home to water birds, according to experts.
By holding creeks in their course, the sand also protects land and fields from intrusion of salt water during tidal rises and falls, protecting valuable property from degradation and erosion, they said.
"Sand is treated as a minor mineral which is a state subject. The states are giving permission for sand mining along the coast and in the interior areas. This has resulted in the rise of sand mafias and many attacks and murders," Ali said.
"The problem is serious in all coastal states, especially where there are big urban townships nearby like Mumbai. The mafias are operating very close to the cities," said Ali, who was twice attacked, allegedly by the sand mafia.
Maharashtra and Andhra Pradesh have drawn up sand mining policies after the courts intervened on the petitions filed by NGOs and local communities.
"The policies are good but what about their implementation? Moreover, the policies have not taken into consideration the many recommendations made by environmental groups," Ali noted. - IANS

Trending Now: