Vaiko stopped from going to Sanchi, but MDMK makes its point

Akash Bisht
&nbsp | &nbsp New Delhi
20-September-2012
Vol 3&nbsp|&nbspIssue 37
Madhya Pradesh government's irrational decision to invite Sri Lankan President Mahinda Rajapaksa to lay the foundation stone of the International Buddhist University at Sanchi has irked MDMK general secretary Vaiko who holds the former responsible for carrying out genocide against the Tamil population in the island state.

To express his anger over the invite, Vaiko led more than 1000 people from Tamil Nadu with the intent of holding a black flag protest in Sanchi.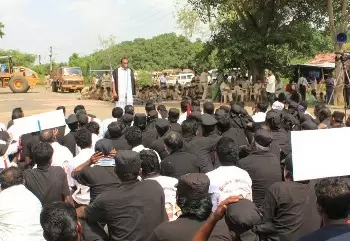 Vaiko addressing cadres on NH 69
More than 41 buses left from Chennai's Marina Beach for Sanchi to stage a non-violent demonstration against Rajapaksa.

However, on Wednesday, the MDMK convoy was stopped by MP police near Pandhurna in Chhindwara district on the border of MP and Maharashtra.

Vaiko was told that he wouldn't be allowed to proceed to Sanchi and that he should go back. To protest against the MP government's decision, Vaiko and his supporters began a sit-in fast at National Highway 69.

Vaiko urged his supporters to go on a fast against the MP government's diktat. As the sun kissed the horizon, these protestors also staged a candle light vigil.

However, the MP government refused to budge from its stand and made it clear that Vaiko would not be allowed to visit Sanchi under any circumstance.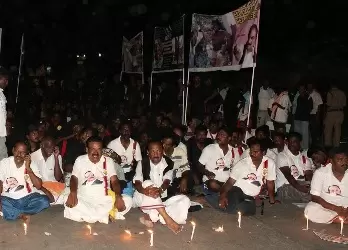 Protesters staging a candle light vigil
"We aren't allowed to even visit the state capital, Bhopal. This is against the democratic principles wherein every citizen is allowed to visit any part of the country," says Pandian, a MDMK worker in Bhopal, who has been constantly in touch with top leadership.

Pandian also added that the protestors have decided not to eat or even drink water provided by the Madhya Pradesh government.

"MDMK workers are carrying their own food and water and don't want any such help from the government that has invited a mass murderer to lay foundation in a city revered by Buddhists," Pandian said.

Meanwhile, MP police has warned that if Vaiko and his supporters continue with their demands to proceed further, they would be arrested for disturbing law and order.

Rajapaksa is scheduled to visit Sanchi on Friday and sources told The Weekend Leader that a section of protestors could proceed to the venue in trains. They would then try to show black flags to Rajapaksa.

"How can Madhya Pradesh government allow a mass murderer to inaugurate a university in a holy city? Is he qualified to do so? This move by the MP government has hurt the sentiments of Tamils across the world. Buddha's gospel was for mankind and Rajapaksa has no moral right to even utter Buddha's name. He has no right to be in Sanchi," says MDMK spokesperson G Nanmaran.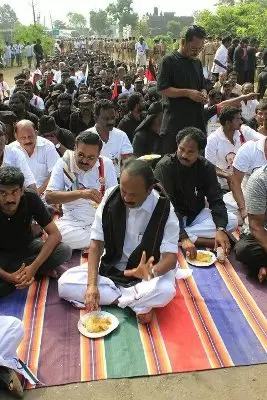 Vaiko having a meal on NH 69
He adds that a similar incident had occurred in UK when the Lankan President was invited to Oxford University.

"After Tamils staged a protest against the decision, the event was cancelled by British government. But, the BJP government in MP doesn't care about the Tamil sentiment and has gone ahead with such a disastrous decision," Nanamaran adds.
Meanwhile, Vaiko and his supporters are still squatting on NH-69 and waiting for an opportunity to get through to Sanchi to hold a black flag rally.

It is also being speculated that Vaiko and his supporters could court arrest if they aren't allowed to move any further.

A firebrand leader, Vaiko has been sympathetic to the cause of Tamil Elam and this show of strength would only consolidate his position in Tamil Nadu.


Trending Now: