Why did the Coast Guard aircraft fly so low?

15-September-2012
Vol 3&nbsp|&nbspIssue 37
The death of fisherman A Sahayaraj has once again brought into sharp focus the total callousness with which fishermen issues are being handled in Tamil Nadu.

According to reports, Sahayaraj, a 42-year-old fisherman from Idinthakarai, was on the breakwaters watching the anti-Kudankulam nuclear power plant protesters who were standing at waist deep water in the sea, when an Indian Coast Guard Dornier aircraft flew at a very low altitude directly above him.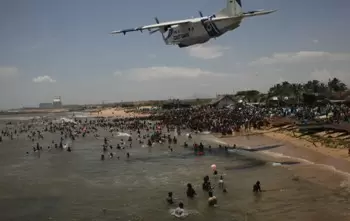 Protesters accuse the Coast Guard aircraft of flying dangerously low (Photos: Amirtharaj Stephen)
Rattled by the sudden roar of an aircraft at close range, he allegedly slipped and fell on the rocks below sustaining severe injuries on his head. He was rushed to a private hospital in Nagercoil, 30 km away. His life could not be saved and he was declared dead the next day.
His family and activists have blamed the Indian Coast Guard for his death. MDMK leader Vaiko has demanded the resignation of union defence minister in connection with the incident.

Television footage covering the protest on September 20 showed the Coast Guard aircraft flying quite close to the ground. Eyewitnesses claim it must have been flying at an altitude of 30-40 feet from the ground.

'The Hindu' reported quoting eyewitnesses that Sahayaraj "reportedly jumped in excitement and tried to hold on to the twin-turboprop Short Takeoff and Landing (STOL) as it came down. Consequently, he lost his balance and fell on the huge granite boulders."

Now, the pertinent question is what was the necessity for the aircraft to fly at such a dangerously low height?

According to eyewitnesses, the aircraft was circling the area till the protest got over at 4 pm. It is understandable that since the protest was taking place about 2 km from a nuclear installation, air surveillance was required to monitor the protesters.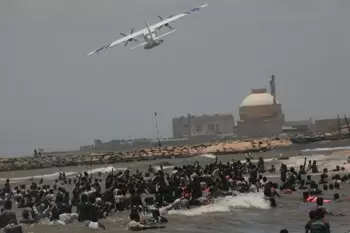 There was also a navy or a coast ship stationed in deeper waters. Surely, the crew was not on a picnic. It must have been part of the security arrangement. Perfect!

But what defies any logic or reasoning is the coast guard aircraft's repeated sorties at such a low altitude. Who gave such orders? And for what reason?

One need not be a defence expert to understand that a coast guard aircraft would be equipped with surveillance radar and other hi-tech equipment to conduct a simple operation like the one undertaken in Idinthakarai.

Then, why was it necessary to fly so low?

A Coast Guard official, who requested not to be named, denied that their aircraft flew at such a low altitude, as it is being claimed by fishermen.

He said the aircrafts would not fly below an altitude of 500 feet in normal conditions. In case of rescue operations, it would fly down up to only 150-200 feet.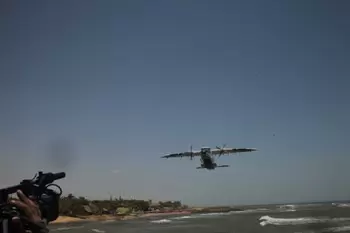 Since the TV channels are in possession of the footage, it is for concerned authorities to order an inquiry into the incident and see if the crew had violated any rules. If they are found to be guilty, stringent disciplinary action ought to be taken against the offenders since their misadventure has claimed a precious life.

Interestingly, the coast guard official refused to comment on why these aircrafts have never been pressed into action to protect the Tamil Nadu fishermen from the Sri Lankan navy attacks.

The Indian Coast Guard will be doing great service if it uses its aircraft to protect our fishermen from the Sri Lankan navy - which has killed over 500 of them in last two decades - instead of scaring to death innocent Tamil Nadu fishermen.

P C Vinoj Kumar is Editor, The Weekend Leader

Trending Now: