Vaginal gel promising tighter vagina sparks outrage

Azera Parveen Rahman
&nbsp | &nbsp New Delhi
30-August-2012
Vol 3&nbsp|&nbspIssue 34
So you think getting an education, a job and being self- reliant were steps towards women's empowerment? If you were to go by the ad of the latest vaginal gel, "true women empowerment" is all about tightening your V.
Close on the heels of a vaginal fairness cream that was launched earlier this year and was met with a huge furore comes this latest product that claims to make you feel "18 again".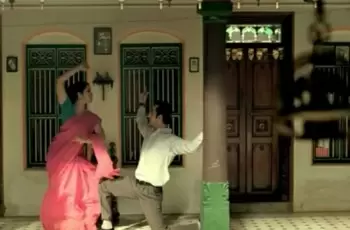 The '18 again' gel has generated a debate among women and health professionals. (The above image is a TV grab from the product commercial)
The full-page ads and TV spots promising to make women feel like a virgin again have led to outrage, prompting a furious debate among feminists and health professionals.
The obsession with looking good went to making a woman's privates fairer and now, well, tighter.
"Like it was not enough to obsess mindlessly over fair skin - with ads harping on how degrees of lighter skin can get you a dream job, or the perfect husband.
"Now you have a vaginal cream that promises to empower by tightening you and making you feel like a virgin! It's deplorable, to say the least," said Sulakshana Dey, a professor in Delhi University.
The vaginal tightening gel which claims to be the first of its kind "femininity restoring" cream, is said to be a product of years of research and, among other things, promises to rejuvenate you down there, tighten the muscles and make you less susceptible to infections.
It also has on board gynaecologist R.M. Saraogi, who says: "It is not only recommended but is also possibly the best gel for achieving vaginal tightening, strength and rejuvenation without surgical intervention."
Not all doctors agree.
"I don't think any cream can cause vaginal tightening... these gels and creams can only be used under strict medical supervision. Lowering of the estrogen level with age is a natural process and if you are supplementing it without a doctor's supervision, it may harm you as the excess estrogen can even cause cancer," said Amrita Shah, gynaecologist at Columbia Asia hospital.
Agreed Nikita Sobti, a gynaecologist at Max Hospital. "Such creams and gels must be validated before a doctor can prescribe them. Neither I nor my colleagues have heard about it. To buy such a product over the counter without a doctor's guidance is not safe."
Regardless of the scepticism expressed by experts, the 18 Again gel is selling fast.
At Rs.2,439, it doesn't come cheap either.
According to a spokesperson of the makers Ultratech, the tightening gel is available in "all leading medical stores and cosmetic shops" and can also be ordered online.
"This tightening gel is an Ayurvedic product and is completely safe. It was launched on Aug 7 and since then we have had many women ordering the product, some have even ordered for a second batch," said the spokesperson.
The virtual world too is abuzz with furious comments - by women and men.
Law student Sunethra Choudhury wrote on Facebook: "Apart from being totally flabbergasted by the fairness and tightening products for a woman's private parts, the mere fact that manufacturers are going for such products means that there is a demand for it. After all, aren't fairness creams among the highest selling products?"
"Why do I have to feel like an 18-year-old to be happy and satisfied," asked Upasana Baruah, a homemaker. "I am 35, and I am now more knowledgeable, experienced and confident than ever before! If you cannot accept your age gracefully and are always trying to go back in time, you are simply living in denial."
Probably the most eloquent take was by 70-year-old Jamini Dey, who works in an NGO.
"My mother used to tell me, 'the lines that appear on your face will be signs of your experience, and you should be proud of each one of them'. I have lived by those words, and truly believe that I am both empowered and happy. So no thank you, to all the fancy empowering products," said the feisty septuagenarian.
Is it a losing battle?
Feminists and others spoke out with passion against the launch of fairness products in India but lost out to market forces. The fairness cream industry in India, according to one estimate, is worth Rs.1,500 crore and growing at a rate of 10-15 percent.
The one consolation: the advertising has been tempered. The ad for the vaginal whitening product has now been tailored to just show a doctor advising the use of the product to simply remain dry and fresh. The fairness bit has been snipped.
Another battle has just begun. - IANS

Wish to share your story?
Trending Now: